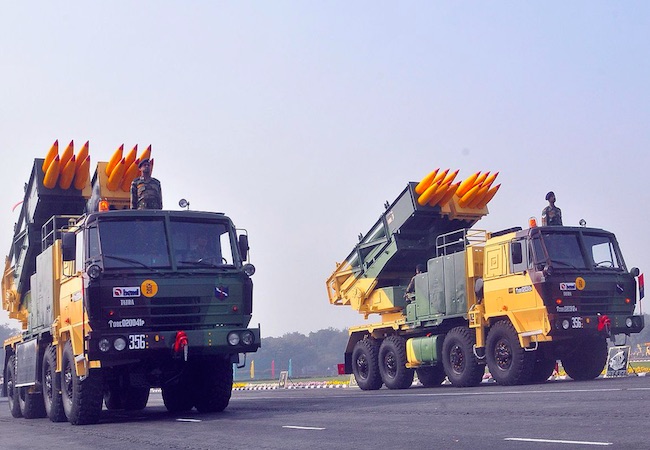 By Beenish Altaf
India recently test fired its most sophisticated long-range subsonic cruise missile called 'Nirbhay' from the Integrated Test Range (ITR) at Chandipur. This test fire continued for three days, final of which was fired on November 10, 2017. This was the test that failed previously in December 2015. The under tested cruise missile was in series of continuous susceptible moves of India that marks adverse impacts on the deterrence stability of South Asia.
According to the Defence Research and Development Organization (DRDO) the indigenously-designed and developed missile was test launched from a specially-designed launcher from the launch complex-3 of the ITR with a strike range of 1,000 km. Nirbhay missile has a turbo-fan engine, which is guided by a highly advanced inertial navigation system. The missile is able to target multiple places simultaneously and is able of carrying 24 kinds of war weapons.
The maiden test flight of Nirbhay was held on March 12, 2013 that had to be terminated mid way for safety reasons due to malfunction of some of its components. However, the second launch was on October 17, 2014. The next trial was conducted on October 16, 2015, which then had to be aborted after 20 minutes of its launch. The missile was also test fired last time in December, 2016, which failed also. All these trials were conducted from same defence base.
So, keeping in view Indian aspirations of getting the top most position in terms of getting such sophisticated capabilities, Indian Defence Minister Nirmala Sitharaman said that this trial would take India to the select League of Nations for possessing this complex technology and sub-sonic cruise missile capability. More to the point, if the said missile is operationalized successfully, it could be 'suited for targeting Pakistan's storage sites, command and control centers, radar installations, and bases.' In this regard, DRDO Director General Avinash Chander, formerly in a statement after Nirbhay's test in 2014, pointed to the missile's cruise capability being used to "fill a vital gap in the war-fighting capabilities of our armed forces," which is broadly believed to be in support of India's Cold Start Doctrine.
It is pertinent to mention here, the development of the dual use of Brahmos with the assistance of Russia. It is a supersonic cruise missile capable of flying at a speed of Mach 2.8, with a declared range of 290 kms, with sea, air, and land versions. An extended range version (450 kms) of this missile was test fired earlier this year and a hypersonic version is also under development. However, as distinct to ballistic missiles, the acquisition of a cruise missile capability means something different for India's targeting strategy. Now the Brahmos and Nirbhay would enable India to deliver a strategic standoff capability on land as well as at sea.
Moreover, the mounting political and strategic relationships among the countries have given birth to a new pattern of rising interactions with global forces. On the other side, India's quest is growing for multilateral export control regimes; it can be said that India has a unique history of its relationship with export control cartels. The country that provided an idea for the formation of one of the cartels is now passing through a new phase, expecting a legal membership in it. It is certain that the membership of such regimes will give India a distinct advantage in participating in the management of global commerce in advanced technology.
The trend of assistances to India, set-in largely by the US, though for its own interest, has and will further overwhelm India with uranium reserves. Since India's nuclear program is largely plutonium based, its uranium reserves are apparently shown to be low for civil nuclear usage, and are actually low for military usage.
However, these mounting Indian tests and experiments day by day are moving towards severe consequences with regards to strategic stability and regional security of South Asia is concerned. The nuclear arms and missiles competition between both permanent hostile states is a glittering case of security dilemma whereby security of one state's action causes insecurity of other state and security augmenting measures of other state makes the first one insecure. Similarly, the challenge of putting cruise missiles to sea, through ships and submarines, will enhance chances of inadvertence and crisis instability.' A better guiding principle for both 'South Asian neighbors would be to undertake confidence building measures aimed at avoiding inadvertence and non-attack on each other's command and control centers and communication infrastructures to ensure the mutuality of deterrence.'