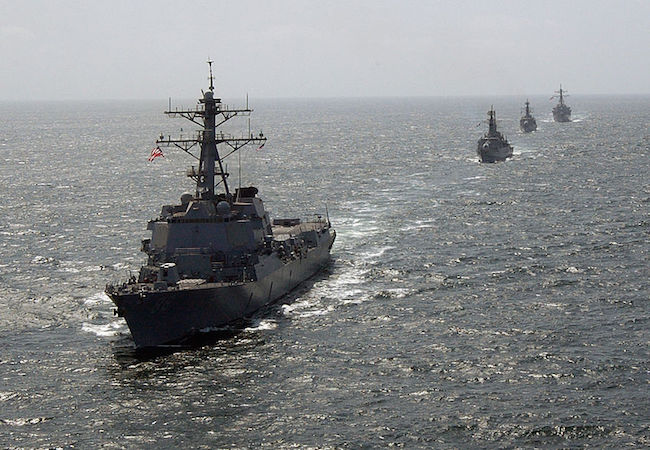 By Qura tul ain Hafeez
"Control of the sea is the key to world dominance". Alfred Thayer Mahan was very right while emphasizing on the importance of the maritime security. Future wars will be fought over sea as oceans cover 75% part of the earth and the remaining one third land mass depends heavily on the 75% percent water. Among the major oceans of the world, Indian Ocean is the third largest ocean covering approximately 73.3 million square kilometer. It is the triad of world's most important choke points; the Straits of Hormuz, Bab-al-Mandeb and Malacca. The most significant sea lines of communications also pass through the Indian Ocean. With these strategic significances, Indian Ocean shares its piece of pie with two most important nuclear weapons states. Since India claims its control over the Indian Ocean and considers it as India's ocean, therefore, maritime security in Indian Ocean is a subject of vital national interest for Pakistan.
A number of strategic premises act as motivating factors in India-Pakistan's quest for naval expansion, with multiple interests in mind. In 2015, India launched a program to build six nuclear-powered attack submarines. Powered by an 83-megawatt nuclear reactor India inducted its first nuclear power submarine INS Arihant in 2016. Arihant is expected to carry 12 Submarine Launched Ballistic Missile (SLBM). It is also developing a more advanced SLBM that will have a range of up to 3500 km. Work on the second nuclear submarine, INS Aridaman, is also scheduled. India currently operates a Russian Akula-II nuclear-powered attack submarine on a 10-year lease and may acquire a second vessel of the same class. Due to its no first use (NFU) policy, India continues to develop the naval component of forces as step towards nuclear triad and find it necessary to acquire sea based deterrence in order to confirm its second strike capability. India's development of naval nuclear arsenals helps in secure the grand first strike capability, with increased options of survivability.
India's naval expansion and nuclear triad has raised serious concerns for Pakistan. The nuclearization of the Indian Ocean is a clear threat, particularly in light of India's aspirations for a blue water navy. This fact has widened the probability for conflict escalation. Therefore, Pakistan is required to prepare its sea based defense.
Pakistan has recently launched its new nuclear-capable submarine-launched cruise missile (SLCM) Babur 3 that led to a successful attainment of second strike capability. Babur 3 has a range of 350 Km to 700 Km with underwater controlled repulsion, advanced guidance, terrain hugging, sea skimming, flight capabilities, and stealth technology. Pakistan possesses a total of seven submarines including Agosta 70s and 90s.A diesel electrical submarine recharges the batteries with diesel engine, and the air propulsion system in Agosta 90B provide it with the quality of submerging in water three times more than the normal submarine.
Although Pakistan has acquired a second strike capability, it still needs to work on enhancing the credibility. Another reason why it is important to concentrate on this area is because Pakistan has been blessed with a large amount of maritime resources. Maritime sector shares a significant portion of Pakistan's economy which is expected to cross US $ 100 billion by the year 2020. Moreover Pakistan's participation in the CPEC and development of Gwadar sea port has further enhanced Pakistan's position as an effective geo-strategic player in the Asian region. Under CPEC, Pakistan is looking forward to bridging the gap between the land and sea routes of OBOR. The aspiration to achieve this objective must be handled with immense care and vigilance. This challenge can only be achieved if a country could strengthen its maritime sector.
Indian naval advancement and acquisition of sophisticated nuclear naval forces is posing a number of grave challenges to Pakistan. However, Pakistan with its limited resources is trying to cope up with the changing and advancing position of India.
The overall situation presents multiple intricacies within the regional and trans-regional economic prospects, which can to some extent be addressed by commencing collaborative means and by encouraging partners to concentrate on the ways to reap mutual benefits.  One way through which Pakistan can compete with India's blue water navy, is by increasing its naval defiance spending. It must develop small, more sophisticated, and advanced indigenous nuclear submarines. Along with that Pakistan should focus on its naval nuclear research and development.
Qura tul ain Hafeez has an M Phil in international relations from Quaid-I Azam University Islamabad. She currently works as a researcher at Strategic Vision Institute in Islamabad. Her domain of work include China as an emerging global power, Sino-Pakistan strategic and civil nuclear relations, South Asian strategic issues, regional integration, nuclear issues including nuclear non-proliferation and NSG, foreign policy analysis, and international politics.