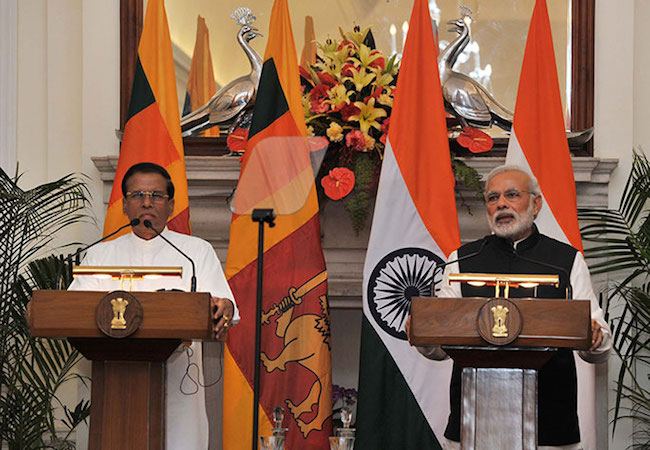 By Srimal Fernando
The emergence of Indian foreign policies (IFPs) such as the Neighbourhood First policy, has provided a pathway to promote economic integration among the member states of the South Asian Association for Regional Cooperation (SAARC).
For this reason, Sri Lanka's geostrategic position comprising a very important maritime gateway for international trade between East-West remains an important foreign policy priority yet to be explored by India and Sri Lanka.
Indeed, the deep, strong and reciprocal economic ties between the two nations will be beneficial to each other. In this context Sri Lanka would get access to a vast domestic market of more than 1.2 billion people in India.
India is one of the biggest trading partners of Sri Lanka, with bilateral trade amounting to $ 4.38 billion in 2016 (High Commission of India in Sri Lanka). Over the years economic relations between the two nations have grown in both in depth and dimension, especially with the signing of the Indo-Sri Lanka Free Trade Agreement (ISFTA) in the late '90s which came into force in March 2000, considered as an important step to promote bilateral trade.
In recent times Sri Lanka imports $ 3.83 billion worth of goods from India and exports $ 551 million to the neighbouring country (High Commission of India in Sri Lanka). Therefore a distinctive feature of balance of trade between the two nations has tilted in favour of India.
In this setting the export figures do not reflect the complete picture of economic ties between the two countries. Until now for Sri Lanka on average, 70% of its export products to India gain duty-free status, while Indian exports amount to an average estimate of 25% under the Indo-Sri Lanka Free Trade Agreement (ISFTA). In addition, the facilitation of South Asia Free Trade Agreement (SAFTA) is beneficial for both nations to promote trade, which in turn also boosts economic diplomacy.
More than 350,000 Indian tourists visit Sri Lanka every year and about 126 SriLankan Airlines flights operate to 14 Indian cities per week. Sri Lankan pilgrims mostly go to Bodh Gaya, Sarnath and Kushinagar Buddhist pilgrimage sites. As a result of bilateral relation development, exchanges between both nations have simplified faster visa application procedures by issuing tourist visa on arrival or by applying online prior to arrival provided that the travellers have a valid return air ticket.
The flow of Indian aid has increased sharply for Sri Lanka during the past two decades. For example, India has committed around $ 2.63 billion as development credit and $ 458 million was in the form of grants (High Commission of India in Sri Lanka). Over the past eight years the Indian Government responded to various challenges of post-war reconstruction needs in the Northern Province of Sri Lanka.
In recent times India pledged to provide a credit line of $ 800 million for the reconstruction of a 252.5 km crippled railway line in the Northern Province of Sri Lanka. After more than 25 years, the crippled railway line was reconstructed by India Railway Construction International Ltd. (IRCON) with the assistance given by India. In addition under a new funding India committed over Indian Rs. 1,370 crores to construct around 45,500 new houses in Sri Lanka.
Sri Lanka has grown to be among the important partners of India. Notably, one of Sri Lanka's biggest trading partners is India. The avenues for economic cooperation between the two close nations India and Sri Lanka are many and diverse, some of them appear to be sensitive in the current environment of politics and economic diplomacy. Hopefully, Sri Lanka will become increasingly important to India's Neighbourhood First foreign policy in the near future.
Srimal Fernando is a Sri-Lanka-based columnist at DailyFT