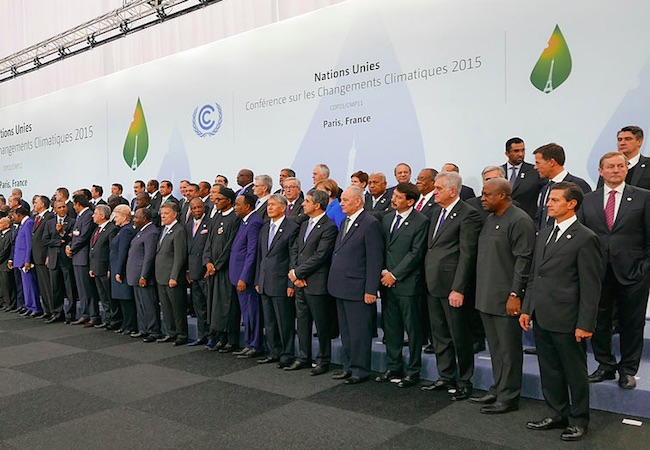 By Sankalp Singh
Climate change accord is an attempt to bring nations closer, both in their diplomacy and relations. This is one of the fewer arenas where paper work affects more than populist speeches. Climate change debate is a larger part of the global project, ushered by United Nations Framework Convention of Climate Change, or UNFCCC. Exactly until November 2017, 196 nations were a part of common denomination for motivating a greener planet, except Syria and Nicaragua. Nobody blames them effectively. Syria is managed ruthlessly through their domestic torn civil war; Nicaragua is not very comfortable in some of the agreements in this accord. Let us focus on what United States pulling out of global climate accord mean to this world? In Economics, we denote expressions using graphs. Let us use a graph.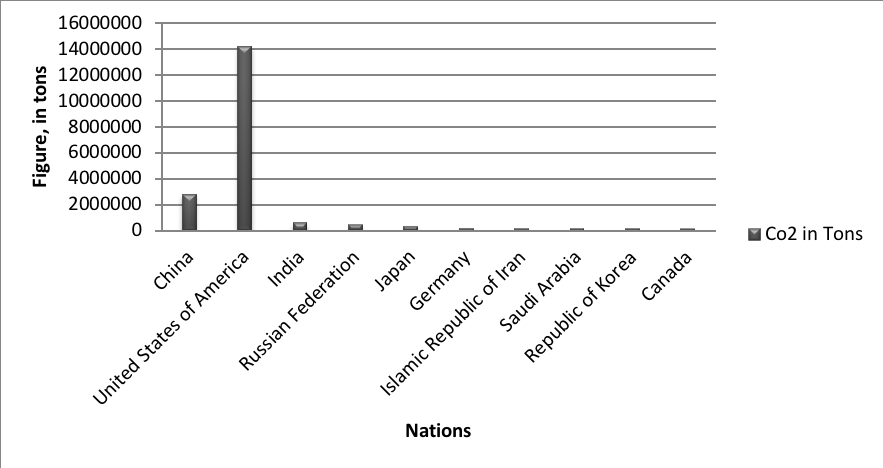 Do US pulling out of climate accord strategically mean that the global hegemon is shifting away from its responsibilities? What does that mean to the invisible leadership? In this article, an attempt has been made to understand where climate change debate is being headed. China has been leading the way in their thrust towards macroeconomics and development. It is not only China that is being expected to take the global throne in this debate. France, Germany and UK are singing the songs to become a global negotiator in this accord. Climate diplomacy is carefully played by important leaders of these potential nations. For instance, a joint statement says,
"We deem the momentum generated in Paris in December 2015 irreversible and we firmly believe that the Paris Agreement cannot be renegotiated, since it is a vital instrument for our planet, societies and economies. We are convinced that the implementation of the Paris Agreement offers substantial economic opportunities for prosperity and growth in our countries and on a global scale. We therefore reaffirm our strongest commitment to swiftly implement the Paris Agreement, including its climate finance goals and we encourage all our partners to speed up their action to combat climate change"[1]
Basically, US decision to pull out of climate accord brings an end to the hoax and speculations created by the discourse. Naturally, the unipolar leader is out of this common denomination and now it is up to the world to believe about who is the actual participant in this accord? US pulling out of Paris agreement may be termed as 'populist' move in international fora. However, interestingly it has been noted that vast majority of US population wants to be a part of Paris Accord[2]. It is natural to think on the lines of 'Polluter Pays principle'. India's apex court has made it mandatory to use PPP for dealing with environmental pollution cases[3]. It is also natural to think that developing countries like India and China will be a major part of 'Green Climate Fund', or simply say large chunk of investments (or payments) for environmental clean-up will come from these two countries. It is the statistics of voters that is a worry point. 79 per cent of democrats, 56 per cent Independents and 51 per cent of republicans want to be a part of greenhouse gas emission project, where US is the remarkable contributor. Understanding it from a foreign policy point of view, this is a blunder. If US is not taking the global responsibility, other developing nations which are aspiring to be a part of 'global westernising' programme (Basically, leaning towards capitalism side) may become sceptic of being on the road to development in the first place. Environmental conditions are at alarming situations now. There is a positive situation in geopolitical leadership where some nations (mentioned above) are likely willing to take the boat on. China, for instance is ushering to take this forward by being the biggest investor[4]. The debate is no more rolling towards the blame game; it is more about who can present a discourse about climate reality in an augmented direction.
Xi Jinping has expressed huge support to adhere towards climate pact. US also expressed a lot about transparency in climate funding, strategically telling and blaming other nations to be a better actor in Paris pact. It started out in 2015, as a pet project. Can we now see what it is leading to? The US hegemon is gradually diminishing, and China macro development is gradually influencing global order. It is important to also note that America's business elite were against this decision. US have likely caused a hole in its jobs sector by pulling out. There are statistics which tell that US has possibly lost $1.4 trillion business opportunity. Since Paris pact is non-binding in nature, US saw this as an opportunity to mend things their way. A gradual withdrawal from this pact caused a wallet leakage in Global climate fund. It was expected that other nations in the leadership line will not immediately fill the vacuum by injecting hundreds of thousands of investments to take it back to normal course. China's spirit is likely to be more strategized than USA in terms of leadership role. China is not democratic in nature, and the very fact to cut on its macro development programme will hurt China's economy the most. A loss in jobs even after Communist Party manifesto will cause more disorder than a loss in opportunity in spearheading the climate project. Now what does this imply? If we see it from a taxing point of view, it will be friendly to cooperate and install solar efficient energy panels in industries and areas where environment get likely to be disturbed. Providing tax rebates is an essence to this solution. Is China likely to be all-solar in this limited time window of leadership? Clearly, it is not "G-7" anymore in Climate pact; it is effectively "G-5".
The core of the Obama administration's action on climate change was the Clean Power Plan, a bottom up program by which states decided their own approaches to meet federally set targets. India, on the other hand has a different consequence. India supported its full viewpoint towards Paris agreement. On its state visit to France, Prime Minister Modi asserted full support to climate pact. However, India is in dire needs of green climate funds, which in turn is dependent on American finance. If India was to come up in leadership, there is an immediate need to alter its fiscal stance, which will modify its budget heavily. India has to also alter its transport sector as soon as possible. Majority of the transport in India is carbon based, which likely is a backlog in run up to filling this global vacuum. China is not so sure about shifting rapidly towards a clean sector, as major industries in China are not environment friendly. Some of its cities have been breathing toxin for long.[5] However, only three countries do not shape global climate hegemony. There are other countries that have openly expressed hope to take the vacuum. France, have been working towards the vacuum of $210 billion left out because of withdrawal of US from Paris pact. Marc Antoine Eyl-Mazzega (Director of Centre for energy at the French Institute for International Relations said:
"There is an element of prestige here, because France and President Macron want to play a leading role in the global climate governance, and I think there are just two leaders who are credible there: Macron and [Chinese President] Xi Jinping,".
It is the emergence of European and sudden eastern paradigm which is a point of focus for Climate leadership. Japan is not effectively on the move to become the leader. Japan's commitment to reduce greenhouse emission to a scale of 20%- 30% is a target which will take more than an overnight. This is a good political start, however not so influencing as that of China's and France's. So far, the shift in unipolar leadership to bi-polar and even multi-polar leadership will take its effects once these countries mentioned above yield some realistic outcomes. Otherwise, a paperwork approach will only procrastinate the matter, and climate will further deteriorate. Curing this problem will take a lot of decades, it is transnational in nature. Transnational, by definition begins with a common understanding. The common denomination does not come easily by the western and eastern world.
References:
[1] This is a joint statement by Chancellor of Germany Angela Merkel, President of France Emmanuel Macron and Prime Minister of Italy Paolo Gentiloni at the One Climate Summit.
[2] Gaston, William. "Paris Agreement enjoys more support than Donald Trump", Brookings Blogs
[3] Supreme Court of India case: Indian Council For Enviro-Legal Action vs Union Of India And Ors.Etc on 13 February, 1996
[4] David, E. et al. "Trump hands the Chinese a gift: The chance for a global leadership", The New York Times
[5] Javier, C. "Climate change may be intensifying China's smog crisis", New York Times.
Sankalp Singh is a student pursuing Master's degree in Public Policy (2016-2018) from St. Xavier's College, Mumbai (India).