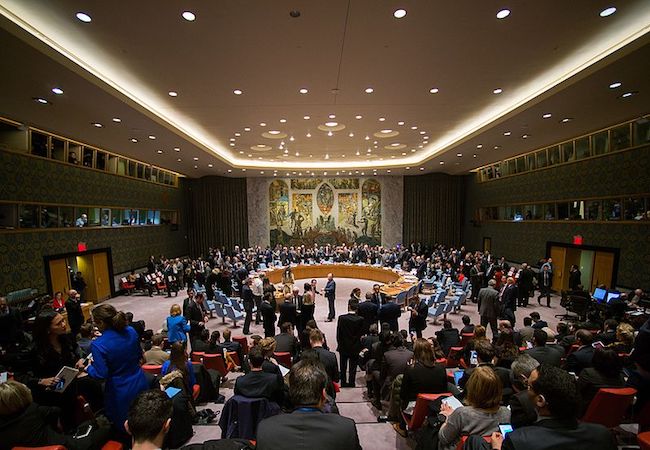 By Rene Wadlow
After multiple delays to reach agreement with the Russian ambassador, the U.N. Security Council on Saturday 24 February 2018 adopted a resolution for a 30-day ceasefire "without delay" in Syria.  The truce would allow for the delivery of emergency aid and the evacuation of the wounded, including the beleaguered Eastern Ghouta, home to some 350,000 people near Damascus.  Now, we need to work to have the ceasefire honored.
Eastern Ghouta is near Damascus and has been a contested zone since early in the 2011 uprising.  Ghouta is close enough to Damascus so that opposition mortars can be fired on districts in Damascus – close enough also so that rockets and barrel bombs from government helicopters can increasingly fall on the zone.  Hospitals have been hit in Ghouta, probably deliberately.
Afrin, the scene of new fighting, is in the Aleppo Governorate. It has a large Kurdish population.  The Turkish government suspects all organized Kurdish groups to be "terrorists" or potential terrorists.  Moreover the demands for independence of the Kurdish Autonomous Administration in Iraq being linked to a possible similar Kurdish zone in Syria is considered by the Turkish government as an active threat to be countered by force.  Thus for the past 10 days, Turkish troops in the mis-named "Operation Olive Branch" have been attacking Afrin and its surrounding area. As an element in complicated Kurdish politics and alliances, a pro-Syrian government Kurdish militia has joined the battle to defend Afrin.
It is too early to know if the ceasefire will be respected.  There have been ceasefires in the past which did not hold.  However a ceasefire is not an end in itself. It is a time which may create a "breathing space" during which there are potentially increased possibilities for negotiations on the end to the armed conflict which began in the Spring of 2011.
Currently, there are two sets of inter-related but separate official negotiations undertaken.  The most comprehensive is that of the United Nations carried out largely in Geneva but also at times in Vienna.  The second is sponsored largely by the Russian Federation with some support at different times from Iran and Turkey.  There may be less public discussions carried out in the shadows of the official mediations about which little is made public and which probably involves only a number of the actors in the conflict.
Mediation is the action taken by a third party to facilitate two (occasionally more) hostile parties coming together to negotiate.  Mediation is not negotiation.  Negotiation is the process of bargaining and compromise by which those directly in conflict can reach an agreement.  The function of the mediator is to remove the obstacles to negotiation, in part by bringing the conflicting parties together for direct discussions.
The impartial mediator sees no enemies but only the mental and physical suffering of war, as much among "the aggressors"" as among the victims.  The hatred and suspicions that nourish the conflict makes the conflict increasingly complicated. Part of the mediators task is psychological, to lessen the negative emotions so that a slight change of understanding can occur.  But this psychological task must be carried on as though one is discussing political and military issues. Mediators must present their efforts in such a way that they will be listened to, avoiding words or ideas that evoke automatically a hostile response.
Mediation is an on-going process with many steps both forward and backward.  If skillfully carried out, psychological advances may be made; some tensions may be eased, some misconceptions dispelled, some fixed ideas diminished. For parties in a conflict to seek compromise, there needs to be a certain "atmosphere" – an informed public opinion that will accept the compromise and build better future relations based on an agreement.
The official mediator's role is not to suggest the constitutional or political nature of the settlement to which the protagonists should arrive. The official mediator can only suggest how constitutional structures might be discussed.
It is chiefly on the issue of constitutional structures that there is a difference between efforts carried out by the United Nations and the Russian Federation and what can be done by a non-governmental organization such as the Association of World Citizens.  Non-official mediators must be able to speak to the wide range of protagonists in the Syrian-Iraq conflicts without being seen as supporting one faction or another.
The Association of World Citizens has been concerned with possible con-federal structures for both Syria and Iraq. The Association of World Citizens (AWC) has a long-standing interest in helping to develop appropriate constitutional structures for States facing the possibility of prolonged or intensified armed conflicts.  An emphasis is placed on the possibilities of con-federation, autonomy, renewal, and trans-frontier cooperation.  The AWC continues the con-federal, trans-frontier tradition of the world citizens Denis de Rougemont (1906-1985) and Alexandre Marc (1904-2000) (1)  In the recent past, the  Association has proposed con-federal structures to deal with conflicts situations in Mali, Ukraine, Myanmar, Sri Lanka, Libya, Sudan and Cyprus.
The AWC has been actively concerned with Kurdistan issues which involves structures of both Iraq and Syria as well as positive cooperation among Kurds living in Iraq, Syria, Turkey, and Iran.  While the AWC does not sponsor Kurdish demands as such, we believe that the Kurdish issues in Syria, Iraq and Turkey merit close attention.  Con-federation and autonomy are broad concepts, capable of covering a multitude of visions extending from very limited local initiatives to complete control over everything other than foreign policy.  The ways in which the elements and patterns of autonomy are put together require political imagination, far-sighted political leadership, a willingness to compromise, and constant dialogue.
There are legitimate fears among some in Syria and also in Iraq that consideration of con-federal structures opens the door to having Syria and Iraq broken into separate zones of influence, dependent on outside powers – the USA, Russia, Iran, Turkey.  Thus we need to stress that autonomy does not mean division.  There is also a need to stress trans-frontier cooperation among groups.
Some sectors demanding greater recognition are not primarily geographically based.  The Sunni-Shi'a divisions cut across zones though there are zones which have a majority of one particular religious tradition. Religion is not the only dividing factor: Kurd, Turkmen can be considered ethnic factors.
Comprehensive negotiations on the future of Syria and Iraq within the context of the wider Middle East are difficult to organize.  It is not sure that the ceasefire in Syria will hold long enough to create an atmosphere leading to serious official negotiations.  For those of us in the non-governmental field, we must use every opportunity to promote a broader, more cooperative framework to consider the challenges and to facilitate serious discussions.
Note:
1) See Christian Roy. Alexandre Marc et la Jeune Europe (Presse de l'Europe, 1998); J. Laubert de Boyle. Les non-conformistes des années 30 (Seuil, 1969); Michel Winock. Esprit. Des intellectuels dans la cité. 1930-1950  (Seuil 1996)