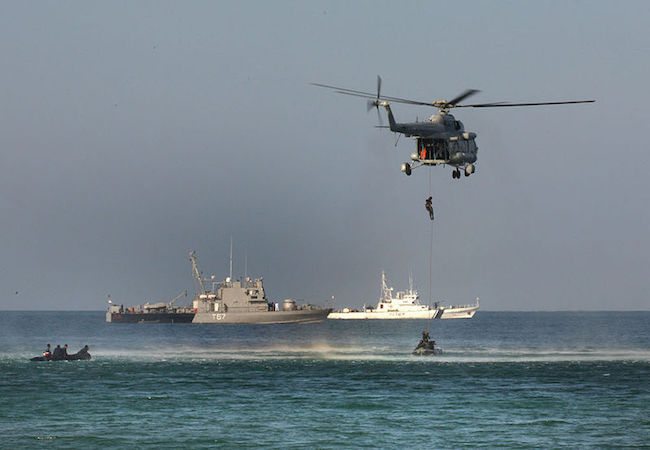 By Srimal Fernando, Megha Gupta and Sharon Jose
The Indian Ocean diplomacy has a global geopolitical importance as it binds Africa, Asia and Australasia together. Over the last two decades, Indian Ocean Rim Association (IORA) with a grouping of twenty-one major states, plays a collaborative role in influencing the foreign policy of its member states. In this context, the IORA mandate serves the interests of over 1.6 billion people through economic integration, maritime security, management of fisheries and development of tourism. India, being the largest economy in the bloc is one of the most influential member in shaping the objectives of the association. In 2015, on an official visit to Mauritius, one of the member states of IORA, Prime Minister Modi stated "The Indian Ocean Region is one of my foremost policy priorities. Our approach is evident in our vision of 'sagar', which means ocean and stands for Security and Growth for all in the region."
India, through its neighbourhood first policy, has prioritised its immediate neighbours in terms of political and economic integration which has given an impetus to India's role in the subcontinent. Through this policy, India and its southern neighbour, Sri Lanka have strengthened their cultural and economic diplomacy. India's relations with the island nations, now goes beyond Sri Lanka, encompassing Mauritius, Seychelles and Madagascar. The close alliance with the Eastern nations, is also maintained by India through its foreign policies of Act East and Indo-Pacific. India through IORA needs to solidify its foreign policy goals in South and East Asia, Gulf states, Pacific, as well as Africa.
An elaborate assessment of the five financial hubs of IORA like South Africa, UAE, Singapore, Indonesia, Australia becomes important as they have a profound impact on neighbourhood first policy, act east policy and Indo-pacific foreign policy objectives of India.
Nelson Mandela's visit to India in 1995 was a significant milestone in strengthening the bilateral relations between India and South Africa as it led to the formation of IORA. India's relation with South Africa dates back to first Indian migrants arriving in Cape Town in 1820.  Indian diaspora in South Africa, with a strength of about 1 million, contribute immensely to the South African economy. The financial ties between the two countries have grown immensely with the increase in trade volume.
Another important member of IORA, United Arab Emirates (UAE) has important historical links with India and is now considered to be one of its largest trading partners with a bilateral trade amounting to over USD 50 billion. (Ministry of External Affairs, India, 2016) Nearly forty per cent of UAE population is comprised of Indian migrant workers which has led to a tremendous development of Indian regions especially, the south. The trade connectivity, UAE investments in India and NRI contribution reiterates the necessity of strengthening the IORA mandate.
IORA member nations in East Asia like Singapore and Malaysia are important international strategic partners of India. The larger mandate of IORA has become stronger through India's Act East policy. In this context, thousands of vessels pass through this vital maritime sea lane connecting West Asia, and the Indian subcontinent to East Asia. Singapore's port being the world's busiest port, is a prime maritime hub linking Asia-pacific with the world. India's relation with Singapore plays a significant role in strengthening defence ties through naval cooperation, recognising the need to protect important sea lanes in the Indian Ocean. Through this cooperation, India can further develop its maritime safety and security which is also the first priority area of the Indian proposal submitted to the IORA.
The vast expansion of IORA membership towards Australasia region serves as an important impetus for India in meeting its Indo-Pacific foreign policy agenda. Indonesia, one of the world's emerging market is an essential contributor to IORA and is also developing its maritime ties with India. Furthermore, the bilateral ties between the two countries is strengthened through a strong cultural affiliation. Australia, with a highly developed economy, can play a crucial role in supporting the emerging countries by enhancing their trade and productivity. India's trade with Australia has increased to USD 15.6 billion in 2016 which now makes it, Australia's fourth largest export market. (Ministry of External Affairs, 2017) The Indian community in Australia which is nearly 3,00,000 contributes immensely to the development of both countries, among which an impressive number of students acquire quality education in the country. (Indian High Commission in Australia, 2012)
The bilateral and multilateral cooperation of these five major economies with India, could contribute immensely to the sustainable development of the Rim states. Recognising the potential of these major trade centres, the Indian ocean acts as a critical juncture providing a vital sea line of communication building trade, maritime and cross-statecraft connections. It acts as an important strategic crossroad with the Horn of Africa to its West, Cape Comorin to its North and Wilson's Promontory to its East.
Considering the pivotal relationship of these emerging nations with India, the scope of employing the potential of these countries can be realised through reshaping the Indian foreign policy while focusing on the larger goal of the association. India's strong position in regional organisations such as Bay of Bengal Initiative for Multi-Sectoral Technical and Economic Cooperation (BIMSTEC) and South Asian Association for Regional Cooperation (SAARC), pushes India to further its global stance and exercise power politics within its neighbourhood. It's hard to foresee how IORA as an Afro-Asian bloc will be able to transcend to the next level of socio, economic and political integration. However, India can remain optimistic about IORA through its past experiences of BIMSTEC and SAARC. India being the third largest economy provides vital free trade spaces for its neighbours through the SAFTA agreement. In the contemporary times, maritime trade of India in the Indian Ocean has increased its trade volume by ninety per cent and trade value by about seventy per cent. Indian Ocean contributes to 15 per cent (FAO State of World Fisheries and Aquaculture 2016) of the world's total annual fishery output which includes the Indian fish output amounting to 11 million tonnes. This ocean acts as a vital maritime sea link connecting East and West Asia with 90,000 commercial vessels passing through the waterway every year. Policy makers of India and other IORA member nations should give a thought to the broader picture of the vast geographical space expanding through Australasia, East Asia, South Asia, Gulf states, East and Southern Africa to enhance this regional bloc for the greater benefit of all. The common interests of the member states in IORA can be realised through mutual cooperation in tapping each other's resources. Moreover, the larger goal of the organisation can be reached through assigning appropriate responsibilities according to the competence of the countries.
Srimal Fernando a research scholar and an editor of Diplomatic Society for South Africa, Megha Gupta, a scholar of Masters in Diplomacy, Law, Business and Sharon Jose, a scholar of Bachelors in Global Affairs at Jindal School of International Affairs