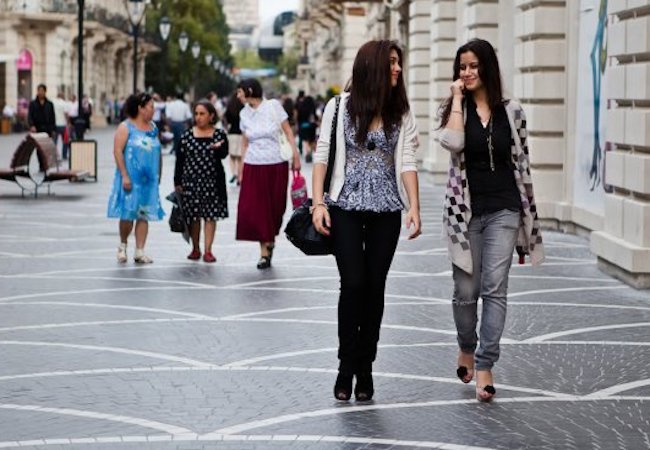 By Geovanny Vicente Romero
Azerbaijan recently hosted its first Global Startup Weekend Women in Baku attracting 50 entrepreneurs leading the country's fast-growing startup ecosystem.  Two women from a human resources and job-seeker startup called TalentPort won this competition and represented Azerbaijan at the Global Startup Weekend Women in Paris.  TalentPort is described as the first Azeri corporate social responsible company aimed to provide students and disabled people with temporary jobs to build their skills and provide a reliable, cost-effective source of labor.  This company is an excellent example of the valuable contributions women leaders make in Azerbaijan's modern society with a strong track record of women's empowerment reflected in the country's political leadership and educational attainment.
How has Azerbaijan's human development set itself apart from its neighbors?  A small Muslim-majority nation squeezed between Russia and Iran, Azerbaijan is no different from its Muslim neighbors, yet the progressive government of the short-lived republic in 1918-1920 ensured that women became full members of the liberal and secular society. A renowned Polish-American historian Tadeusz Swietochowski wrote in his seminal book Russian Azerbaijan, 1905-1920 that the National Council's law on Constituent Assembly providing proportional representation to minorities and political groups, and universal suffrage effectively made Azerbaijan the first state in the Muslim world to grant women their political rights.
Thus, Azeri women were enfranchised even ahead of many developed nations of Europe and the United States of America. Indeed, the Land of the Free and Home of the Brave passed the 19th Amendment to the U.S. Constitution giving American women their voting rights in 1920. Since 1918, women have become a sign of progress in Azerbaijan. This tradition continues into the 21st Century.  In March 2000, the late President Heydar Aliyev reportedly signed an executive order on a new "State Policy on Women", instructing the administration to ensure proportional representation of women in government based on the principles of equality; make sure women have their deserved place in business and economics, and consistently check the progress of women in the society.
The new law may have solidified the path that was already leading women in Azerbaijan to new heights. At present, Azerbaijan has a female cabinet member and 16 percent of its 125-member National Assembly are women. According to the United Nations Committee on the Elimination of Discrimination against Women's report on Azerbaijan, the poverty rate among women decreased from 49 percent in earlier years to 5.9 percent in 2014, a statistic that can be attributed both to the overall economic development of the country with equal participation and benefit to its women.  Azerbaijan society values education, with 90 percent of women graduating from secondary school education. Since enforcing the 2000 law on the state policy on women, women by 2015 made up 18 percent of Azerbaijan entrepreneurs. Azeri women are also serving in the military, with an estimated 1,000 women in active military duty alongside men. The power of women in Azerbaijan also extends to minorities. Such is the case of Tatyana Goldman Alexander, an Azeri Jew holding a seat in the Supreme Court of Azerbaijan, a testament to the country's special attention to ethnic minorities and women.
Perhaps, some modern-day inspiration for women in Azerbaijan may be coming from the influential First Lady Mehriban Aliyeva. In her tenure as the First Lady, she has served as the Goodwill Ambassador of UNESCO and ISESCO, taking her philanthropic work beyond Azerbaijan. The non-profit Heydar Aliyev Foundation that she's led since its formation in 2004, has made substantial contribution to enhancing cultural and economic development, especially when it comes to young women. With the efforts of the organization, new hospitals, museums, schools were built in Azerbaijan and other countries, including Egypt, Romania, Russia, the Netherlands, Pakistan and Georgia. Recently, the First Lady become the highest ranking woman official in Azerbaijan's history when she was named Vice President in 2017.
The case of Azerbaijan demonstrates how stereotypes of women can be dismantled, how equality can be established and most importantly, how the world can be made a better place. Women contribute to the highest positions of power, because they have knowledge and expertise to share that enrich public policies and political discussions.  Women improve the representativeness of the decisions that emerge from the political system resolving many of the globe's most entrenched conflicts and leading humanity into the future. Azerbaijan's future is being written by a concert of voices, of which women represent an integral part.
Geovanny Vicente Romero is the founder of the Dominican Republic Center of Public Policy, Leadership and Development (CPDL-RD). He is a political analyst, international consultant and lecturer. He's written many articles on eradication of poverty, human rights and the role of women in a society.