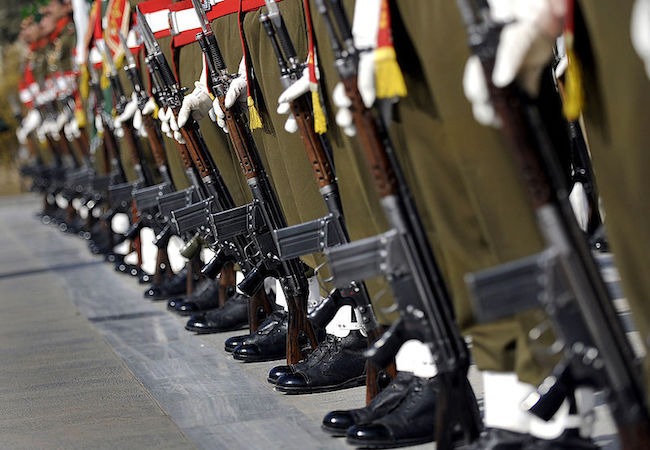 By Asma Khalid
28th May this year marks the 20th anniversary of historical moment when Pakistan successfully detonated nuclear devices in the Chagai district, Balochistan; and joined the prestigious club of nuclear weapon states.  Pakistan was compelled to test the nuclear weapon in response to a series of nuclear tests by India on 11th and 13thMay of same year, 1998. It is important to note that it was the second series of nuclear tests by India in 1998, first being the so-called Smiling Buddha in May 1974.
After conducting a series of five nuclear tests in May 1998, the Indian politicians and public were of the view that now they had a monopoly over the nuclear technology and capability in the region, however test of six nuclear explosions by Pakistan was a befitting response to India's sheer misperception.
India's nuclear tests of 1974 and 1998 left Pakistan with no option to ensure its defence but to restore to the balance of power in the region by maintaining deterrence equilibrium.It is the fact that development of Pakistan's nuclear capabilities is the expression of its security concerns to counter India's conventional superiority over Pakistan. Due to various security challenges, security dilemma is operational between both states.  India's nuclear test in 1974 was significant factors due to which Pakistan felt threatened and believed that it was only with the help of developing the nuclear capability can it ensure its security and survival. Subsequently, Pakistan followed the policy of nuclear ambiguity which is widely considered justified by security analysts on the grounds of an Indian threat. Same applies to the Pakistan's retaliatory response of conducting nuclear tests in May 1998. After India's nuclear test, Pakistan's government emphasized that "Pakistan's failure to respond in kind would have made it vulnerable to its aggressive neighbor". Speech of President Nawaz sharif in May 1998 has proven that acquisition of nuclear capability was inevitable for the security and survival of Pakistan.
As a result of successful nuclear tests, Pakistan appeared as 7th nuclear weapon state of the world and 1stcountry of the Muslim world having the nuclear weapon capability. Since then Pakistan remembers this day as Youm-e-Takbeer; 'The day of Greatness" as a reminder of the tough choice Pakistan made to ensure its defence despite the immense international pressure from the US and other Western countries. Soon after nuclear tests, sanctions were imposed by the United Nations Security Council (UNSC) on both India and Pakistan. However, the explosion of nuclear weapons marks the "Overt Nuclearization" of South Asia and both countries were acknowledged as defacto nuclear weapon states.
Though the roots of nuclear deterrence and strategic stability can be traced back to the pre-nuclearization period when the debates erupted regarding ambiguous nuclear capabilities of India and Pakistan. Now due to the existence of deterrence equilibrium and strategic stability, no matter how fragile, both Pakistan and India have been able to maintain crisis stability over the past 20 years: wherein no conflict has actually escalated into a full blown war.
According to SIPRI 2018 report, India is the largest arms importer of the world. It is developing a sophisticated inventory of nuclear arms comprised of tactical weapons, inter-continental ballistic missiles, and anti-ballistic missile system to fulfill its aspirations of acquiring the status of "regional power". On the other hand, Pakistan's leadership, both political and military, understand the possibility to promote security and peace in region through arms control rather than arms race. Therefore to prevent South Asia from a nuclear arm race, Pakistan put forward various proposals: First, in 1974 to declare South Asia as "nuclear weapon-free zone"; Second, the post-1998 proposal to establish "Pakistan-India strategic restraint regime". Unfortunately, India has consistently rejected all these proposals. India's unwelcoming attitude has left Pakistan with no option but to restore to the balance of power in the region by developing sophisticated nuclear capabilities.
Moreover, nuclear weapon and nuclear related technology is seen as contributing to Pakistan's economic and defence base that could ultimately ensure national security objectives of the country.  First, talking about economy or energy security:Pakistan has a modest nuclear power programme.It is using peaceful nuclear power and technology to ensure long-term energy security. Pakistan is also one of the 'energy deficient' states that focuses on energy security to fulfill its socio-economic demands. Second, due to nuclear weapon capability Pakistan's defence has become impregnable. On the other hand, when it comes to the significance of nuclear weapon capability in political arena to fulfill foreign policy objectives, it is unfortunate that even after acquiring the nuclear weapon capability, the overall political standing of Pakistan in global arena has not favorably changed.  Though Pakistan has the option to use nuclear weapon as negotiating tool to fulfill its political objectives but nuclear weapon capability is considered as a tool to ensure state's defence against aggression, be it conventional or nuclear. Therefore, the rationale behind Pakistan's military nuclear programme remains the same over the years i.e.  to counter the conventional military superiority of India.
To conclude, after 20 years of nuclearization, 28th May marks the "historic milestone" of Pakistan's successful and calculated response to counter India's aggression through operational preparedness of the Strategic Forces to maintain peace and stability. Every year, Youm-e-Takbeer is observed across the country in commemoration of Pakistan's decision to ensure it security, to maintain strategic stability and to deter external aggression despite the immense international pressure and threat of crippling sanctions. Consequently, theutility of nuclear weapons can be checked from the fact that despite multiple escalations after overt nuclearization of South Asia, India has not dared to attack Pakistan thusnuclear weapon capability of Pakistan has ensured safety, security and durable peace and protection from any external aggression.
Asma Khalid is a Research Associate at Strategic Vision Institute, a think-tank based in Islamabad.