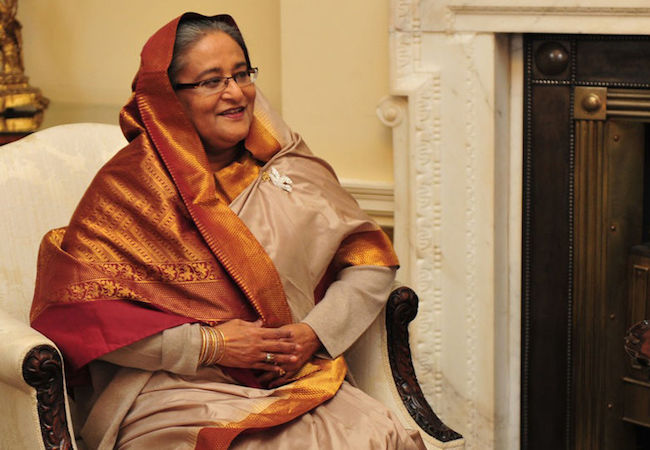 By Srimal Fernando and Mizly Nizar
Forty five years on from establishing formal diplomaticties between Bangladesh and Sri Lanka, both neighboring South Asian nations have undergone remarkable foreign policy changes and have immense scope to deepen this multifaceted close friendship to flourish.The diplomatic ties  between  Bangladesh and Sri Lanka,  have  grown  from strength  to strength over this period  built  on the pillars of political, economic, cultural,  educational and defense cooperation. Like all other South Asian nations, there are many opinions about the Bangladeshi foreignpolicystrategy. Nevertheless, it is still worth mentioning the famous phrase "friendship towards all malice towards none" by Sheikh Mujibur Rahman the founding father of modern Bangladesh that shaped the foreign policy of the country. From then onwards, under various leaders, the nation pursued a consistently stronger policy based on the Non-Aligned Movement (NAM) principles since its independence in 1971. One can argue that Bangladesh's first President Mujibur Rahman should be widely credited for proposing the idea of regional cooperation in South Asia, which eventually materialized institutionally in 1985 as the South Asian Association for Regional Cooperation (SAARC).
Among the eight SAARC nations, Bangladesh is important for Sri Lanka as a bilateral partner while placing high emphasis on positive bilateral engagements. Regular high-level visits in both directions serve to cement and expand bilateral relations that are mutually beneficial in all spheres.  In July2017,Sri Lankan President Maithripala Sirisena paid a state visit to Bangladesh which took place in the context of strengthening and broadening bilateral relationswith greater trade and investment cooperation between the two countries. During this visit, the Sri Lankan President and his counterpart Bangladeshi Prime Minister Sheikh Hasina welcomed the signing of the memorandum of understanding on economic partnership between the countries which they believed "should pave way for conclusion of the Free Trade Agreement (FTA)". There  is no doubt  that  the this  visit   will further entrench  the ties  that exists between the two nations.
The two South Asian nations are also signatories to regional trade agreements namely the South Asian Free Trade Agreement (SAFTA)givingBangladesh and Sri Lanka preferential market accessto over 1.6 billion people. Building on the great traditional friendship the two nations are able to work closely through the Bay of Bengal Initiative for Multi-Sectoral Technical and Economic Cooperation (BIMSTEC) to unleash closer cooperation. Economic cooperation between Bangladesh and Sri Lanka is an exceptional example of the growing relationship as shown by the increase in bilateral trade figures. From 2013–2017 total trade between the countries had surged by 55percent to US$ 166 million.
Over the years, the bilateral economic relationship between the two nations has expanded from being a mere trading partnership to one that also includes free flow of investments. As indicated in recent statistics 45 Sri Lankan firms have invested approximately $300 million in various sectors in Bangladesh while 6 Bangladeshi firms have invested $20 million in Sri Lanka. Most of Sri Lanka's investment in Bangladesh is in the apparel sector while the largest Bangladeshi investment in Sri Lanka is in pharmaceuticals. Sri Lanka's biggest textile manufacturing companies such as Brandix Casualwear, MAS Holdings and Hirdaramani have set up state of the art branches in Bangladesh. In addition to cooperation in the apparel sector, both countries need to further enhance and accelerate close cooperation in the health and pharmaceutical sector. While Sri Lanka's total imports of medical and pharmaceutical products for the year 2017 was US$ 520 million, Bangladesh's share in this sector was only around US$ 35 million. Sri Lanka can look to collaborate with various Bangladeshi institutes and key companies to advance the island nations pharmaceutical industry through further investment in the domestic market.
In recognition of the need for close tiesfor intra-regional  passenger travel, the national carrier  Sri Lankan airlines flying regular direct flights between Colombo and Dhaka offers better connectivity while providing affordable cost effective travel forthe200,000 Bangladeshi  workers  living in  neighboring Maldives and for the 25000 Sri Lankan expatriates living inBangladesh.
In addition to air connectivity, both countries are exploring means of enhancing maritime connectivity to boost their economies. The ports of Chittagong in Bangladesh and the ports of Colombo and Hambantota in Sri Lanka are located nearly 1515 nautical miles from each other. Robust connectivity and linkages between these ports would facilitate shipping, tourism and investments between the two countries. Bangladesh Commerce Minister Tofail Ahmed had stated that signing the FTA between the two countries would allow Bangladesh to use the Colombo port saving three days for local importers or exporters.
Education and sports are other areas of collaboration between the two nations. Bangladesh is host to around five hundred Sri Lankan students studying in its medical and dental colleges. And there are about two hundred Bangladesh Buddhist monks studying in the monastic colleges (Pirivenas) of Sri Lanka. The other important aspect that brings Bangladeshi and Sri Lankan people close together is cricket. Over the years both nations have produced world class cricketers. Contributing towards Bangladesh's cricketing success in the international arena were Sri Lankan born Australian cricketer Dav Whatmore as the team's coach from 2003 to 2007 and Chandika Hathurusinghaas head coach from 2014 to 2017. They played a key role within the Bangladeshi national Cricket team's development agenda.
Over the course of the last forty five years the economic, political and cultural partnership between Sri Lanka and Bangladesh has grown beyond the scope of their traditionally friendly relations to become significant players in the South Asian region. Although, trade between the two countries has grown in terms of numbers, this does not indicate that smaller South Asian countries are now prepared to engage in more trade and investment among themselves irrespective of regional politics.With the rise of Asia, the partnership between Sri Lanka and Bangladesh can be taken to a whole new level by being a model to be emulated by other South Asian countries for enhanced economic growth leading to economic development in the region.
 Srimal Fernando is a research scholar at Jindal School of International Affairs, India and an Editor of Diplomatic Society for South Africa.  Mizly Nizar   is a Foreign Policy  Analyst and a former visiting lecture at The Bandaranaike Centre for International Studies (BCIS) and the Open University of Sri Lanka (OUSL).
*The original was published by the Independent News (Bangladesh). Republished by FPN at the author's request.