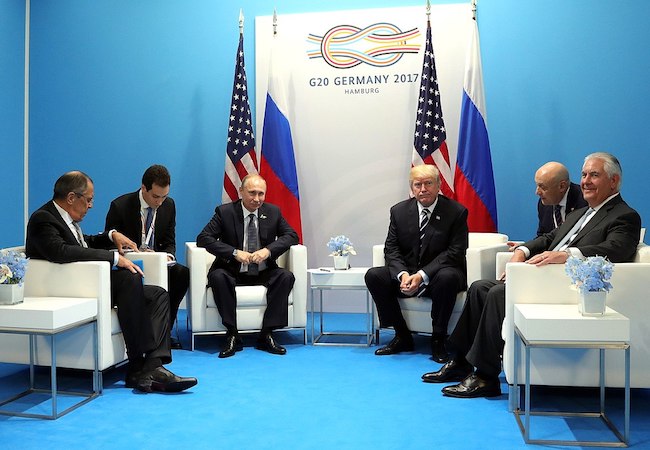 By Bina ul Haq
Summary
Putin and Trump, leaders arguably with hostile powers. Their meeting holds significant importance in history, requiring scenario planning to structure long-term business relationships and a defense playground for both countries.
It will provide assurances; to the operating companies both in Russia and USA soil, promote new ventures. The sanctions imposed for underlying reasons could be lifted as issues are addressed.
Trump, a businessman and Putin, ex-KGB, hence potential benefactors are both oligarchs and political actors . Impending chances of joint ventures in research, Artificial Intelligence, and military activities exist.
Potentially advantaged USA companies: Exxon, Mondelez International Inc, PepsiCo, McDonald's, Johnson & Johnson, KAZAN (Sputnik), Boeing Co, Ford Motor, Microsoft Corp, Cisco Systems Inc's., Abbott Laboratories.
Advantage to Russian companies: Rosoboronexport, KrEnergo, Basic Element Company, Central European Aluminum Company, GAZ Group, Russian Machines Corporation, Basel Aero,  Insurance company IJSC Ingosstrakh, Soyuz Bank, Non-state pension fund Socium,  Glavstroy Corporation and alcoholic beverages,  BasEl Real Estate, Glavstroy-Management, Kuban AgroHolding, AquaDin (LLC).
This meeting will hold significant importance in history and scenario planning, structuring a long-term business relationship and the defense playground for both the countries. Trump is a businessman and Putin ex KGB, both will use it for their best-vested interest. These leaders have a unique skill set and experience under their belts; they are also experiencing new realities, their actions are attention-grabbing and making headlines. They are the leaders of unique skill set leading two arguably hostile powers.
Trump believes in keeping America first and making America great, but still requires new alliances even with the least favorite allies, to control deep reliance on old and existing business partners in the overall structure. There will be major business gains and opportunities for both the countries.
President Donald Trump is an American businessman, media personality, and real estate developer.
He is a doer and achiever and makes things happen such as one of Trump's biggest early deal was rescuing the once-grand Commodore Hotel from bankruptcy and transforming it into the Grand Hyatt.
This Trump quote summarizes his philosophy: "Success comes from failure, not from memorizing the right answers."
Mr. Putin is a versatile President and trained KGB intelligence veteran. Putin Quote: 'The task of the government is not only to pour honey into a cup but sometimes to give bitter medicine.'
There is no shred of doubt that, despite tough challenges, Putin has emerged Russia as a more progressive player in the  forefront of the world platform. Details in my article Putin's Russian elections: Geopolitical impacts, economic and foreign policy, and international business. He will attend this one-one-one meeting well-prepared. Regardless of how it plays out, it will absolutely benefit him on his home ground and help him level the playing field.
There is definite encouragement, as Trump has expressed bringing Putin back into the international fold. Despite this, the US government and Treasury Department have continued to impose sanctions on various Russian officials, companies, and businessmen.
In the rest of the article, potential meeting prospects and the areas of interest for discussion are highlighted briefly.
The most important talks may include the concerns as the officials are distressed through a list of complaints about Russia's actions beyond its borders, including its annexation of Crimea, a backing of separatist rebels in eastern Ukraine, support for Syrian President Bashar Assad, and cyber-hacking.
Russian companies have been accused of directly supporting their government intelligence agency's efforts to carry out cyber attacks. At times, Russians are known to use chambers of commerce and trade groups for intelligence operations. But this extends beyond election meddling accusations to include intrusions into America's energy grid and threats to underwater cables that transmit much of the world's communications data. Any further erosion in current relations in these matters of great security and sensitivity could prove greatly destructive to political stability in the affected regions.
There is a possibility of a discussion on the immunity of the following figures as well.
Kirill Shamalov, who is reportedly Putin's son-in-law, married to his daughter Katerina Tikhonova, although neither Putin nor the Kremlin have acknowledged that she is his daughter.
Igor Rotenberg, the son of Arkady Rotenberg, a friend of Putin's since they were teenagers.
Andrey Kostin, named among government officials, heads the nation's second-largest bank, VTB, which is controlled by the state.
Alexei Miller, the longtime head of Gazprom, the state-controlled natural gas giant. Both Miller and Kostin are longtime key members of Putin's team.
Rosoboronexport, a state-owned arms-dealing company, accused by the U.S. of selling to Assad, was also targeted, along with a subsidiary bank.
Many other targets were associated with Russia's energy sector, including parts of Gazprom.
Rosoboronexport, Russia'stop defense corporation, involved in trading of a wide range of military and double-purpose products, technologies and services.
There are chances of some favors' on merits to be mutually beneficial to Russians businesses too; the following are strong contenders:
Dmitry Firtash, whose empire was once dwindled, Co-owner of Ros UKrEnergo.
Oleg Deripaska Alimunium Magnet's, Basic Element Company is the largest diversified group dialing in Energy, Manufacturing, Financial Services, Construction, Aviation, Real estate, agribusiness, airport and port business and mining. Central European Aluminum Company, GAZ Group, Russian Machines Corporation, Basel Aero, Insurance company IJSC Ingosstrakh, Soyuz Bank, Non-state pension fund Socium, Glavstroy Corporation and Glavstroy-Management, Kuban AgroHolding, AquaDin (LLC), manufacturer of non-alcoholic beverages and BasEl Real Estate
Business venture with Roseneft, this oil company is mainly owned by the Russian government.
Gazprom Russina, the energy giant owned by the Russian state.
This will cater to US industrial sector needs and assist on mitigating the heavy dependency of the USA on China, India, EU, Latin America and others. These group of companies operates in Russia, Africa, Australia, Asia, Europe and Latin America which could provide an edge to the US in projects in these countries.
Although the United States and Russia have imposed economic sanctions on each other since 2014, several large U.S. corporations still count Russia as a growth market. New sanctions and proposed legislation have raised the possibility of fresh challenges for U.S. companies in Russia.
The United States imposed sanctions on Russian oligarchs and government officials and Russian companies. In response, Russian lawmakers are considering legislation that would ban or restrict certain U.S. imports. The industries named in the draft law include software, agriculture, pharmaceuticals, tobacco, and alcohol. Russia is also considering reviewing goods produced in Russia by U.S. companies and the Russian imports from the USA.
The US companies that maintain significant operations in Russia are in several sectors, namely: Technology, Consumer brands, pharmaceuticals, aerospace, as well as automakers and others.
Exxon has been in Russia for more than 20 years, and pumps about 10% of its oil from the country. It operates a large project in eastern Russia and is part of a consortium expanding a crude oil pipeline from Kazakhstan to Russia's Black Sea coast. But Exxon wants to do more: It asked the U.S. Treasury Department for permission to bypass Russian sanctions to resume a joint venture with Russian state oil giant Rosneft.
Microsoft Corporation has noted that overall market conditions have improved in key markets like Russia. However, following U.S. sanctions, two of Microsoft's official distributors in Russia curbed sales of Microsoft software to more than 200 Russian companies.
Cisco Systems Inc's product revenue in Russia grew 20 percent in 2017, which is ahead of Cisco's product revenue growth in the other so-called BRIC countries of Brazil, China and India. Apple Inc posted double-digit revenue growth in Russia, as well.
Mondelez International Inc has become the leading chocolate maker in Russia. Similarly, PepsiCo reported that in 2017, its Russian operations generated net revenue of $3.23 billion, which made up 5.1 percent of the company's total net revenue.
KAZAN (Sputnik) – These US companies operating in Russia are planning to continue their work in the country and even to expand their businesses despite the anti-Moscow sanctions. McDonald's categorizes Russia as a high-growth market and has opened new locations there in the past two years, according to its annual financial report. Johnson & Johnson has identified Russia as a strong market for regional consumer brands, and Abbott Laboratories is among the top five companies for branded generic drugs in Russia.
Boeing Co named Russia as one of its largest growth markets, as well, but also noted pricing pressures from government-funded domestic competitors in Russia, as well as from China and Japan.
Ford Motor Co doubled down on Russia even as it's big U.S. rival, General Motors Co, pulled out in 2015. The automaker's sales from its joint venture with Russia-based Sollers PAO grew in 2017 and results "continued to improve, approaching breakeven."
The Trump Organization itself and even Ivanka Trump will have a potentially profitable business advantage, as well. Through the collectively named  group of approximately 500 business entities, and through its various constituent companies and partnerships; in real estate development, investing, brokerage, sales and marketing, and property management, construction, hospitality, casinos, entertainment, book and magazine publishing, broadcast media, model management, retail, financial services, food and beverages, business education, online travel, commercial and private aviation and beauty pageants, television production company, fashion apparel, jewelry and accessories, books, home furnishings, lighting products, bath textiles and accessories, bedding, home fragrance products, small leather goods, barware, steaks, chocolate bars, and bottled spring water.
Russia imported $12.5 billion worth of U.S. products in 2017, according to official customs data. That included aircraft, machinery, pharmaceutical and chemical products. Publicly listed U.S. companies generated more than $90 billion in revenue from Russia in 2017. Among the industries with the greatest exposure to Russia are food and beverages, technology and pharmaceuticals.
The political players and the pressure for sanctions create uncertainty and disrupt the growth process for these countries and their companies. This leads to dual consequences to a tit for tat approach; for example Russia may stop supplying titanium to Boeing as part of its response to U.S. sanctions. Obviously,  competitors of both the countries can take this opportunity to exploit their dependence on the demand and supply chain and subsequent impacts on production.
Consequently, the impact of the meeting will resonate beyond media discussions of election meddling and the impacts of foreign and defense policies in Syria, the Ukraine and elsewhere. While the two leaders may or may not solve those geopolitical issues, their ability to find a common ground to begin to resolve the resultant trade and sanction issues will have an immediate impact on businesses that operate in both countries… and the ability to conduct business may be a first step in the two powers finding a path to resolve their issues.
Russia Exports to the United States 2006-2018 | Data | Chart | Calendar
Exports to United States CMLV in Russia averaged 5579.74 USD Million from 2006 until 2017, reaching an all-time high of 16425.30 USD Million in December of 2011 and a record low of 444.30 USD Million in January of 2007.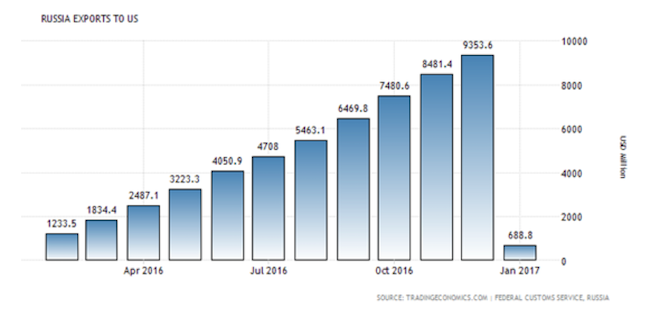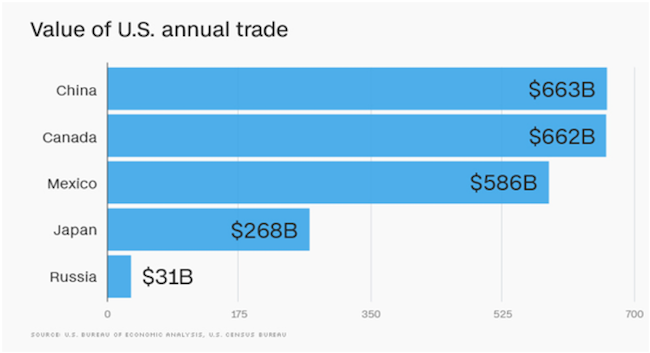 Just 0.5% of American exports go to Russia, on the flip side, Russian goods and services make up just 0.7% of total U.S. imports.
References:
Donald Trump's Success Story Donald Trump's Success Story
Putin's Russian elections: Geopolitical impacts, economic and foreign policy, and international business
US takes aim at Putin's allies in Russia with new sanctions
US Firms Operating in Russia Plan to Expand Businesses – US Ambassador