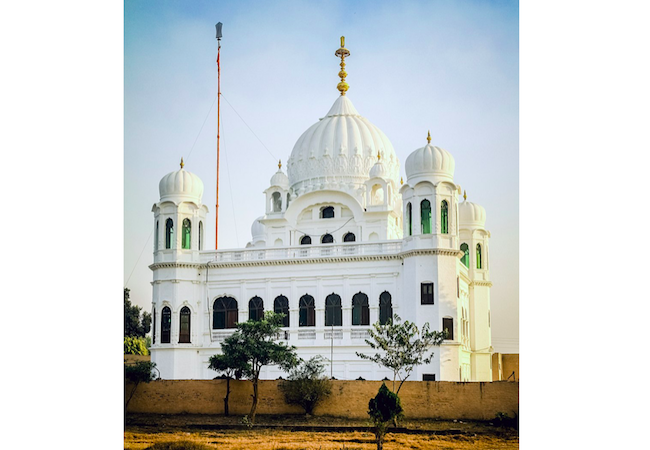 By Sadia Kazmi
The bilateral relations between India and Pakistan have undergone mostly downs than the ups since partition in 1947. Since the recent past in 2016 the relations reflect a bleak picture with regards to any initiative for talks and prospects for developing common grounds for peace and development. India quite vociferously blames Pakistan for the current state of almost non-existent bilateral relations, alleging it responsible for the 2016 terrorist attacks on an Indian Army camp in Uri of Jammu and Kashmir. It was this particular incident in September that year which India used as a pretext for severing any active bilateral/diplomatic relations with Pakistan and also announced to boycott the long due SAARC summit.
In such a prevailing state of affairs the Kartarpur initiative indeed comes as a ray of hope for the people on two sides of the border. Pakistan's magnanimous gesture not just for the Sikh brothers but also to give regional peace a chance has to be commended. The new government in Pakistan under the premiership of Imran Khan has taken a step that was never before witnessed in the history of bilateral relations. This also shows eagerness on part of Pakistan to somehow mend relations with India and go for working diplomatic relations, something that India needs to realize too and ought to show some relaxation in its stern behavior.  In a complete contrast to how it should have been, India actually showed a lukewarm response to the PM Imran Khan's invitation to External Affairs Minister Sushma Swaraj, who thanked but refused to accept the invite to travel to Kartarpur for the stone laying ceremony, mentioning prior commitments and election campaigns as the prime reason. At the same time, she had been vocal about not to see Kartapur kind of initiatives as ice-breakers and instead urged that terrorism remains to be biggest unresolved issue without addressing which no hope for peaceful or working relations should be cultivated. It is ironic that while India refuses to budge from this official position, it also doesn't like to sit together to address this mutual issue of concern which is not just unique to India. Terrorism is a global phenomenon, and no one can deny that Pakistan has been putting up the greatest and longest fight against this menace since long. It also appears that sticking to anti-Pakistan slogans and assuming hard position against Pakistan is taken as a key to victory in the upcoming general elections in India. Hence one can assume that unless the election in April next year, no serious chances for talks or change in Indian behavior could be expected.
Nonetheless, all this scenario cannot just take away the positives that the Kartarpur initiative has brought for Pakistan and India and for the region. The foundation stone on Indian side was laid by the Indian Vice President M. Venkaiah Naidu and Punjab Chief Minister Amarinder Singh on 26th November 2018 and the groundbreaking ceremony on the Pakistani side took place on 28th November. Indian delegation comprised of Minister for Food Harsimrat Kaur Badal and Minister for Housing Hardeep S. Puri, led by Navjot Singh Sindhu Minister for Tourism, Cultural Affairs, and Museum of the State of Punjab, arrived in Lahore through Wagah Border for the ground-breaking ceremony of Kartarpur Corridor.  Navjot Singh Sindhu in his previous visit to Pakistan in August expressed gratitude toward the plan of opening Kartarpur Corridor shared by Pakistan COAS Qamar Javed Bajwa. The respective parts of the corridor will be constructed by the two countries on their side till the border area. Pakistan will have to do the construction from the Indian border to the Gurdwara Darbar Sahib in Kartarpur to make the regular travel of the pilgrims to their most revered destination possible by mid next year. Similarly, India will construct the other portion starting from Dera Baba Nanak in Gurdaspur up to the border.
The development to facilitate easy passage to the Sikh pilgrims to the historic Gurdwara Darbar Sahib in Pakistan from Dera Baba Nanak in Gurdaspur has been appreciated world over. Kartarpur lies in the Narowal district in Punjab province of Pakistan in the area known as Shakargarh. The place holds special reverence for the Sikh community across the globe as it is believed that the founder of Sikhism, Guru Nanak Dev, spent eighteen years of his life at this place till his death in 1539. Perched on the banks of river Ravi, it is only 3-4 kilometers away from the border. This milestone development will provide a chance for visa-free travel of Indian Sikh pilgrims and is expected to be completed in six months well in time before the 550thbirth anniversary of Guru Nanak next year. While this step has the support of all Pakistani nation, one also needs to bear in mind that the crossing/immigration procedures will have to be very carefully worked out with check points installed at the required places keeping in mind the inevitable security concerns since the traffic coming from India would have to be let in through carefully scrutinized process primarily to facilitate the pilgrims.
The proposal for visa-free entry by Pakistan is yet another attempt at normalizing relations with India. In an interview with BBC Urdu, Pakistan Information Minister Fawad Chaudhry said "a system was being developed for Sikhs" to facilitate their visit to the gurudwara. "Pakistan will soon open the border at Kartarpur for Sikh pilgrims and the pilgrims will be able to visit Gurdwara Darbar Sahib Kartarpur without visas,". "A road will be constructed for the pilgrims to enter. They will then have to purchase a ticket to go back."
Prime Minister Imran Khan expressed the similar sentiments and stressed on giving peace a chance. He stated "We want civilized relationship. Kashmir is the only problem. Are not we capable of solving a dispute? We need will to resolve the issue,". "Think about the potential we have. I want good relationship with India. If we open our borders and start trade, poverty would decline,". "What other options do we have other than friendship,". He reiterated if India takes one step towards friendship Pakistan will take two steps."
While the Indian government and the Indian Minister for External Affairs (EAM) remain skeptical and voice mostly pessimistic prospects for peace, the visiting Indian delegation responded positively. Harsimrat Kaur expressed pleasure on the occasion and said "this is historic day for our nation. Desire of millions of Sikhs around the world have been fulfilled today,". He called the initiative peace corridor which he said could become basis for the new start between Pakistan and India. Similarly, Navjot Singh Sidhu while speaking at the ceremony commended Prime Minster Imran Khan for the initiative and reiterated that religion should not be looked at from the prism of politics and terrorism. He instead suggested that Pakistani and Indian government should move forward. "The seed that Imran Khan sowed three months ago has become a tree now and me and 120 million Sikhs could not be happier. I want to thank the Pakistani Prime Minister and officials,". "Karturpur Corridor will prove to be a path of peace and instead of 60 years, happiness can come in six months through it. This corridor will be the reason that borders between both the countries open," Sidhu added.
While so much positive sentiments are being expressed and great optimism is visible in the context of this historic development, one can also not ignore the fact that the 20thSAARC summit scheduled for December 2018 in Pakistan couldn't take place because of Indian boycott of any engagement with Pakistan. The regional summit hasn't taken place since the 18thSAARC Summit in Kathmandu in 2014. Indian Minister for External Affairs Sushma Swaraj said that India will not be attending the SAARC summit being organised in Islamabad, Pakistan. "Unless and until Pakistan stops terrorist activities in India there will be no dialogue and we will not participate in SAARC," said Swaraj in a press conference organised in Hyderabad, India. One wonders as to where would such hard position by India, lead the bilateral relations. The only intent behind this seems to be lack of will to resolve the frictional points through negotiations and on purpose wasting any chances for peace. Nonetheless, one can stay hopeful of Kartarpur Corridor that stands as a conspicuous development with a potential to resume negotiating channels between the two sides and may be in the long run broker some form of workable peace between the two.