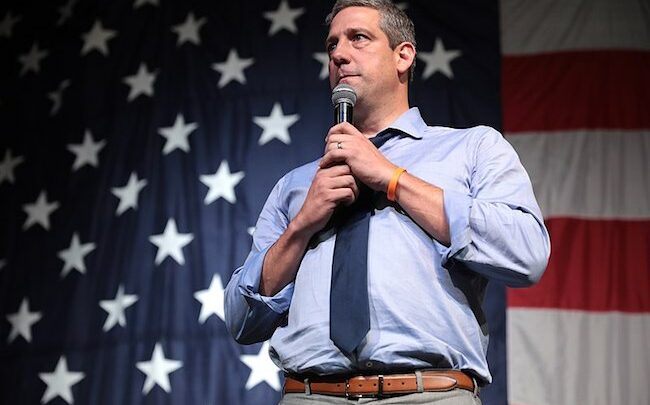 Congressman Tim Ryan from Ohio announced his run for president on Thursday, joining a crowded field of Democrats seeking the party's nomination this summer. Congressman has represented the 13thdistrict of Ohio since 2003. 
Ryan's first appearance as a candidate took place at his hometown of Youngstown this weekend.
Ryan is a moderate Democrat, who vows to unify the progressive wings of the Democratic Party with the more traditional working-class voters. He's one of a few moderates joining other 17 candidates most of whom are mostly progressives. Congressman Ryan was once a "pro-life" supporter, but then switched sides supporting abortion rights as he has moved further left over the years.
Speaking to his supporters Ryan called for unity and denouncing what he sees as a set of false alternatives laid out by other politicians.
He said that there are politicians and leaders in America today that want to divide the communities, and "they want to put us in one box or the other."
"You know, you can't be for business and for labor; you can't be for border security and immigration reform; right, you can't be for cities and rural America; you can't be for the North and the South; you can't be for men and women. I'm tired of having to choose," he told a crowd of voters.
The Ohio congressman partly blames Russia for political division in America. He argues that while there incidents in America that are controversial, such as "kneeling for the National Anthem or there's a school shooting or there's an incident between a cop and a kid", it is the Russians who purposefully exaggerate things on social media driving people into divided camps.
"That's what they want. And meanwhile, we can't get out economy going. Meanwhile, we can't get a healthcare system that works," Ryan said. During his speech, Ryan referred to his working-class upbringing in Niles, Ohio to depict himself as an every-man person in order to appear different from other Democratic candidates. 
Seeking the minority vote, Ryan had also appealed to voters of color. At the stage at the National Action Network conference in New York City Friday, he said that he grew up in a town where he "didn't know a lot of black people," before adding, "I represent the city of Youngstown, and the city of Youngstown is 50 percent African American, and the number one lesson that I learned is how much I did not know about the experiences of people of color in a community that was not that far from my own."
Ryan had thought about running for Ohio governorship in 2014 and for Senator in 2018, but eventually gave up the idea, deciding to stay in Congress.