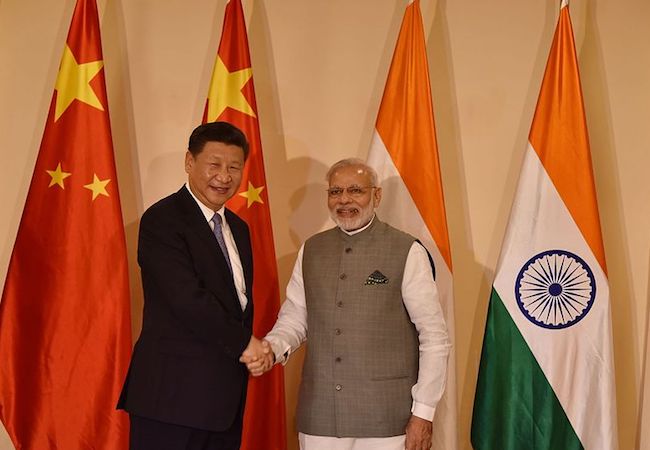 By Sabyasachi Biswal
Modi and Jinping's informal and once in a decade bonhomie in Wuhan might be a relief for researchers and IR enthusiasts working on credible geopolitical dispute resolution between India and China, but as far as strategic initiatives are concerned, it is still far off from being successful in harbouring deeper ties between two massive or aspiring powers in the region.
One might argue that being aspiring powers in the same region, and sharing geographical proximity, China and India share similar economic problems, where both of them expect of being two out of three largest economies by 2025. In fact, it is true that both the countries together represent over one-third of world's human population, and share ambitions which represents the economic rights of poor and marginalised, emerging industries and start-ups, and greater leeway in climate change management through efficient green technology transfer. Moreover, most of India's greatest economic achievements in a decade are a result of a successful collaboration with China e.g. Asian Infrastructure Investment Bank, and the establishment of BRICS New Development Bank in 2014. The friendship in multilateral forums is so strong that India has supported China's prospect in World Trade Organisation the most, and that too against United State of America in right to export steel without US interference and maintaining greater food storage capabilities for developing countries. Recently, China also lifted its hold on listing Masood Azhar as a global terrorist at the United Nations, ending a long skirmish with India over the issue.
But alas, make no mistake but the prospect of bonhomie is limited only at the multilateral stage, because when it comes to bilateral relations, the geopolitical power politics between India and China have always been at two separate ends of the bandwagon. In fact, even after sharing similar economic aspirations in multilateral forums, both of them have been unable to keep geopolitics and economy separate in the bilateral stage, leading to complete stalemate of relations in regular intervals. These stalemates can be divided into three categories, namely (i) Historical baggage; (ii) Allusion of Economic Cooperation; (iii) Pretentious political leverage through occasional bonhomie.
Historical baggage through border disputes between India and China have been almost next to impossible to resolve. Engaging two distinct and separate areas of contention, its initiation can be dated back to the Sino-Indian war in 1962. More than China's capture of Aksai Chin in the west and parts of Arunachal Pradesh in the east, it remembered mostly as a betrayal from China by breaking the historical notion of "Hindi-Chini-Bhai-Bhai", acting as a devastating personal blow to the then Indian PM Jawaharlal Nehru. The poaching of territory by China since 1962 have not been resolved until now, and both the countries have constantly engaged each other bitterly over illegal land grab through military means. In fact, this contention by far have also hurt India's neighbour Bhutan in the form of Doklam Crisis, which was days away from a full-blown conventional war. To add more salt to the historical baggage, China has been constantly helping Pakistan in developing their nuclear programme. The said programme is expected to box India in the region of South Asia by constantly re-igniting its feud with Pakistan, and not counter China's self interest in the world stage.
Allusions of economic cooperation between India and China have more been on paper rather than actual, pragmatic work. With geopolitics entwined with economy in the larger Indo-China dispute, the promises of symbiotic economic relationships between India and China have all gone to waste. Despite being the largest trade economy in China's proximity, India is not even ranked in China's largest trade partners. In fact, trade has been falling since 2011-12 between China and India from 73 Billion USD to less than 66 Billion USD in 2014-15. This rising trade deficit is a result of mutual lack of trust between the two countries, who are suspicious of each other gaining access to sensitive political areas through trade and economic exchange.
Pretentious political leverage through occasional bonhomie is also one such area where China doesn't seem to be an ally of India any time soon. It is true that Wuhan talks, diffusion of Doklam Crisis and lifting of technical hold on Masood does give some hope, but in the longer run China strategically continues to bar India's entry into the elite Nuclear Suppliers Group, has showed serious and continuous non-committal over India's UNSC Membership, and have helped Pakistan in not getting blacklisted in FATF. I would also like to argue that China's occasional bonhomie through the aforementioned activities is its way to strategically leverage India's support for Belt and Road Initiative and Maritime Silk Route, who China now sees as the greatest hinderance in its global self-interest.
In the end, though there are seeming positives, it all can be concluded as Chinese scheme of things to emerge as the global superpower by 2050 and to fulfil its self-interest, both in the regional and global forums. For such aspirations, China does see India as a credible opposition and since India has started formulating its own regional schemes e.g. Project Mausam, does feel intimidated by the fact that the rise of India in the global or regional forum can prove costly to the big Chinese dream. Moreover, India and China both being aspiring superpowers work to provide best available resources to their citizens and the globe in a whole. Under that purview, it is only natural for China to create a zero-sum game where India's loss is China's gain. Therefore, it is better if China does figure in Indian imagination not as a friend but as the "long-term potential adversary".
Sabyasachi Biswal is a first-year Post Graduate student pursuing his degree in Diplomacy, International Law and Business from the coveted School of International Affairs at OP Jindal Global University, Sonepat, Haryana.