EUROPE
OPINION
POLITICS
Putin has trying to follow a "Xi Jinping" model in Russia
The first month of this new decade would be remembered in future for one of the very significant events which could mark a drastic shift in the world order. Putin has tried to outplay the very constitutional values of the country and it could prove very dangerous to Russia and its citizens.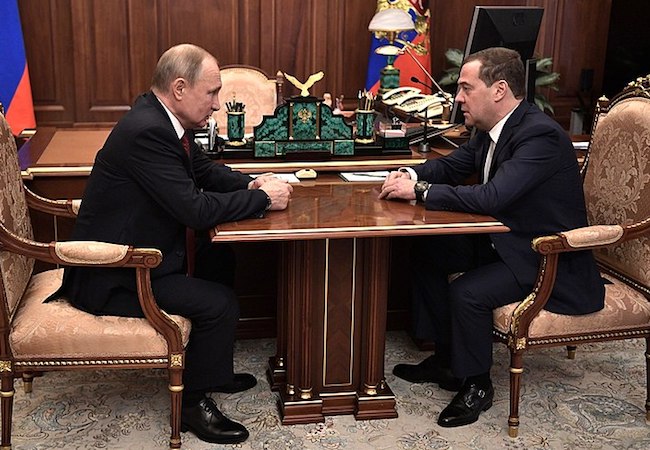 By Jaimin Parikh
Russian President Vladimir Putin, on 15th January 2020, announced few drastic changes which he was planning in the country. He announced his plans to hold a referendum to make major constitutional changes which would change picture of Russian politics and internal governmental system completely. Firstly, as per the Russian Constitution the limit to Presidential term for a candidate is two-consecutive terms which clearly means that Putin, who had acquired power by swapping his office with the then President in 2012, has a constitutional mandate to leave his office in 2024 without being any chance to be re-appointed. Also given the fact that 2012 swapping was also followed by the massive protests in the country, he could not plan the same strategy for yet another time as there are chances that if he does so then even more protests are bound to take place.
Furthermore, he has tried to reduce the Presidential powers and has decided to resist the political powers of one his closest political ally – the Prime Minister who quit – Mr Dmitri Medvedev and has succeeded in making Mr Mikhail Mishustin the next PM of the country. This move is very clever one as Mishustin was more of a bureaucrat without any strong political image. This further means that there would be no one in the government who could politically compete with Putin in near future. The constitutional changes also include vesting more powers with regards to judiciary in the parliament which indicates that it would serve as a resistance, to some extent, for a free and fair judicial system of the country which might be a good sign for politicians but is surely worrisome for the common citizens. Putin thus has tried to make a way for himself as a politician and has seek his self-interest keeping Russia's political system at stake. The already "not so democratic" Russia will further find itself in a worsened situation.
All may not go well within Kremlin
The attempt by Vladimir Putin to get a permanent solution for his political career by outplaying the constitutional norms may not be welcomed by the Russians. Firstly, the move might be facing a great backlash in form of the protests which were also used to greet Putin in 2012 after he swap his constitutional position with the then President in order to get his term as President. Those protests were shut down anyhow but these might not. These may further create an additional chaos in the upcoming years, given the fact that Putin's Presidential term still has 4 more years left. Furthermore, vesting more constitutional powers for him clearly means that further suppression of the rights of Russians which have taken place in recent years.
The recent laws and legislations which are effective taken up to censor the media from reporting against state, to curb internet rights by not allowing "Foreign" media, to not respect the voices of people that are against the regime, suggests that if Putin gets an eternal political power in Russia then further depletion of democratic norms are probably inevitable in the country. Moreover, another impact of this step would be a complete rupture of the "opposition" in the country. Leaders and political opponents would no longer be able to counter Putin or even prominently challenge any of his decisions in the future as judiciary itself would be under eyes of the parliament.
This further means that "One-man rule" is a future scenario in Russia, if these steps which Putin has planned and is planning gets implemented successfully. The proposal of setting upper limit for total number of terms of President as two in number and not allowing any candidate to hold the post who either hasn't been a resident in the country for past 25 years or else has held any foreign passport or residential permit in past is also to curb the opposition. This proposal is clearly targeting the candidates who might have a liberal western influence in their ideology and work, thereby depleting the citizens from even having proper opposition leaders.
Although he has still sought the referendum on the proposals, given the present circumstances and past records, the decision by Putin is expected to face protests throughout the country. Earlier, in 2012, Putin had ruptured down the protestors and thereby Putin has cleverly tried to make this decision seem a Public opinion through referendum but it would be interesting to watch how transparent the referendum is actually going to be.
A future trajectory for policies getting influenced
Putin having a "life-long" political power being in the governmental system might set up few new trajectories in the Russian policies and for the long term in the global order as well. Putin remaining permanently means further improvement in Russia's bonding with Beijing and thereby broadening of the scope for Chinese influence in Central Asia affecting many countries which were part of the former Soviet Union. Furthermore, these countries would see themselves sandwiched between two major communist countries having "One-man Rule". This would further mean diminishing the chances of Russian pull-off from Syria which further implies a non-stable Middle East indulged in a tug of war between various non-regional powers. Moreover, if Putin gets extraordinary power without any scrutiny from any organ of the government inside the country, he would further continue giving its support to the oppressive Asaad regime in Syria clearly stopping any further attempts of de-escalation in the region.
It should come as no surprise if US finds itself more uncomfortable in various regions and policies as China – which has a "Permanent Xi-Jinping" term and Russia – which is expected to have a "Permanent Putin" term will always keep Washington annoying in various aspects of foreign policy. Thus, it would be notable to see how Americans vote in 2020 for their presidential elections and if Republicans are able to retain power or not.
However, main concern for Kremlin is going to be its economy in the future. After disintegration of former USSR, Russia has always found difficulty in competing in the global markets and has relied mainly on the weapons for gaining a boost in their economy, however Putin has shifted from this trend and has started exploring African subcontinent for Russian advantage. Thus, Putin gaining a permanent power means a reinforce of this strategy and a more prominent use of regional partnership including BRICS and SCO.
Thus, Putin getting a permanent leadership role of Moscow has its own implications for country's internal politics as well as its various foreign policy aspects. If the referendum is held just for the name's sake then Russians would the most vulnerable among all the players involved in this constitutional change as the change certainly makes their future most uncertain. It is a high time that Russians understand their basic rights and Putin understands the past of the Revolutions.
Jaimin Parikh is a diplomatic researcher currently engaged with European Institute of Policy Research and Human Rights. He is also serving as an Expert Reviewer with Intergovernmental Panel on Climate Change.