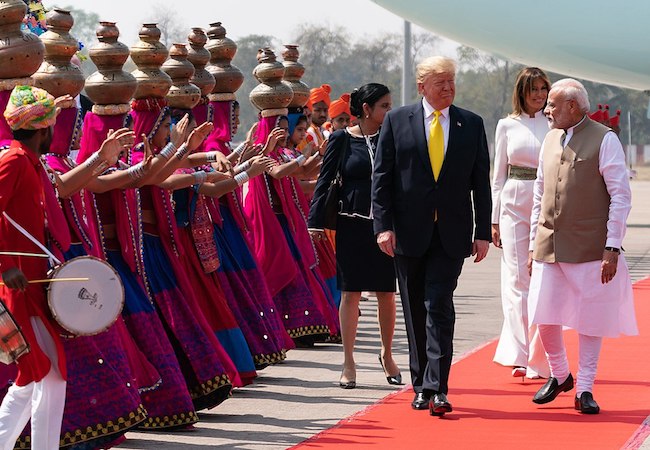 By Preity Upala
February 24 was a sight to be seen at Ahmedabad's Sardar Vallabhai Patel Airport in Gujarat, India. The Air Force one landed in India and US president Donald Trump descended down the steps to be greeted by Indian Prime minister Narendra Modi and a sea of Indians. In what will go down in history possibly as the largest gathering for any head of state anywhere in the world, 129,000 thousand Indians welcomed President Trump at the world's largest sporting venue in the world, the Motera stadium. Furthermore, hundreds of thousands of eager Indians lined up the streets from the airport all the way to the stadium waiting for their chance to get a glimpse of the American president.
In a jam-packed trip, Trump, his entire family and the US delegation were treated to the best that India has to offer. The first stop was a trip to the famous Sabarmati Ashram, Mahatma Gandhi's abode where the president and first lady had a go at spinning the "Charkha", meaning Wheel in Hindi, made famous by Gandhi during his "Swadeshi" movement of Self- sufficiency resulting in the boycott all of British goods, starting with producing homespun cloth called Khadi.
The highlight of the trip was the spectacular rally that PM modi held in honor of the US president. Trump gave a glorious speech thanking the PM and stating that "No rally will ever impress him after Gujarat", due to the sheer scale of the historic event. He graciously gave a speech celebrating everything Indian and Hindu in nature which extended to sporting personalities, Bollywood, the Indian Space program Chandrayyan 2, contributions of the Indian diaspora, excellence in technology, India's fight against global terrorism and it's ethos of oneness and Spirituality.  He even quoted the great Hindu spiritual teacher, Swami Vivekananda "The moment I stand in reverence before every human being and see God in him, that moment I'm free".
Then a trip to the Taj Mahal in Agra, for a historic tour and stunning photographs taken by the first family that will last a lifetime. The First lady, Melania Trump, had a moving experience at her visit to a New Delhi school, by the cultural program put on by the students and was impressed by the "Happiness" curriculum that forms a part of their study. Finally an elaborate press conference to US and India media followed by a lavish state dinner, before the president and the US delegation headed back to home.
So what did the trip actual gain the two parties? Size matters to the president and Modi did not disappoint one bit. He delivered to Trump optics and an experience that will last a lifetime.  A 3 Billion dollar Defense deal was agreed on by the two nations, consisting of the sale of several Advanced American Military equipment including Apache and MH-60 Romeo Helicopters. A trade agreement is set to come in the coming few weeks. Seems the real results of this trip will be revealed in the near future, when important diplomatic and military decisions will be made. As the US prepares to sign a peace deal with the Afghan Taliban, India was invited to be present at the meeting as this withdrawal stands to affect it more than any other country in the region considering it's 1.3 billion strong population.
A BBC reporter tried to bring an issue of rising communal tensions in Delhi when the president brushed aside the effort stating that "India will make the best decision for it's citizens". He further shot down the reporter stating that he himself had to enact the Muslim Travel ban to make American safe again and that this was a necessary and successful step to securing the safety of it's citizens.
Much to everyone's surprise, the issue of Kashmir did not come up during the 2-day visit.  Kashmir is an internal matter to India, but if it does not remain internal and percolates out of control, then it becomes a problem for the whole world. In some ways, it is was a great opportunity for India to let the world know that it has a duty to take care of it's internal issues and show that it is a moral and responsible power at the same time.
PM Modi took the opportunity to give even more reassurances to Trump and the US delegation on the progress being made in Kashmir and the fact that the valley has opened up more for travel and is safer than it's ever been since August 5, 2019.
President Trump fancies himself to be a great uniting force in the world. Of course being an election year, if he is seen to have taken any definitive steps towards peace and harmony or a safer and more secure US, it would only play to his advantage.
Trump has noticeably made a U-turn on his original offer of mediation and has agreed that Kashmir is in good hands and will be resolved by these two parties. The Abrogation of 370 was a necessary step in ensuring all citizens of India get equal rights under the constitution of India and this is what removing of Article 370 did. But this had to be explained to Congress. It is perfectly legitimate to have concerns on this issue but pandering just to get votes in the case of Democratic Presidential candidate Bernie Sanders, Congresswoman Pramila Jayapal, Congressman Ro Khanna and Congresswoman Ilhan Omar at the expense of a genuine ally like India is simply not acceptable. While at the same time, failing to mention the systematic persecution of minorities in neighboring terror state Pakistan. India has always enjoyed a strong reserve of bi-partisan support from the US Congress and this does not look to be changing anytime soon.
The Minister of External Affairs for India, Dr. Subramanyam Jaishankar said it best, when asked about Kashmir by US Senator Lindsay Graham who bought up the issue of Kashmir at the Munich Security Conference this week: "I assure you senator, one democracy will solve this issue, and we all know which one it is!" Alluding to India, being the only responsible player in this game.
India is an indivisible ally of the US in the 21st century and the US recognizes that. History compels and Destiny beckons these two countries to dance together in the future.
Preity Upala is a political editor and analyst based in Los Angeles, California. She specializes in geo-political strategies, international affairs, conflict resolution and counter-terrorism.