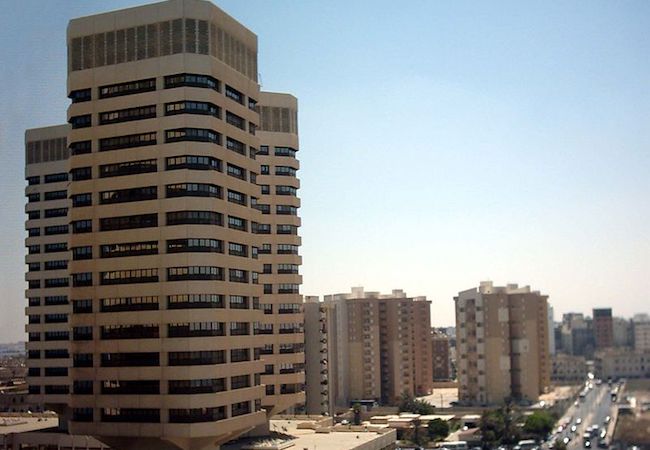 By Benjamin Minick
The situation on the ground in Libya is growing worse by the second. The House of Representatives (HOR) and their military the LNA have been embattled with the Turkish backed internationally recognized GNA for months. This has created a split within NATO as France has joined the Egypt-led alliance against Turkey in Eastern Mediterranean, while the United States and the UK have been providing military and political support, initially against ISIS and Al Qaeda, to Misrata militias affiliated with the GNA.
The problem is, GNA is now home to assorted Islamists, terrorists, and criminal gangs, with Al Qaeda-affiliated former Guantanamo detainees holding military positions. Furthermore, most of Libya's vast territories and oil, so much desired by the resource-scarce Turkey, is under Khalifa Haftar's control. Most of the Libyan population, even some of the tribes once affiliated with Ghaddafi, supports Hafter, notably after GNA refused to enter into a power-sharing agreement that would give the pro-LNA population any share in the financial profits from the oil extraction, which, despite lack of physical access, are going straight into GNA pockets at the moment. No doubt, the Al-Sarraj-led Islamist government is getting some feathers ruffled in more ways than one. A leaked conversation with Erdogan has Al-Sarraj saying: "the Libyans serve for the good of the Turkish people," because it was Turkey that played a crucial role in the Libyan confrontation.
Despite Hafter's recent military losses, which forced LNA to abandon one of the most populated areas in the country, Tripoli, most of these tribes are resentful of the gloating domination by urban elites and their alliances with Islamists. They will not abandon ship because of a few setbacks. Even the losses by the Russian mercenaries pursuing their own agenda but for the moment supporting Haftar have not put an end to LNA's intent to advance. The Russians, after losing 9 Pantsir missile defense systems and being outplayed by Turkey in the fourth generation warfare skills, escalated by bringing in fighter jets.
Egypt, after hearing no response from GNA concerning its proposed Cairo peace initiative, which would put an end to hostilities and set the country back on the path to reintegration, moved its forces to the Libya border. IF Egypt gets involved, that will likely spells much greater trouble for the GNA and its backers. While the battle of lobbyists for both sides is rocking Washington, and the pro-GNA Turkish and Qatari lobbyists have so far prevailed to keep the US anchored to Erdogan, recent evidence shows that under GNA control, ISIS and Al Qaeda seem to be back and flourishing, with Al Qaeda making its way into Libya through the porous Tunisian borders, along with the logistical and humanitarian support delivered from Qatar through the South of Tunisia. As if this isn't bad enough, here comes Iran.
Fresh pictures from the ground show Saraya Ansar, the Shia Iran-backed Iraqi militia, entering Libya to support Turkey. This information, provided by the Libyan Human Rights Center, confirms reports of a recently concluded security cooperation agreement between Iran and Turkey, as well as rumors of close cooperation between the two countries on security and defense issues and follows information about an IRGC-affiliated ship delivering weapons to Misrata on April 23.
While the world is caught up in high profile international incidents, this may be the focal point for the next major conflict. Turkish aggression in the region has been growing. This is bolstered by recent developments with Iran. True to form, the regime in Tehran won't send their own troops because that would force them to accept responsibility. Here come the militias.
Mere hours after substantiated rumors resurfaced about a cooperation agreement between Turkey and Iran, Saraya Ansar fighters began pouring into the country through Misrata. The soldiers gained entry to the country through Tunisia via a ship. The simple fact that they are all of a sudden on the ground in a country that they have no business being in lends credence to the fact that foreign actors are being brought in to decimate the country. Turkey's importation of Syrian mercenaries is just a start.
These developments contradict the US foreign policy predicated on maintaining a close relationship with Turkey to offset Iranian influence in Syria and elsewhere in the region. On the contrary, Turkey's recent moves demonstrate Erdogan's willingness to work with a diverse array of allies and even forge relationships where ideological battles seem inevitable. The formation of the Islamist bloc initially predicated on Turkey's relationship with Qatar, Pakistan, and Malaysia, for instance, now includes Libya's GNA, Tunisia, and even possibly the secularist junta government of Algeria.
Furthermore, putting aside divergent theological paths, Turkey has also signed a series of agreements with the Khomeinist Islamist Iran building a foundation for a joint ideological outreach in Africa and other territories. All of these paradoxical groupings follow Turkey's self-declared "defense line," which gives it in Erdogan's mind jurisdiction over vast areas once controlled by the Ottoman Empire from Qatar to Eastern Mediterranean and Libya – and presumably, all the way to the Gates of Vienna. Iran, for its part, remains dedicated to exporting the Islamic Revolution abroad, seeking opportunities to find recruits and supporters even in such unlikely places as Sunni-dominated Libya.
The question now becomes, where does the United States stand on these issues. We have long-standing diplomatic ties to Turkey and alliances. Turkish leadership always likes to dangle the fact that Incerlick is tactically essential to US strategy in the region. Does this mean that the US will stand with Turkey in these efforts, even after it has been proven that Iran is directly involved?
Foreign policy issues have plagued the current administration. Some would say that there is no foreign policy. US efforts in Iraq, Syria, Yemen, and Libya have primarily focused on countering ISIS and Al Qaeda, and where relevant, providing some limited defense to oil fields, and logistical and intelligence support to allies, including the Misrata militias in Libya, the Arab Coalition in Yemen, and the SDF in Syria. Although the US may still be the dominant actor in countering ISIS, that has not stopped ISIS from resurfacing in Iraq, Syria, and now thanks to GNA, in Libya.
If the United States does not handle the situation carefully, they will inadvertently be giving the green light to the same people that they have been fighting for so many years. Adds the national security analyst Irina Tsukerman: "While it is not clear whether the US has any vision, plan, or real preference for the future in Libya, it is clear that the course it has elected to follow thus far will inevitably lead to more conflicts, further splintering of Libya, and US alliances, more bloodshed, more security threats, and more endless Middle Eastern – and other wars – which will weaken US position on the international scene, confuse its allies and its policy options, and ultimately lead to greater hardships which will require greater and costlier involvement to resolve in the long run."
Iranian backed proxy militias are now on the ground in plain sight along with Al Qaeda and what is left of Isis. The international community must take notice of this and sound the alarm.
Benjamin Minick is an expert on military and tactics. He is a contributing fellow at Dar Untash and has been featured in several publications. He is an expert in Middle Eastern policy and international military affairs.