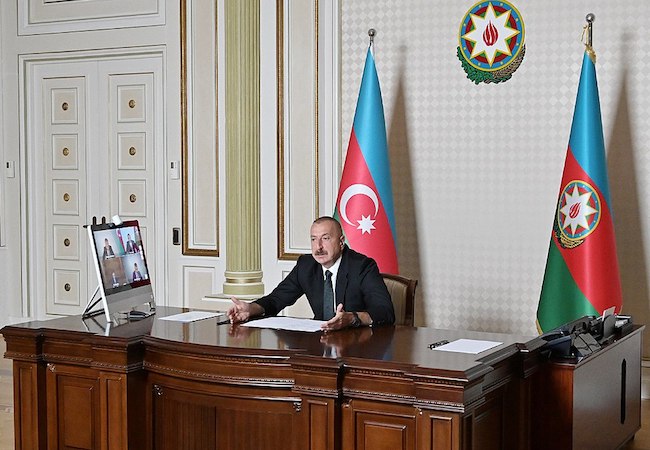 The COVID-19 pandemic has made life difficult for everyone. Governments throughout Europe and Asia have instituted harsh quarantine regimes with police, and in some cases, military enforcing the rule of law. Some, however, seem to have missed the directive, felt privileged and held social gatherings.
With the advent of social media, it is unlikely that any social gathering will be held secret. In Azerbaijan, a few get-togethers of high profile individuals, including government officials, caused a public outrage. The most notorious one was the wedding of the granddaughter of one of the most influential people in the country, Ramiz Mehdiyev, a former aide to the president, who had been forced into retirement a few months ago. The lavish yet private party in the outskirts of Baku on August 22 ended up with the arrest of the son-in-law of Mehdiyev and a few others who organized the wedding. Mr. Mehdiyev took on Facebook to accept the punishment for his relatives but did warn that the rule should apply to all, as quite a few parties, involving influential people are said to have been held throughout the summer while the general public was restricted to their homes.
Azerbaijani President Ilham Aliyev spoke this week stating that he does not take the issue lightly. During a videoconferencing event for opening of another modular hospital of the Health Center of the Ministry of Emergency Situations for the treatment of coronavirus patients, President Aliyev warned that the law applies to all and no one should hold himself or herself above the law. He said: "Unfortunately, there are still people who do not understand the situation today, who have lost a sense of responsibility. There are cases of flagrant violation of the rules. When such cases are discovered, of course, punitive measures should be taken and applied. Punitive measures apply to all categories of people. There shouldn't be and there is no discrimination. Everyone is equal before law regardless of their social status. Equality, justice and the rule of law are the main principles in Azerbaijan, and I call on all our citizens to act responsibly. First, they must act responsibly in order to protect themselves and their loved ones. On the other hand, those breaking the rules, organizing large-scale events and thus not reckoning with the laws and existing rules of the country in a demonstrative manner will be and are being punished. The public is also being informed about this issue. I think that the people of Azerbaijan are well aware that law is law for everyone. No-one can be above law, no-one can have any privileges and no-one can and will be given any concessions."
"All the work done is aimed at overcoming this situation with few losses, and I think we are achieving this. Everything is measured in comparison. If we look at the global statistics on COVID, we will see that the results obtained in our country are very effective and valuable. I think that it is thanks to these measures that we have saved the lives of thousands of people."
"I am confident that as a result of joint efforts, the decisive, thought-out and fair steps of the state, as well as the responsibility of our citizens, will allow us the opportunity to come out of this difficult situation with few losses and return to normal life as soon as possible," Aliyev said hoping COVID will be history soon and everything will get back to normal.