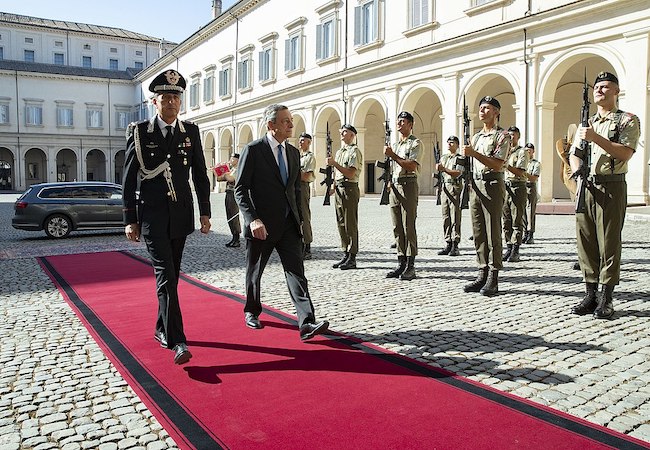 Italy is experiencing political turmoil that occurs on a recurring basis. It could best be described as political backstabbing in which a party or parties does its best to undermine the prime minister leading the government. In this case, Prime Minister Mario Draghi has lead Italy through a particularly perilous time in dealing with the Covid-19 pandemic as well as trying to institute judicial reforms, elevate the nation's stature in the world arena, and modernize the country to meet the new standards of the 21st century. At the same time, Draghi was making sure Italy was united with the European Union (EU), NATO, and Western nations against Russia in its attempted takeover of Ukraine. Draghi was also working diligently to acquire funds for Italy that amounts to billions of Euros that will help the country in its recovery from the economic consequences of the pandemic.
However, the heads of four political parties in Italy from the right to the center banded together to undermine Draghi's attempt to elevate the country to a new level that would give it credibility and economic advancement it sorely needs. These parties claim that their actions are to help Italy, but their actions are more inclined to push their own agenda and probably do more harm than good for the Italian state and its people.
How it came about
Italy's current political situation started in February 2021 when Mario Draghi was appointed Prime Minister by President Sergio Mattarella. The government was led by Prime Minister Giuseppe Conte, but could not hold the position effectively. Italy was in the midst of the Covid-19 pandemic as well as an economic crisis. Italy was undergoing not only an economic and health crisis but its reputation was in poor regard throughout Europe and the industrialized world.
Draghi was not elected according to the rules of Italy's constitution but because of his reputation as a competent statesman and executive leadership skills. He had served as the head of the European Central Bank (ECB) and was credited with saving the Euro as the Union's currency.
"Mario Draghi was such a trusted pair of hands across Europe," states Christopher Way, associate professor in government at Cornell specializing in European politics. "He was so respected for his competence that it's a loss no matter who replaces him."
The government under Draghi was regarded as the national unity government in which the many diverse political parties in Italy actually came together as a response to the Covid-19 pandemic. This afforded the Italian state a unique period of political stability in its governmental structure. Italy was actually seeing a resurgence politically, economically, and in its reputation in Europe and the world. Even with national elections slated for the spring of 2023, Italy was gaining new momentum it rarely knew.
The problem is that in July 2022 Draghi was seeking support for a piece of legislation that was intended to assist consumers while also helping companies and their industries with the ever-increasing costs associated with energy. Especially with the actions of Russia in retaliation to sanctions for its invasion of Ukraine.
This is when Italian politics reared its ugly head to sow disunity and chaos in the national government. The 5-Star Movement, led by Giuseppe Conte, would not give support to the legislation on the grounds that a new garbage incinerator for city of Rome would have adverse effects on the environment. Conte also had other demands such as a minimum wage in order to continue the party's continued backing of the coalition government headed by Draghi. The meeting between Conte and Draghi was regarded as full of tension. Conte made accusations that Draghi was attempting to throw out the 5-Star Movement from the coalition due to its opposition of sending more military weapons and aid to Ukraine. When Conte met with Draghi, he had additional demands such as the protection of the 5-Star key welfare payments and an adjustment to the national budget so that more resources could be available to help Italians with the serious inflation situation.
The problem became further worsened when other party leaders saw this situation as their opportunity to not only weaken the coalition but bring collapse and chaos to the Italian government. Draghi presented his resignation to President Mattarella who at first did not accept it. Mattarella told Draghi to give it another try to keep the coalition together. Draghi could not, as best as he tried. When three parties withdrew their support of the collation – Conte's 5-Star Movement, Silvio Berlusconi's Forza Italia, and The League headed by Matteo Salvini – Mattarella accepted Draghi's resignation and called for elections to held September 25th.
The dissolution of Parliament "is always the last choice to make, especially if, as in this moment, there are important tasks to carry to completion," President Mattarella stated in a brief speech at the presidential Quirinal Palace after Draghi had submitted his resignation earlier in the day.
Compounding the situation is the political maneuvering that will occur between now and the national elections in September that will more than likely impede the passage of vital legislation that would help the Italian people.
Why did this come about?
The current political situation in Italy has come about due to a number of reasons, each of which is due to certain individuals and groups pushing their own agenda. And while they have their own agenda and priorities, it means disregard for unity in the Italian government and attempting to get necessary tasks accomplished.
One key reason for the current situation is the 5-Star Movement, a populist party founded by the Italian comedian Beppo Grillo. 5-Star was a coalition partner of Draghi's which did not support him in a confidence vote regarding the proposed relief bill which was intended to help Italians deal with escalating energy costs. The 5-Star had its own agenda since they wanted Draghi to put more financial resources in assisting families as they face the steep rise in the cost of living. While this seems like a worthy proposal, the problem is that such a move would mean a sharper increase in spending and therefore higher government borrowing. While the intention is honorable in helping Italian families, Draghi is caught in financial constraints the Italian government must follow as part of the European Union. The 5-Star is looking to flex its muscle since it has seen significant defections since national elections in 2018 combined with a decrease in public support. Conte, as head of the 5-Star Movement, must do what he can to prop up the party even if it means political chaos and instability in the Italian government.
Another key reason for the current situation is that other parties see the opportunity to lead a new government after the September elections. One of these is the far-right Brothers of Italy party lead by Giorgia Meloni. If the Brothers of Italy party were to gather enough votes in the September elections, then Meloni could form a right-wing coalition government along with Berlusconi of Forza Italia and Salvini of The League. Meloni is currently leading in the polls and could be a real possibility in becoming Italy's first female Prime Minister. The problem is that the formation of a right-wing coalition government in Italy may run into serious resistance by left-wing parties and those in the center. If Meloni pushes her far-right agenda, it may also meet serious resistance from the average Italian who may not agree with her ideas.
There is also the situation with Matteo Salvini's The League. Salvini's party is from the far-right and would jump at the chance to become Draghi's successor in order to push his extremist agenda. The League, originally founded by Umberto Bossi, was mainly concerned with northern Italy, especially the regions of Veneto and Lombardy. Under Bossi, The League was concerned about dividing Italy into three sections – north, middle, and south – in order to escape the political corruption of Rome and the pouring of resources into the poorer south. But under Salvini, the party changed its agenda and became a national movement that rode the wave of increasing social discontent that the lower middle class was experiencing, which includes a rise in immigration, unemployment, lack of tax equity, and public order. Salvini would be a Prime Minister that would push a possibly a very far-right agenda that would mean serious disagreements with the left-wing and center of the national parties. But Salvini probably would not care as long as he was able to get his agenda ahead even if it meant political and economic instability for Italy and its people.
Finally, there is Silvio Berlusconi of Forza Italia. He could be regarded as Italy's version of Donald Trump in which he wants to become Italy's Prime Minister, one more time. At 85 years old, he has created Forza Italia as a one-man party to promote himself and his media company. He previously was Prime Minister, but was voted out. He would love the chance to hold the position again, not to push his political philosophy but to get back into the spotlight and attend meetings with world leaders as he once did. But his reputation precedes him since he is best known for his "bunga bunga" sex parties and corruption scandals. While many around the world do not take Berlusconi seriously, he will do what he can to return to the Prime Minister's office.
What this means to the European Union
The Italian situation could be regarded as a serious crisis for the EU and a victory for Vladimir Putin. Putin is facing heavy opposition from the EU and NATO in his invasion and plan for destruction of Ukraine. Putin did not expect united opposition to his scheme from the EU nor NATO and that his invasion and takeover of Ukraine would be extremely easy. But Putin is facing heavy resistance from the Ukrainians, along with military aid from the EU, NATO, and the United States.
The United States will continue to aid Ukraine militarily and otherwise. But if Italy changes governments and elects a Prime Minister who favors Putin or reduces the amount of aid to Ukraine, then this could be regarded as a crack in the EU and NATO coalition. And this is exactly what Putin wants and needs. Under Draghi, Italy is firmly in line with the United States and the EU as a vital source of support for Ukraine which includes military assistance, economic and financial sanctions against Russia, and firm backing for the Ukrainian bid to become a member of the EU. The more support Ukraine has, the better the odds that the besieged nation has in fighting back against Putin's military.
But as Foreign Minister Luigi Di Maio stated recently, "Moscow was toasting because of Italy's crisis." Putin is looking for and exalting over any crack, actual or perceived, in the united front of the EU and NATO against his attack on Ukraine. Outgoing Prime Minister Boris Johnson of Great Britain could be regarded as another recent leader who has left a void in Europe that must be filled and creates uncertainty for NATO's united front against Russia and Putin.
The resignation of Mario Draghi also has economic and financial implications for the EU. Draghi was formerly president of the ECB and he knew how to deal with its policymakers while he was Italy's Prime Minister. As an economist, Draghi advocated and moved through policies designed to keep Italy's high debt levels on a more manageable scale. Draghi also did what he could in order to boost economic growth and expansion in the third-largest economy in Europe. Draghi knew he had to keep the nation's budget at a manageable level and keep borrowing down, not only to meet the EU's requirements but to keep the cost of borrowing down. The ECB will raise interest rates in order to combat inflation in the EU, but it must do so in a way without causing the bond market to take a serious nose dive. If a new Prime Minister comes to head Italy and has complete disregard for the nation's precarious financial situation, the ECB and the EU will have its hands full.
What's next?
The uncertainty facing Italy in the next few weeks and for the rest of the year could have serious consequences. Whoever is chosen to become the next Prime Minister will have a full agenda and try to fill the big shoes of Mario Draghi. While Draghi was helping Italy through a very difficult two years, the next Prime Minister will have possibly bigger problems than Draghi ever faced.
While Draghi was regarded as a technocrat in leading Italy, the next Prime Minister will have huge question marks about how he/she will handle the job and the direction it will go. Hopefully it will be in the right direction.