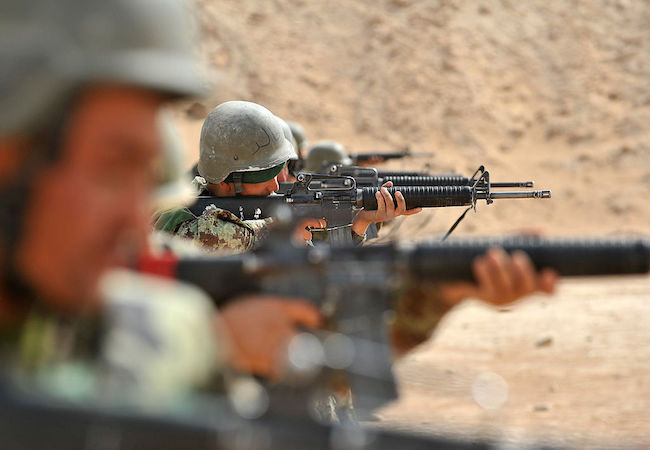 By Sourav Ghosh and Shalabh Chopra 
Although the ongoing multi-stakeholder peace talks with the aim of restoration of peace and stability in Afghanistan have gained momentum after Afghan government and Taliban sat face to face formally for the first time in Doha earlier this month, a final settlement to 21st century's deadliest political conflict remains elusive. With the entire world setting its eyes on the prospects of peace in Afghanistan, the geopolitical stakes are particularly high for two of its regional neighbours – India and Pakistan. Over the years, the two archrivals have sought to outdo each other's influence in the war-torn nation. It is for this reason that ever since President Trump announced his intention to withdraw US troops from Afghanistan, both India and Pakistan have increased their engagement with the full spectrum of political and military factions operating in Afghanistan. Although, both India and Pakistan maintain that they would want to see peace and stability return to Afghanistan, most observers have expressed concerns about how their adversarial national interests might impact the peace process.
What does Pakistan want?
The infighting in Afghanistan has taken a toll on Pakistan's economic and socio-political health. Not only does it host millions of Afghan refugees within its borders, but the rise of radicalism across the border in Afghanistan also significantly contributed to the proliferation of home-grown terror networks in Pakistan itself. Keeping in mind a long and porous Afghan-Pak border, and after having achieved significant gains against terrorism at home following the successes of military operations Zarb-e-Azb, and Raddul Fasaad, the last thing Pakistan would want is for Afghanistan to fall into chaos. However, Pakistan would not want it to fall into India's sphere of influence either. To avoid that, Pakistan's best bet has been to nurture long-standing, yet topsy-turvy relations with Taliban. Indeed, Pakistan was one of the only three countries which recognized Taliban-rule in Afghanistan. Moreover, it also provided refuge and shelter to fleeing Taliban leadership following the US invasion. Now, it believes that by ensuring that Taliban gets a major share in the new political set-up in Afghanistan, it would be able to clip India's wings which, it maintains, has been supporting anti-Pakistan militant activities in collusion with the Afghan intelligence agency.
Many observers also believe that the current leadership of Taliban is not as subservient to Pakistan as their predecessors. As evidence, they point out that despite Pakistan favoring Abdul Gani Baradar – a deputy of late Taliban leader Mullah Omar to lead the Taliban delegation, Taliban went ahead and picked Abdul Hakim Ishaqzai for the reconciliation meeting. Researcher Fahad Humayun has written in Foreign Policy journal that the current top leadership of the Taliban features those who neither share a special affinity towards Pakistan nor are they too familiar with the historicity of Taliban-Pakistan ties[1].
Pakistan itself may not be too keen to see Taliban in complete control in Afghanistan. A radical Islamist ally in the form of Afghanistan led by Taliban may have provided Pakistan with some "strategic depth" against India in the 90s, but it ultimately culminated in Pakistan becoming a hotspot of terror for years. Thus, from Pakistan's point-of-view, an oversized Taliban presence in any future political set-up may end up posing a national security threat. Worst of all, it may also lead to closer ties between the Afghan Taliban and Pakistani Taliban groups such as Tehreek-e-Taliban Pakistan (TPP). The United Nations estimates that at least six thousand Pakistani Taliban members are now involved in Afghanistan's civil war. This awareness may make Pakistani policy-makers to reformulate all future engagements with the Taliban.
India's Taliban concern 
While Pakistan, through its intelligence agency ISI hobnobbed with the Taliban, India quietly cultivated its ties with the US-backed Afghan government. An estimate suggests that so far India has provided an assistance of nearly US$ 3 billion to Afghanistan, mostly for humanitarian and development activities. Such investments have won it widespread goodwill among the Afghan populace. Strategically, India has sought to coopt Afghanistan with the hope of making it a strong ally against Pakistan in the region.
The US decision to withdraw from Afghanistan did put India into a spot as in the absence of US forces, a resurgent, Pakistan-allied Taliban whom India never recognized, could make Afghanistan off-limits for India. However, in an evolving situation where it seeks to balance against Pakistan and China's growing influence in Afghanistan, India shed its historical reluctance to engage with Taliban by sending two former foreign service officials to Russia-led talks with the militant group in November 2018. India's official and non-official level contact with the group has steadily grown ever since. Recently, India's External Affairs Minister S. Jaishankar while attending the opening session of the Doha peace talks stressed India's long-held official position that peace process must be "Afghan-led, Afghan-owned and Afghan-controlled". The gist of such an assertion appears to be that India would not tolerate Pakistan directing how the peace process plays out.
While India seems to have swallowed its pride by engaging with the Taliban, Taliban too has reciprocated the gesture. It understands that India's investments in social infrastructure, road-bridges, dams, etc., have brought noticeable improvement to the lives of ordinary Afghans, and a large section of the Afghan people sees India's development projects in the country as a manifestation of India's friendly attitude towards Afghanistan. Moreover, it is also cognizant of the fact that building ties with a regional power such as India would help it gain legitimacy on the international front. Therefore, it did not oppose India's participation in the peace process. Moreover, notably in May 2020, Spokesman of the Taliban's Political Office in Doha, Suhail Shaheen, tweeted that Kashmir remains India's internal matter and that Taliban does not support Pakistan's "holy war" against India on the aforementioned issue. Despite such utterances, India remains concerned about Taliban's second coming to power either through military means or through political reconciliation. It believes that anti-democratic tilt built into Taliban's radical ideology may complicate India-Afghan ties thereby posing a threat to India's strategic interests in the region. It is for this reason that Jaishankar put emphasis on the "values of human rights and democracy that can foster development" at the opening ceremony of the historic Doha talks.
It seems that Taliban has moved away from its radical Islamic identity and become more accommodating in the last few years lifting the hopes that peace can finally be given a chance. For India and Pakistan, strategic premises will inevitably be altered once the US pullout from Afghanistan is complete.
Notes:
[1] See- The Road to Peace In Afghanistan no Longer Runs Through Pakistan By Fahad Humayun. https://foreignpolicy.com/2020/09/11/pakistan-taliban-spoiler-afghanistan-peace-waning-influence/.
Sourav Ghosh is working as a Researcher in Bangladesh Peace Observatory, Centre for Genocide Studies, University of Dhaka. He holds a Master's degree in International Relations from South Asian University, New Delhi.
Shalabh Chopra holds a Master's degree in International Relations from South Asian University, New Delhi. He has an interest in International Relations theories and South Asian politics.