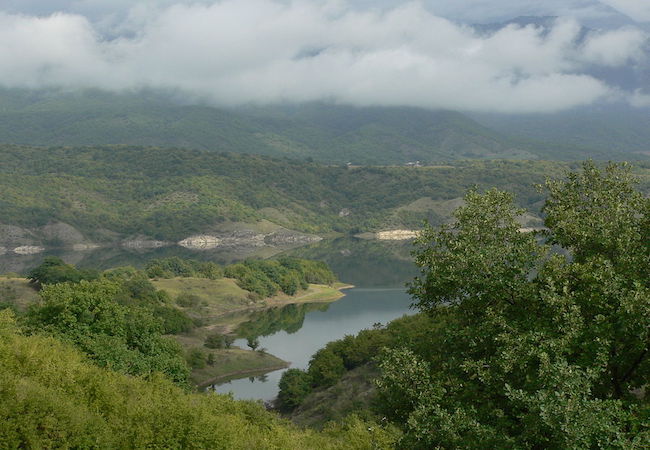 For more than two weeks now, two former Soviet republics of Armenia and Azerbaijan have been fighting in Nagorno Karabakh. The area lies within Azerbaijan and is considered an internationally recognized territory of Azerbaijan. Since early 1990s, however, it's been run by ethnic Armenians who declared independence from Azerbaijan and with Russia's help conquered not only Nagorno Karabakh but also seven adjacent districts of Azerbaijan.
Armenians claim that historically the enclave belonged to Armenians and that they always constituted the majority in the province. This, however, is not entirely true. Russian imperial archives indicate that Azerbaijani Turks held the majority not only in Nagorno Karabakh but also in some areas of what is now the Republic of Armenia. Azeris claim that the number of Armenians were resettled to the area by Moscow in an effort to easily manipulate regional politics. Small statelets within republics had also been created by Russian Bolsheviks in Moldova, Ukraine, Georgia and Uzbekistan. Upon establishment of control over South Caucasus, Russian Bolsheviks carved out a Nagorno Karabakh Autonomous Oblast (NKAO) within Azerbaijan allowing Armenians some self rule.
Although NKAO remained within Azerbaijan for seven decades, Armenians periodically attempted to unify with Armenia to no avail. With Gorbachev's perestroika in late 1980s, Armenians petitioned to transfer NKAO to Armenia, a move strenuously objected by Azerbaijan. While Moscow was able to more or less contain the hostilities in the first four years of the conflict, upon dissolution of Soviet Union, two newly independent states of Armenia and Azerbaijan went into a war. Russia openly sides with Armenia, by supplying its ally with much needed weapons which eventually paid the dividends. By the end of 1993, Armenians secured large swathes of territory with Moscow imposing a ceasefire regime on both countries  which established a fragile peace for the next two decades.
Fast forward to 2020. Armenia and Azerbaijan have beefed up their militaries and have been annoyed by inaction of the so-called OSCE Minsk Group tasked with mediating the peace process. Co-chaired by the United States, France and Russia, the group has been largely unable to offer any solutions since its inception. The first serious confrontation this year began in July, when the sides went into a short war on Armenia-Azerbaijan international border. Azeris claimed that Armenia launched an unprovoked war in Tovuz district of Azerbaijan because the town lies in close proximity of the westbound energy pipelines. Despite heavy fighting, the hostilities largely subsided.
The current crisis began on September 27, when Armenia reportedly began shelling positions of the Azerbaijani army on the Line of Contact in Nagorno Karabakh region. According to Yerevan, Azerbaijan began the war in an effort to regain territories it had lost in 1990s. Aided by Israeli-made Harop and Turkish Bayraktar drones, Azerbaijani forces gained a spectacular superiority. Hundreds of tanks, APCs, howitzers and other military equipment on the Armenian side were destroyed by drones, allowing Azerbaijani army to advance quickly. In a matter of two weeks, Azerbaijani army was able to recapture strategic heights, towns and villages in northeast and southeast of Nagorno Karabakh.
Russia has taken a step back in the conflict, largely due to Turkey's decisive position to back Azerbaijan politically, diplomatically and "if needed, militarily". High ranking officials, including President Erdogan himself, stated that they are standing side by side with Azerbaijan and would be ready to provide military assistance to Baku, should it ask for it. Moscow has not been that enthusiastic with Yerevan, although unconfirmed reports state that Russia has been shipping new military equipment to Armenia to help Yerevan recover from military equipment loss.
On October 10, Russia convened foreign ministers of both countries in Moscow demanding a humanitarian ceasefire. Although the countries committed to one, a ceasefire was not to be. Less than a day after Russian foreign minister Lavrov announced the deal, countries resumed fighting. Azerbaijan has been shelling Stepanakert, the capital of the unrecognized region while Armenia shelled Tartar, a town just outside of Nagorno Karabakh, and in a major escalation of the armed conflict, Armenian forces launched ballistic missiles onto Ganja, Azerbaijan's second largest city about 100 km north of Nagorno Karabakh. As a result of the direct hit of the residential building, 9 civilians died, dozens were injured. Azerbaijan promised to respond. "The shelling of civilians and cities by the Armenian armed forces after the humanitarian cease-fire agreement is another clear example of barbarism and shows that the cease-fire calls on the Armenian leadership are nothing but hypocrisy," the Azerbaijan Foreign Ministry said.
The end to hostilities is nowhere to be seen. Azerbaijan, boosted by recovery of a large territory and defeating Armenian army on the field, continues the advance. President of Azerbaijan Ilham Aliyev stated in his interview to Turkish media that his troops will not stop until Nagorno Karabakh is liberated. He did also state that current Armenian residents of the area can stay and that Azerbaijan's war is with the military junta, not with the civilians. Armenian leader Nikol Pashinyan reaffirmed last week that Yerevan will not relent and "Artsakh (Armenian name for Karabakh) is Armenia". So far, Armenia has called for full mobilization of reserves, Azerbaijan has started partial mobilization. The war is likely to continue for some time despite the calls for ceasefire from the international community.