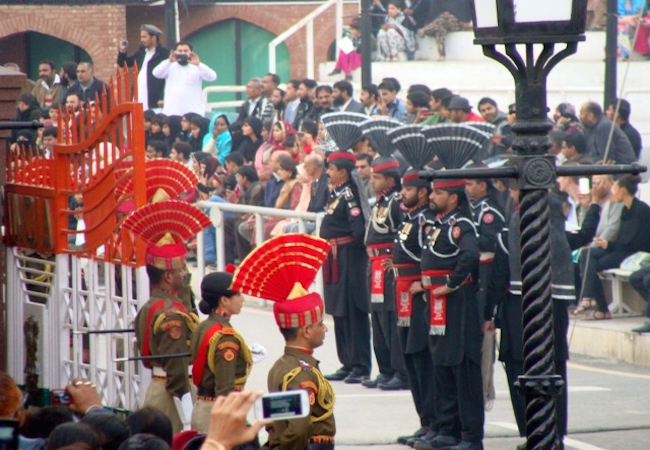 By Rajesh Kumar Sinha
The foreign policy of any state is expected to be guided by its perceived national interests. India too, cannot be any exception. However, there lies an important catch-the national interest is to be determined by the government of the day. Hence, the national interest of India today, is to be determined by its government of the day. And when we compare the diplomacy and foreign policy as a whole being followed by respective Indian governments over the years, we find policies being followed by the incumbent government differs vastly from those followed in the previous decades.
Theoretically, that sounds natural since situations evolve, circumstances change and accordingly response too, are expected to change. However, the policies in the geopolitics domain being followed by the Indian government have been criticised, domestically as well as internationally, by selective segments of academicians, activists and media. One of the oft-repeated criticism has been the supposed muscular approach of the alleged Hindu nationalist Modi government towards Pakistan, in particular.
Two of the major factors that contributed this line of thinking has been India's military crossing the threshold and entering Pakistan territory twice, the so-called Surgical Strike in the aftermath of ghastly attack on Indian soldiers in Uri and Balakot Strikes to avenge the hugely horrific Pulwama attack on paramilitary forces. The second factor has been the revocation of the constitutional provision of Article 370, related to the erstwhile state of Jammu & Kashmir.
A common refrain among Indian and some of the leftist-liberal international academicians has been that irrespective of the political parties in power, the country's foreign policy since independence, has mostly followed a consensus. That it's broadly centred around a non-aligned peaceful policy, steering clear of any power blocks and it is only after the current Indian government has come that an aggressive and US-friendly diplomacy is being pursued. This school of thought even believes that the deterioration in the Indo-Pakistan and Indi-Chinese relations currently is the consequence of this belligerent approach of the government of the day.
An objective analysis of the entire scenario in the last few years however, presents a contrasting picture. The Modi government came to power in May 2014 and it began on a very sombre note. The invitation to heads of all neighbouring countries, including Pakistan, for the swearing-in ceremony and immediate offer to enhance co-operation with all SAARC countries was a positive start. PM Modi's impromptu visit to meet Nawaz Sharif, the then Pakistan PM, ostensibly to greet him on his birthday, on a flight back from Afghanistan, showed his thinking to enhance friendship and cooperation with Pakistan. Even later on in 2018 when Imran Khan became the Pakistan PM (supposedly because the Pakistan Army wished to), India started well to continue broader political and commercial relations with it.
The most important hindrance in the Indo-Pakistan relations according to analysts, is Kashmir problem. Most in Pakistan further believe, that if India agrees to the demand for plebiscite in line with the UNSC resolution, that will solve issue and the bilateral relations will become normal and friendly. Now there are certain legal and practical issues involved in the holding of the plebiscite in Kashmir as per Pakistani desires.
On the legal front, the 1948 ceasefire agreement between the two countries explicitly stated that first the Pakistani forces will go back to their previous position, followed by Indian forces and then the process could be initiated. At that time, Pakistan did not withdraw its forces as per the stated agreement and India followed suit. Now after 73-years, forcing India to acceding to the incomplete agreement surely will invite a lot of legal and practical complications.
Second, the issue pertained to the undivided territory of Kashmir and that included Gilgit, Baltistan and Aksai Chin. While Gilgit and Baltistan have been made a province of Pakistani state by its National assembly, Shaksgam Valley have been given by Pakistan to China as part of a politico-strategic deal way back in 1963. If a plebiscite is to be agreed upon, will China, Pakistan and India together will agree to let people from these territories use their right of self-determination, as Pakistanis are so fondly enamoured of talking. What will be the legal status of Aksai Chin, part of the undivided Kashmir and occupied by China during 1962 war against India.
Legally, therefore Kashmir is not a bilateral but a trilateral issue and that involves India, Pakistan and China. Legally, China should not even have sovereignty over any part of undivided Kashmir but the practical point is that it controls a very significant strategic part of Kashmir that neither Pakistani state, its government, media or intellectuals have the ability to talk about.
Further, beyond Kashmir there is a big issue of what Indians call, terrorism. Its documented, proven and accepted globally that Pakistan through state and non-state actors, sponsors and trains, terrorists for mercenary operations in many parts of the world, including Indian parts of Kashmir, Afghanistan, Syria, Bangladesh and even Europe. There is a feeling in many Pakistani circles that since India divided the country territorially and created Bangladesh, it should do the same and hence its role in the so-called Khalistan movement (in the Indian state of Punjab) is well-known. One wonders even if Kashmir issue is somewhat settled, Pakistan will not try to create mischief in other parts of India and that remains a primary security concerns for most Indian agencies.
There is another school of thought mostly viewed as informal channels which in the light of legal and practical problems, believes that let Kashmir on both sides of the border become open, people are allowed free movement and cultural, educational, political and commercial exchanges become frequent and it could remain an open territory with only security part remaining with respective governments. The problem lies in the huge level of trust deficit between the two states. In 1998, Vajpayee the then Indian PM started thinking on those lines but Lahore bus ride was followed by Kargil intrusion by Pakistani military. More such endeavours in the form of Agra summit and other such meetings however, led again to the reversal of the peace process.
Keeping these factors in mind, the revocation of Art 370 of Indian Constitution is to be seen. It indicates a determined effort by the Indian government to make Kashmir wholly integrated into the Indian union, politically, economically and socially. Even though, some of the Indian intellectuals, politicians along with the Pakistanis have strongly opposed it, practically this is something that the world has accepted and cannot be undone.
The Indian forces entered the Pakistani land and air space to hit the terrorists twice, because due to technological advancements today identifying their specific locations and hitting them required more of a political will rather military power. India has had the ability for quite some time but the very obsolete and politically-motivated thinking of previous governments that entering Pakistani territory in pursuit of terrorist could result in a nuclear war. This action of Indian military on both occasions busted this myth and created a space for limited war, if and when required. Further, it made it clear to Pakistan that India can and will hit their terrorists if they work against country's interests in a violent manner.
Pakistan remains a dilemma for the country. How to improve relations with it while maintaining that Kashmir is an internal Indian issue. Can revival of economic and cultural relations will somehow create a situation to deal with this tricky issue in sometime future. Should India revive SAARC sans Pakistan or should it put more emphasis on BIMSTEC or other regional or sub-regional groupings. While India has stopped talking to Pakistan for quite some time and the diplomatic relations between the two have come down to minimal level, is it desirable to continue for long.
Pakistan on the other hand, especially under an insecure and diplomatically imprudent Imran Khan, has created a situation of virtual no-return. The well-publicised personalised attacks against Indian PM Modi, open encouragement to terrorists to create havoc in Kashmir and other Indian states and explicit politico-strategic alliance with China against India, all have made the India's Pakistan dilemma, all the more difficult, uncertain and unpredictable in the near future.
Rajesh Kumar Sinha, MA, MLISc, MPhil, PG Diploma in Journalism is a serving Librarian with the Indian Railways, India. He has worked in print and web media for seven years and writes for Foreign Policy News (US), South Asia Journal (US), Eurasian Times, OPEN Journal and Rail Journal (India).