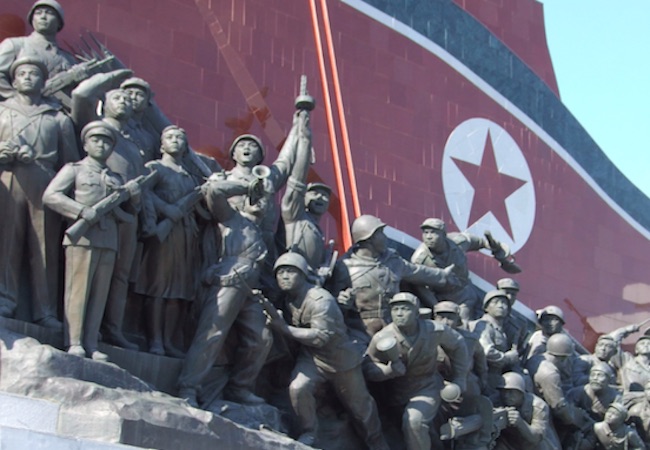 By Hanuman Prasad Singh 
Nuclear proliferation and its relentless modernisation with the prevalent non-democratic political system of Democratic People's Republic of Korea (DPRK), formally known as North Korea, has been aggravating the security concern in the global order. It is noteworthy that the "Joint declaration on the denuclearisation of the Korean peninsula" between North Korea and South Korea after the US President George Bush's announcement to remove all American nuclear weapons from South Korea in 1991, six party talks, leap day agreement (2012), etc have manifested the  continuous strivence of USA to prevent the nuclear proliferation in North Korea. But despite all these efforts, North Korea has conducted six undeterred and hostile nuclear explosions including one thermonuclear test in 2017. Consequently, USA has imposed sanctions in line with all United Nations Security Council resolutions on it to further prevent the nuclear proliferation and to compel North Korea for its complete denuclearisation. That has culminated in the rapid declined in access to international currencies. But relentless advancement as well as miniaturisation of nuclear weapons in North Korea has raised the questions pertaining to effectiveness and relevance of global sanctions.
Furthermore, USA has again strived to cope with this issue through mutual talks and negotiations between Kim-Jong-Un and President Trump in two path-breaking summits convened in Singapore (2018) and Hanoi, Vietnam(2019). In Singapore summit, wherein President Trump has blindsided its other allies including South Korea by suspending and declaring all the defense preparedness exercises with allies as "provocative and costly", both the countries have agreed for "complete denuclearisation" in Singapore summit. But North Korea has explicated it as the denuclearisation of North Korea along with removal of American nuclear arsenals from South Korea too instead of USA's insistence for unilateral disarmament of North Korea. Similarly, Hanoi summit has also ended without any positive outcome due to American reluctance for removing the sanctions on North Korea. President Trump ignoring the security concerns of allied countries has only inculcated the incredulity towards USA. Simultaneously, North Korea has perceived the US policies on it only as "overpowering" rather than "mutually cooperative and promoting shared prosperity". That's the reason why North Korea has embarked upon policy of maximum restraint and credible minimum deterrence leading to acquirement of nuclear capable submarine launched ballistic missiles (SLBMs) to attain second strike capability.
Moreover, in Munich security conference, US President Biden has asserted for defending, strengthening and renewing democracy globally along with his "America is Back" policy and insistence for restoration of trans-Atlantic alliance with the conviction to prepare with other allies for long term strategic competition with China. Biden has further emphasised for relegating China out of the competition by setting the rules of the use of cyberspace, artificial intelligence and biotechnology etc. All these issues will deepen the tension due to clash of national interests between USA and China.
In fact, Biden administration has reiterated the American commitment for complete denuclearisation of North Korea  as an urgent priority with a strategy to impose additional economic sanctions to force North Korea for denuclearisation. It has been more provoking with the Biden's statement regarding the worldwide democratic consolidation, which is perceived by North Korea as a challenge for its existence.
It is noteworthy that USA, that is continuously insisting for denuclearisation of North Korea, is also relentlessly advancing its nuclear stockpiles through the "Ground Based Strategic Deterrence (GBSD)" program launched during Obama administration. So it is also conceived as the US nuclear hypocrisy leading to weaken American efforts for nuclear disarmament in other countries including North Korea. Moreover, anti-America environment flourishing in China as well as in North Korea generates a nexus between both the countries; which are closely cooperating from Korean war period. Despite global embargo imposed over North Korea, its bilateral trade with China has been a major source of international currency.
Moreover, North Korean leader Kim-Jong-Un has presented ambitious five year development plan to improve people's living standard amid international sanctions and corona virus pandemic. North Korea planned to expand industries including metal, chemical production, coal mining, tourism and railways. Kim-Jong-Un has further emphasised to invest in next generation mobile communication system, tidal and nuclear electricity plants, zero carbon and zero energy buildings by getting rid of wrong ideological inculcations, incompetence, irresponsible working attitude and external problem simultaneously. North Korea's dual policy, which aims to strengthen nuclear deterrence and enhance the economic development together, manifests its ambitions beyond the nuclear weapons development merely. North Korea's import substitution policy will not only increase the domestic job opportunities, but it will also make North Korea less dependent over global supply chain. Thus it will undoubtedly be able to defy even more tight embargo imposed by USA in near future as Biden administration is asserting for ensuring complete denuclearisation of North Korea. So there is need to review the policy of global sanctions.
In fact, Kim-Jong-Un's ambition regarding economic consolidation and better living conditions of the peoples can be used for establishing "economic interdependence" by taking some confidence building measure, assuring it for global security and certain phased relaxation in global sanctions. Due to this, North Korea's responsible behaviour will definitely deter itself from nuclear offences against any country. It is noteworthy that inculcation of democratic values including implementation of international laws unhesitatingly without even establishing democratic political system in any nation also culminates in the perpetual peace as Immanuel Kant has propounded. A responsible and prosperous North Korea can also be a good stimulator to the peace and security in the East Asia. In contrary to this, if North Korea is used by China as an instrument for aggression against USA and its allies in exchange for some financial assistant amid global sanctions, it will definitely be inimical to regional peace and security.
Hanuman Prasad Singh is a Junior Research Fellow at University of Allahabad, India