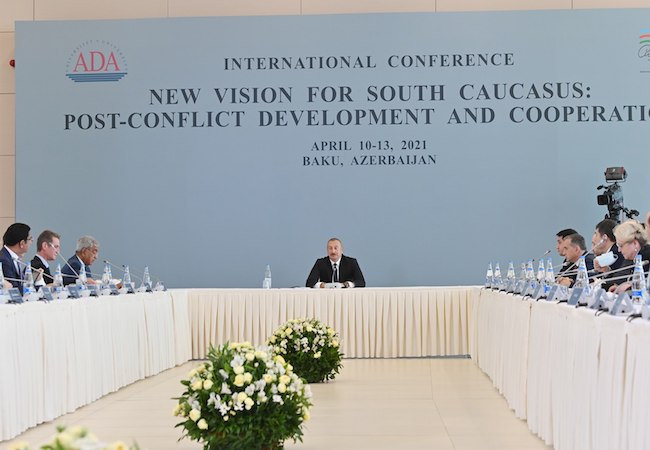 On April 10-13, 2021 ADA University in Baku, Azerbaijan hosted an international conference titled "New vision for South Caucasus: Post-conflict development and cooperation". Within the framework of the conference, the participants travelled to territories, previously occupied by Armenian armed forces and reclaimed by Azerbaijan in the fall last year. While in Agdam and other liberated territories, the participants witnessed the destruction and the legacy of the scorched earth policy employed by the Armenian forces during early 1990s as the districts fell one by one before the Russian-brokered ceasefire agreement stopped the bloodshed.
The conference was attended in person and via virtual platform by representatives of various international research think tanks, state governments, academic institutions, and independent experts and scholars versed in Nagorno Karabakh conflict that killed tens of thousands of people and destroyed hundreds of thousands of lives on both sides of the conflict and closed off the occupied region to the outside world since 1990s.
The conference concluded with a session that included a keynote speech by and Q&A with the President Ilham Aliyev of Azerbaijan who spoke about the three decade old conflict, its ramifications on peace and stability in the region, principles of international law, Azerbaijan's latest counter-offensive which resulted in restoration of territorial integrity of the country and prospects for a sustainable peace and cooperation in South Caucasus.
Addressing the audience, President Ilham Aliyev said that before talking about post-conflict development the international community needs to understand that Azerbaijan's internationally recognized territories were under occupation for 30 years and that cannot be erased from the memory, "the memory of those who lost their family members, the member of those who were deprived from the fundamental right to live on their own lands". "We cannot forget the atrocities committed by Armenian army. We cannot and will never forget Khojaly genocide and the innocent victims of Khojaly genocide organized by the leaders of Armenia and the so-called Nagorno-Karabakh regime. Therefore, it's very important to understand that this memory will be with us. We will keep it in our heart. At the same time, we need to look to the future. Also, the destructions on the territories which we liberated are beyond all our worst expectations. Because we more or less knew what Armenians have done to our citizen villages. Because there have been from time to time some video footages some information from some international representatives who managed to visit those lands," he said.
Referring to the near-complete destruction of the towns of Agdam and Fizuli and villages in those districts, President Aliyev said that Armenian always tried to block any visits of foreigners illegally traveling into Karabakh to those specific territories which Yerevan used to consider a buffer zone. He underscored that this was done due to inhumane destruction of buildings and cemeteries and erasure of cultural heritage of ethnic Azeris who had lived in those lands. "They did it deliberately in order to erase the legacy of Azerbaijani culture in order to erase these territories from our memories, in order to change the origin of those lands. Therefore, we need to understand the feelings of Azerbaijani people and now when we returned to those lands and we see with our own eyes what the occupation of Armenian forces did to our historical monuments, religious monuments, to our cities and villages. Of course, this is a very important factor", he added.
Speaking of the peace talks that were held between Armenia and Azerbaijan under auspices of OSCE Minsk Group for three decades, President Aliyev noted that Armenia never really wanted a solution. After the liberation of the territories from occupation, he said, it was revealed that Armenians had spent enormous amounts of money on building military fortifications and made hug investments in mining the natural resources of the occupied territories which speaks of unwillingness of returning the territories. Armenians only imitated the negotiations process, President Aliyev exclaimed, but never committed to a constructive solution.
Addressing the casualties during the Second Karabakh War, Aliyev said: "Some territories were illegally inhabited. Therefore, our attacks, our technical capability was aimed only on military objects. And those less than 40 victims which Armenian side had most of those people were participating in the military operations. They were civilians who were recruited to the military units and they were part of military operations. The way how we treated those who were left behind also is a clear demonstration of human nature of our policy and human behaviour of our army. There have been several elderly people left behind for instance in the province of Hadrut. And when our soldiers came they saw these people. They were frightened. The elderly people, they spoke very good Azerbaijani, because they lived together with Azerbaijanis, and they were taken to the hospital. They were treated in our hospitals. Then, when we decided and the Red Cross was involved to return them back, Armenia refused to receive them."
The Azerbaijani leader then spoke about prospects for investment, economic prosperity and reconstruction efforts in the liberated territories. He invited companies from abroad to invest and rebuild the region. Many agreements have already been signed and European partners will be assisting with reconstruction efforts in Karabakh. He stressed that for sustainable peace in the region, Armenia and Azerbaijan need to sign a peace deal, and that has been his offer. "But we do not have any messages of this kind from Armenian side. Armenian prime minister is silent, Armenian foreign minister is very aggressive and Armenia is not in the situation now to afford themselves to be aggressive against Azerbaijan. They should remember what happened during the war. Armenian opposition is now actually in hysteria. And Azerbaijanophobia, Turkophobia became one of the main, it always was very important but now, I think, it is the only factor. I am sure that they will build their election campaign on Azerbaijanophobia, Turkophobia on the feelings of revanshism. Therefore we cannot establish this interaction unilaterally. Our position is clear. We are ready for that. It will not be easy."
The three-hour long session served as a productive engagement with experts in the field who found answers and clarifications to the position of the Azerbaijani government on commitment to peace and stability in South Caucasus.