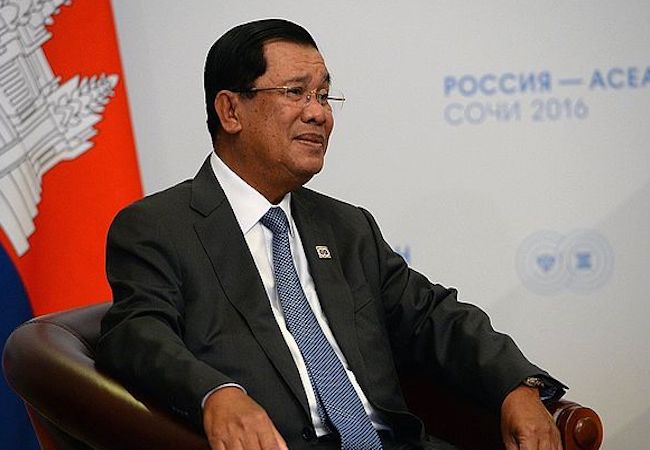 By Vincenzo Caporale
In late June, the Asian Maritime Transparency Initiative produced satellite images that showed Chinese contractors had helped build facilities at the Cambodian Ream naval base in the Gulf of Thailand. At face value, this seems uncontroversial, but when looking deeper, the geopolitical consequences become apparent. The constructed buildings are just north of the recently destroyed US-built buildings, fueling fears that the new buildings are a part of a secret 2019 Chinese deal that the Wall Street Journal first reported. Reportedly, the deal was an agreement that would allow China to station military personnel, ships, and weapons at the naval base for a thirty-year period-  considerably extending Beijing's military reach and power projection capabilities. Prime Minister Hun Sen and China have denied the reports.
Cambodia and China have not always had a close relationship. Originally, Prime Minister Hun Sen, who took power in 1986 and has yet to relinquish it, was wary of China in favor of the West. In 1988, he described China as "the root of all evil in Cambodia," primarily because it supported the genocidal Khmer Rouge regime. Yet, just twelve years after the end of the Cold War, he described them as Cambodia's "most trustworthy friend."
Without a doubt, today, China is Cambodia's closest and most important foreign relationship. Arguably the China policy driving Cambodia's foreign policy is an existential choice for Hun Sen and Cambodian People Parties (CPP), who has a disturbing human rights record. Consider what David Hutt wrote in 2016, "China could be said to be the prime guarantor of the CPP's security. It has allowed Hun Sen to rule in a way that would have resulted in sanctions and international censure from the other countries."
Economically, China is by far in a way the largest investor in Cambodia. It accounted for 43% of Cambodia's FDI in 2020, while 11% came from South Korea, 7% came from Vietnam, and 6% from Japan and Singapore. It has invested in major infrastructure projects through its' Belt and Road Initiative- $5.3 billion in projects that range from roads and bridges to energy infrastructure and satellite communication. In total, they have invested $14.7 billion between 1994 and 2016, and Chinese concessionary loans funded 70% of Cambodian roads and bridges.
Without a doubt, Cambodia has rewarded China for the onslaught of investment with political concessions. Some of the concessions are small such as a prohibition of the Taiwan flag, while other larger overtures came with repercussions from the West, such as sacrificing Western aid to deport 20 Uighurs back to China. The most telling example came in 2012 when Cambodia blocked a joint communique condemning Chinese aggression in the South Chinese Sea.
Nevertheless, if such a deal exists that allows a Chinese troop presence on Cambodian territory, it would be a significant escalation of Cambodia's dependence on its large neighbor. Cambodia's constitution officially bans foreign military presence within the country.
Yet, the increased presence of China in Cambodia is not as popular with most Cambodians. An ISEAS Yusof Ishak Institute 2021 survey, titled the State of Southeast Asia, found that 81.3% of Cambodians said they are worried about China's growing political influence in its country- up from 73.3% in 2020. The survey also reflects a significant shift in Cambodia's view of China in the context of the Sino-American geopolitical contest. When asked, "If ASEAN were forced to align itself with one of the two strategic rivals, which should it choose," 53.8% of respondents said the US while only 46.2% said China. What is most noteworthy is that just the year prior, a majority of Cambodian's chose China by a 15 point margin (57.7% to 42.3%) when asked the same question.
However, it is important to note that even if China's growing influence is problematic for many, there is support for the economic opportunity China presents. The same State of Southeast Asia survey found that 52.4% of respondents "welcomed [China's] growing regional economic influence," up from 43.5% the year before. In other words, Cambodians recognize the economic opportunity of a growing China while simultaneously decrying the outsized role China can play politically.
Despite this overall positive outlook on Chinese investment, there are some serious grumblings. As Murray Hiebert details in his chapter dedicated to Cambodian and Chinese relations in his book, Under Beijing's Shadow: Southeast Asia's China Challenge, the Chinese over-investment in Casinos and luxury apartments, lack of knowledge transfer or use of Cambodian labor, the influx of Chinese citizens, special treatment the Chinese businesses receive from the Cambodian government, displacement of local populations and environments and the poor project quality all have created a growing frustration with Chinese investment. According to Hiebert, the Cambodian government has applied a strategy to manage growing anti-Chinese sentiment that includes stoking anti-Vietnamese sentiment, praising China's willingness to assist without moralizing or worrying about credit ratings, and finally, to tamper down the outrage by carefully allowing some reporting of negative Chinese stories.
Evidenced by the aforementioned escalation in relations, this negative view of China is not affecting the government's ability to engage with and surge its' dependence on China. The relationship between Cambodia's engagement with China, which is elite-driven, and the average Cambodian's negative view of China is negatively correlated. The trajectory of the latter spells trouble for the former. Particularly with young Cambodians who are more likely to voice dissatisfaction with Cambodia's deference to China. As Pou Sothirak, head of the Cambodian Institute for Cooperation and Peace, describes it, "Young people look to the United States and Australia. They've been influenced by Western soft power."
These are dangerous trends for a despot like Hun Sen, who is isolated from the West given his authoritarian nature. As Hun Sen himself asked, "If I don't rely on China, who will I rely on? If I don't ask China, who am I to ask?" It is as simple as the West, and its allies require political reforms or have more strict lending standards for much of its aid and investment while China doesn't.  Without reform, the non-Chinese options for Hun Sen are limited.
Nevertheless, being dependent on a source that also increases domestic pressure is a precarious position as an authoritarian leader. We have seen frustration with Chinese influence or presence spill over into protest in other regimes such as in Kazakhstan in 2021, Vietnam in 2018, Kenya in 2020, the Gambia in 2019, or Zambia in 2021. We have seen small examples of this in Cambodia- evidenced by a protest that broke out over Chinese influence in the country near the Chinese embassy. As Cambodians discontent grows over China's increased influence, and Hun Sen's non-Chinese options remain limited, we can expect more manifestations of these frustrations.
If Hun Sen doesn't diversify his investment, he won't have an alternative to turn to if the pressure builds from the domestic population's increasingly hostile view of China. None of this is to say Cambodia should expect widespread malcontent against Chinese investment and the Hun Sen regime soon. However, Hun Sen is courting disaster by betting his survival and Cambodia's future on China as its' negative perception increases. Its' a worrisome trend and a perilous situation as one spark can breed an uncontrollable fire.
Vincenzo Caporale is an alumnus of UC Berkeley and the University of Cambridge postgraduate Politics and International Relations program. He is currently a feature writer at the Borgen Magazine and focuses on development and geopolitics in Southeast Asia. You can reach Vincenzo or follow his work on Twitter @Cappo02021