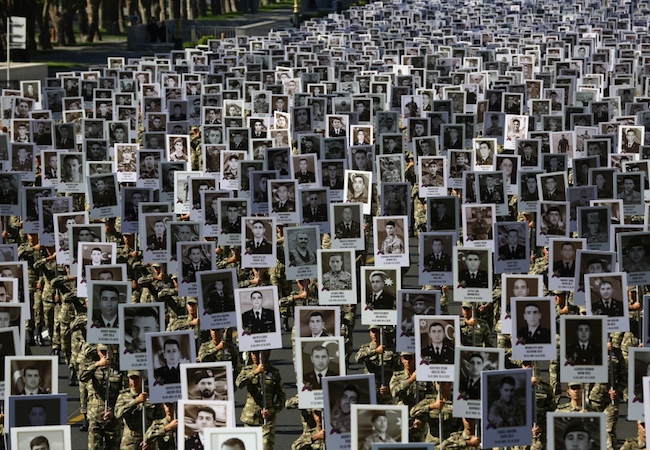 Armenia and Azerbaijan mark the one year anniversary of an armed conflict that lasted 44 days with Azerbaijan managing to regain control of large parts of Mountainous Karabakh.
Tensions brewed for quite some time and violence erupted in July 2020, when Armenian troops launched an unprovoked attack on Azeri positions in Tovuz district of Azerbaijan, hundreds of miles away from the main conflict area in Nagorno Karabakh. More than a dozen were reported killed in a short lived confrontation, although the incident brought the sides closer to the full fledged war. In August, Azerbaijan reported that a large sabotage group along the line of contact in Nagorno Karabakh was captured by Azerbaijani servicemen. All these events, coupled with bellicose rhetoric on both sides drove the two nations to full resumption of hostilities which had been relatively suppressed since the end of the First Karabakh War in 1994. In April 2016, the sides fought for four days before Russia mediated a ceasefire leaving Azerbaijan in control of some strategic heights regained after twenty year pause.
Fast forward to September 27, 2020. Thousands of troops were moved to the line of contact and after a few hours of artillery fire exchange, the parties announced that the war started all along the frontline. Azerbaijan reported that Armenia attacked Azerbaijani positions and civilian targets in the cities Terter and Barda along the line of contact, which prompted it to launch a full scale counter-offensive. Equipped with sophisticated modern military technology, consisting of Israeli and Turkish-made drones,  NATO style gear and well-trained special forces, Azerbaijan quickly overran Armenian forces and cracked the defensive lines open in a matter of days. Poorly equipped and trained Armenian army was unable to stop the Azerbaijani advance, although in parts of Karabakh, Armenian troops showed strong resistance inflicting heavy damage to their enemy.
Throughout the duration of a six-week conflict, Azerbaijan made offers to Armenian leaders to go back to the negotiating table, withdraw from the districts around Nagorno Karabakh and commit to peace talks. Azerbaijani President Ilham Aliyev stated that his country was enforcing provisions of UN Security Council resolutions 822, 853, 874 and 884 adopted in 1993 which demanded unconditional withdrawal of occupying Armenian troops from Azerbaijani territories and enforcing Article 51 of UN Charter which entitles a member-state to self defense. Baku's offer was rejected as Armenian troops continued to stand their ground. In addition to full mobilization on the Armenian side, Yerevan also decides to use short range ballistic missiles against large Azerbaijani cities like Ganja and Barda, thus killing close to a hundred civilians and leaving many wounded. Azerbaijan's reaction was swift but within the rules of war. Baku increased its strikes on military targets and quickly drove Armenian forces out of large settlements including the citadel of Shusha which Azerbaijanis consider their cultural capital.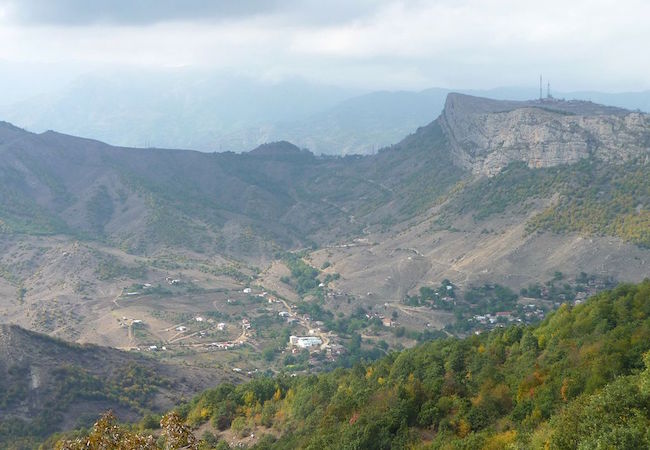 As Azerbaijani forces advances on the capital of the breakaway province, the city of Stepanakert (Azerbaijanis call it Khankendi), Armenian army ran out of steam – and the equipment, for that matter – and agreed to sign a ceasefire pact, according to which it recognized Azerbaijan's gains and agreed to withdraw from three other districts, including Kelbajar, Agdam and Lachin. The Moscow-mediated agreement signed on November 10, also guaranteed a 1,960-strong Russian peacekeeping force deployed for least 5 years.
Azerbaijan contends that the war brought the conflict to an end and now it was time for Baku and Yerevan to make peace. The feelings were not echoed in Armenia where many took a more revanchist approach. The humiliating defeat almost cost the Armenian Prime Minister Nikol Pashinyan his power, which he retained after gaining the majority of votes in a snap election. A year later, the parties are still not at peace, each blaming each other for the misfortunes. In the meantime, Azerbaijan has already launched multi-million dollar reconstruction projects in some of the de-mined areas of Karabakh, built road and power stations. The Azerbaijani president promised this week that within a year, the Azerbaijani residents of Shusha will be able to return to their lands once new modern houses are built. Baku also promises to reintegrate the Armenians of Karabakh into Azerbaijani society as soon as they agree to become Azerbaijani citizens again.