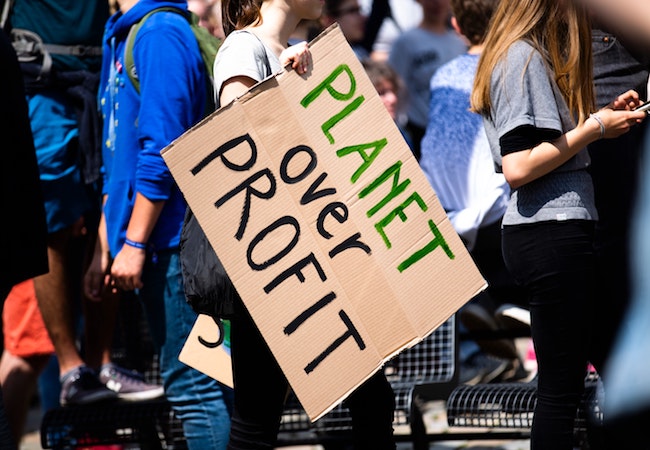 Today's economy faces two massive obstacles. In the United States and many other democratic nations, these twin concerns are pressing upon businesses, causing leaders to look for innovative solutions. These obstacles are the labor shake-up that threatens businesses in the present and the ongoing climate crisis set to cause more problems in the near future.
The good news is that both these problems can be addressed at the same time. We can pivot our economies to place new value on green jobs. In turn, we can shift unsustainable corporate practices and redefine what it means to work.
As climate threats and pandemic conditions continue to waylay supply chains and cause mass disruption to global trade, re-evaluating work itself is more important than ever. Fortunately, we can solve current and future crises through a singular effort. But first, we have to explore how labor and the environment interweave and how a coordinated effort to solve these issues is feasible.
The labor shake-up
Right now, the labor shortage is one of the most daunting economic problems in our society. Businesses have had to close some days of the week, shut down entirely, or pivot their service model all because they couldn't find workers capable of filling all job functions. This problem was kicked off by the pandemic when mandated closures created a vacuum of workers.
Now, almost two years into the pandemic, we still don't have all these jobs back. According to USA Today, there are still 5.3 million fewer jobs filled than there were before the pandemic. And these workers aren't all too eager to return. A host of factors prevents the workforce from going back to what it was. These factors include:
COVID-19 fears
Childcare needs
Employed spouses
Financial cushions
Stimulus provisions
With many jobs failing to pay living wages, it's not hard to see why these issues are preventing a complete return to the workforce. Only 28.5% of Americans reported being financially independent despite working part- or full-time. With such little incentive for working low-wage jobs, workers are finding value elsewhere. This shake-up will have to be corrected for economic activity to truly flourish again.
The many working parents, for instance, who left the workforce when schools and daycares closed find it hard to see value in uncomfortable service positions when the money they would make hardly covers life's necessities. To bring more workers back, the economy needs well-paying, fulfilling work.
The climate crisis
But such work can be hard to come by when workers view many businesses as contributing to the ongoing climate crisis. Climate change is an enormous problem, one with a huge economic impact. Between 2016 and 2018, for instance, natural disasters caused financial losses averaging $150 billion per year.
The situation is only set to get worse as changing labor conditions make for broader sustainability issues. For example, the pandemic generated immense growth in the gig economy. Displaced workers took up jobs like food delivery. Meanwhile, just about every business that could instituted some type of contactless service. Unfortunately, however, the carbon footprint of the gig service economy will undoubtedly be high, since styrofoam containers alone take around 500 years to decompress.
Meanwhile, the consequences of climate change continue to ravage the planet and create problems for businesses. Here are some examples:
Mean global temperatures have risen 1.6 degrees Celsius.
Temperatures are changing fast.
Rising sea levels and increased storms are a symptom of rising temperatures.
Stopping the rate of climate change would require a reduction in carbon emissions.
Enough reserves of fossil fuel exist that if burned would revert the atmosphere to pre-human conditions.
Ensuring the survival of the human species, then, all but mandates action on climate change. Fortunately, business and industry leaders the world over can make progress on arresting carbon emissions while providing context for an economic boom and a workplace worth returning to.
Addressing both at once
Addressing both the labor shortages of the day and the most pressing threat of this century requires similar galvanizing efforts across the public and private sectors. The workforce needs redefining after decades of stagnant wages for a large portion of workers, loss of economic opportunity, and the looming threat of automation in many fields. Meanwhile, climate change requires immediate intervention.
A comprehensive solution to both these problems is to marry industry with publicly funded incentives and opportunities. Businesses can begin the transition to greener practices with the help of grants, stimulus, and tax breaks while jobs are produced throughout society. Such a green transition could create as many as 24 million new jobs worldwide by 2030, according to a U.N. report. Meanwhile, 1.2 billion jobs depend on a stable environment.
With the future of work hinging on climate-safe business practices, green jobs represent growth opportunities. Promoting and incentivizing this growth across industries will reshape the workforce as we know it, creating more equitable and desirable paths for workers of all backgrounds.
Here are just some of the reasons a push towards green industry is a win for labor in general:
Clean energy workers earn as much as $5-$10 more on average than workers in other sectors, even at the lowest end of the income spectrum.
Only 50% of clean energy workers possess more than a high school diploma but still make more money than their peers.
The transition to a green energy economy will mean huge growth for 320 unique occupations over three major industries.
Since millions are hesitant to return to the workforce, lucrative and fulfilling opportunities like clean energy work are more necessary than ever. Fortunately, the creation of these opportunities is in the hands of both public and private sector leaders, who can collaborate to restructure global business practices.
For example, incentives and social safety nets can help address necessary childcare and wage gaps, promoting solutions for working parents. Meanwhile, subsidized training programs can show workers that entering a new career is possible. Industry leaders have to work with government leaders to design the ideal environment for a growing green economy.
There are countless ways to go about addressing the climate and labor problems of the modern economy. However, a combined approach makes the most sense. We can co-address these issues with the right policies and business practices. All it will take is a commitment to a cleaner and more equitable future for workers.