Editor's Picks
EUROPE
INTL CONFLICTS
OPINION
Russia – Relegated to the second-division of military powers
Russia may have suffered more casualties in Ukraine than there are regular troops in the British Army. And that's not the worst of it.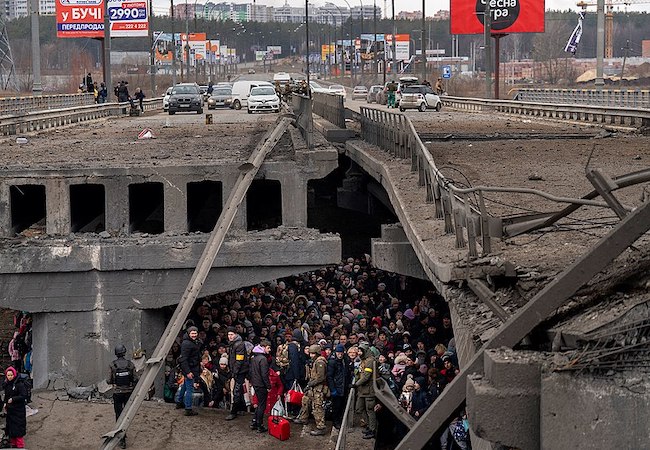 By Joel Hickman
The Russian economy has been battered by war and sanctions since Vladimir Putin launched his all-out war of aggression six months ago. Whilst its overall GDP is projected to contract by 6% in 2022, this figure masks a multitude of woeful economic data which could prove devastating for Russia over the longer term.
Consider the following:
Well over 1,000 multinationals accounting for nearly 40% of Russia's GDP have fled Russia since the start of the invasion.
Overall imports have declined by more than 50%, including from China; and most Chinese banks and companies appear wary of contravening Western sanctions.
Of its $600bn foreign exchange reserves — $300bn is currently frozen and the remainder is shrinking rapidly — $75bn has been spent since February alone; and
The EU has agreed to ban 90% of Russian oil imports by the end of his year, and 15% of its gas suppliesuntil March 23; with an aspiration to reduce this to zero by 2027.
All of this really matters because viable alternative markets are scarce, gas pipelines take decades to build (and billions of dollars to fund) and the mass exodus of Russia's economic base doesn't appear to be returning anytime soon. According to an influential new paper by several leading economists, Russian domestic production has already come to a "complete standstill" and the country faces "stark challenges securing crucial inputs, parts, and technology from hesitant trade partners."
A smaller economy will almost certainly erode Russia's global ambitions and ability to project military power abroad. From 2016-20, Russia accounted for approximately 20% of global defense exports, which was a decline of 22% from the previous four years. Alongside energy supplies, defense represents one of Russia's largest export industries and as a result of the war and sanctions, it's likely to suffer a similar fate.
Add to this the sheer scale of attrition that Russia is experiencing in its war effort. According to a tracking website which verifies materiel that has been destroyed in Ukraine, by August 22 Russia had lost 970 tanks, 2,682 armored and other vehicles, 1,437 trucks and jeeps, 52 combat aircraft, 50 helicopters and 11 naval vessels damaged or destroyed. Ukrainian official estimates are much higher. But even this pales into insignificance when compared to the numbers of Russian fatalities and combat injuries. According to Pentagon estimates, over a six month period more Russian troops may have been killed or wounded in Ukraine than there are regular troops in the British Army (80,000 compared to around 75,000.) It's an extraordinary statistic.
Such horrific loss of life could yet force Putin into invoking national conscription to stem the tide of insurmountable losses in Ukraine. But the equipment losses are almost as problematic from a geostrategic point of view; firstly, it leads to questions of reliability and effectiveness of Russian military equipment — the internet is now awash with video of Russian armored vehicles being destroyed by drones and anti-tank guided missiles. Its missile failure rate alone may be as high as 60% due to design flaws and poor component parts.
Currently, Russia sells almost 90% of its weapons to just 10 countries, with India and China representing half of that total. If just one or two of this small international client base are put off by Russia's poor military performance, then this represents a serious long-term challenge for Russia due to the lack of alternative markets, not least given China is likely to achieve full scale domestic production to meet its military requirements in a few years.
Secondly, sustained battlefield losses forces Russia to prioritize sustaining and replacing its equipment rather than supporting its defense export industry. A draft bill went through the Duma in July outlining special economic measures for "the temporary activation of mobilization capacities and facilities", suggesting that Russia is already trying to grapple with this problem.
That means India — Russia's largest defense market — and reliant on Russia for half of its total weapons imports, will either need to look elsewhere, or develop its own industrial capacity. This will hopefully have the added benefit of reducing Russian leverage over India and other defense equipment buyers.
Finally, there are sanctions and their impact on Russia's more sophisticated platforms, such as precision-guided missiles and key system components like engines and composite material for aircraft wings. As ever, China stands ready to benefit by establishing critical new supply chains and the guaranteed dependency of a new client state suffering economic hardship.
If Russia's military endeavors were the result of rational policy, we'd conclude that the Kremlin will look to freeze the conflict as soon as possible in order to salvage what's left of its depleted military industrial complex,and declining status in the world. But of course there is no such assurance, and Russia still has a terrifying ability to seriously escalate this conflict through the use of so-called strategic (i.e., nuclear) weapons should it choose.
But whatever pyrrhic victory Putin tries to claim in Ukraine, Russia's relegation from the top tier of military-industrial producers and exporters appears all but certain. Its economic predicament verges on existential, and its military losses are truly eyewatering for a 21st century conflict. The long-term effect this will have on its global military aspirations, and influence over a rapidly shrinking international client base, may yet prove its greatest defeat.
Joel Hickman is Deputy Director Transatlantic Defense and Security program at the Center for European Policy Analysis (CEPA.) He was previously a British diplomat posted to Pakistan where he led the UK government's serious organized crime strategy, policy, and programming across South Asia. Previously, Joel has worked as a senior policy advisor in the UK Home Office, Ministry of Defence, and Foreign, Commonwealth, and Development Office. You can find him on Twitter @joelhickman86