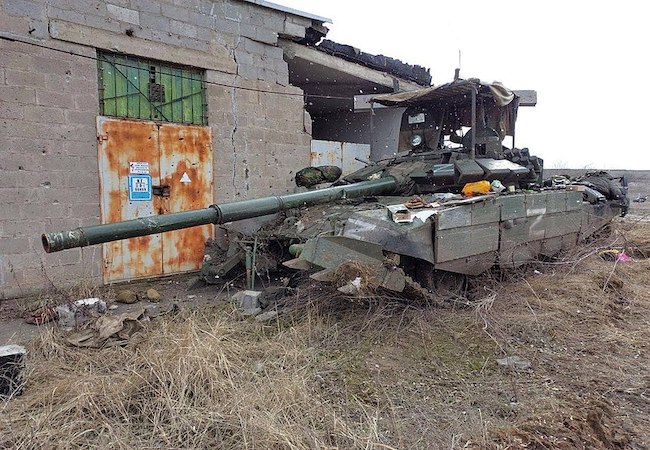 By Julian McBride
The Russian Federation has been quietly suffering from a demographic crisis since the collapse of the Soviet Union. With an ever growing older population, Russia is suffering from a demographic collapse that has been exacerbated by the tens of thousands of soldiers that have been killed and wounded during the ongoing invasion of Ukraine.
Vladimir Putin, who has openly compared himself to Peter the Great now has a solution to his demographic crisis—kidnapping Ukrainian children and raising them to be Russians in the Russian Federation.
During the ongoing occupation of Ukrainian regions, Russian Forces have gradually deported Ukrainian children, whose parents have been either killed or missing to the Russian Federation directly for adoption. In the late spring of 2022, it was reported that RF opened filtration camps to weed out potential dissidents in the occupied regions and indoctrinate civilians to the reality that they now live in "Russia forever."
Filtration Camps & Deportation
One of these major filtration camps and adoption points is in Mariupol, the city most famous for arguably the most brutal siege since the carpet bombing of Grozny. An untold number of civilians were killed in the Russian siege which could range anywhere between 20,000-60,000 as satellite images have shown mass graves on the outskirts of the city continue to grow.
The Kremlin has not shied away from their deportation policies. Instead, they call it a "relocation" for "their safety." Maria Lvova-Belova, the Russian official in charge of children's rights has stated they have begun the process of handing out Ukrainian children for adoption and have given them Russian citizenship. She has claimed the first batch of thirty children were pro Ukraine, but have now "embraced" Russia, showing the policies of Russification and cultural genocide.
Russification
Policies of Russification have been long-standing since the times of the Tsardom. Forcing federal subjects and nations conquered to embrace Russian names, culture, and lifestyle have left a damaging mark on regions such as the Caucasus, Central Asia, and Eastern Europe. This was addressed when the President of Tajikistan told Putin to no longer refer to them as "former Soviet states" but instead as independent nations.
Stating one of their reasons for their casus belli of invading Ukraine was the "persecution of Russian language," it should be noted RF have already begun to Russify occupied regions from the Ukrainian language. There have been several reports of RF burning books in Luhansk, Donetsk, and Zaporizhzhia. Despite claiming Kyiv actively persecuted the language, Volodymyr Zelensky's first language was Russian and the majority of Ukrainians are bilingual in both. A consequence of the invasion is that Ukrainians have dropped Russian and have decided to embrace their language instead.
A Demographic Collapse in Russia
Ever since the fall of the Soviet Union, the modern day Russian Federation has faced declining fertility rates in lieu of economic hardship, corruption, and emigration to western nations for better economic opportunities. This has been exacerbated by the War in Ukraine as Russia has suffered close to 200,000 casualties.
If Putin continues the invasion throughout the rest of 2023, Russian births could decline upwards of 1.2 million people, according to Igor Efremov, a specialist in demographics in Moscow. Adding that close to one million men have fled the nation to countries such as Serbia, Turkey, Armenia, Georgian and Kazakhstan to avoid conscription, the Kremlin continues to lose its best and brightest over their own imperial egos.
Why Deportations of Children should Cause Concern
According to the Convention on the Prevention and Punishment of the Crime of Genocide, Article II Point E states the forcible transfer of children from one group to another group falls under the category of genocide. With ongoing reports surfacing of filtration camps and deportations of children, evidence will continue to grow to open a case in the International Criminal Court against the leadership of the Russian Federation.
This article was highlighted during the Yugoslav Wars which saw Bosnian Serb forces forcibly deported Bosniak children, many of which were killed in massacres that have fallen under the case of genocide such as Srebrenica. It should be noted Putin still holds a grudge over western states for intervening in the Yugoslav Wars against his ally of Serbia and has mentioned intervention in Kosovo as one of the justifications for his barbaric invasion.
For decades since the Russian Tsardom at its height, Moscow has used hundreds of ethnic groups and several dozen nations to conduct their will in Eastern Europe, the Caucasus and Central Asia. Without those states, the Federation now heads for demographic collapse. This is perhaps one of their main reasons for wanting to restore their imperial ambitions and forcibly put Ukrainians under the state again as the modern day Russian state severely lacks compared to its predecessors. 
Julian McBride is a forensic anthropologist and independent journalist born in New York. He reports and documents the plight of people around the world who are affected by conflicts, rogue geopolitics, and war, and also tells the stories of war victims whose voices are neverheard. Julian is the founder and director of the Reflections of War Initiative (ROW), an anthropological NGO which aims to tell the stories of the victims of war through art therapy. As a former Marine, he uses this technique not only to help heal PTSD but also to sharepeople's stories through art, which conveys "the message of the brutality of war better than most news organizations.