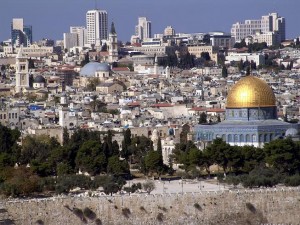 Israeli Air Force struck targets in the Gaza Strip on Thursday afternoon in response to rockets fired earlier against Israeli communities. Israeli aircraft attacked seven "terror sites" in southern Gaza on Thursday, the military said. Two of the sites included a smuggling tunnel and an underground rocket launcher in Rafah, local media reported.
The air strikes came after Islamic Jihad terrorists fired six rockets at western Negev on Thursday. Israeli military said four of the projectiles launched in the morning had likely landed in Palestinian territory, while the remaining two fired shortly afterwards exploded in open areas between the coastal cities of Ashdod and Ashkelon.
There were no reports of injuries in the attacks. Earlier Wednesday saw the single largest rocket onslaught since a cease-fire ended eight days of cross-border violence in November 2012. Consecutive barrages of at least 60 rockets fired from northern and southern Gaza exploded in western Negev on Wednesday afternoon, triggering alert sirens that sent thousands of Israeli civilians fleeing for cover in bomb shelters and protected rooms.
Israeli military said that five projectiles fell in populated areas, and three were intercepted. Israel swiftly responded with artillery fire against two militant targets, which was followed by air strikes on another 29 targets across the Palestinian enclave on Wednesday night.
Islamic Jihad, a Gaza-based militant group, claimed responsibility for the rocket fire, saying it was a response to an Israeli air strike on Tuesday that killed three of its members. Israeli military on Wednesday released a drone-taken video, showing the killed militants were previously firing a mortar at Israeli troops.
Israeli army said the escalation has led to a "substantial deterioration" in the safety of Israelis residing in the south, citing a sharp spike in the number of rockets fired into Israel since the beginning of this year. Israeli Prime Minister Benjamin Netanyahu on Thursday reiterated his commitment to the security of southern Israel, warning of a "fierce response" to the rocket fire.
Defense Minister Moshe Ya'alon echoed Netanyahu's remarks, saying that Israel has a "range of options" that it will not hesitate to employ in order to curb the rocket attacks.
In the meantime, the British Prime Minister David Cameron, visiting Israel, called on the Israeli Knesset to reach out for historic peace with Palestinians, during his first visit to Israel as prime minister. Cameron made a strong pro-Israeli speech at a special session of the Knesset plenum, and only briefly addressed the issue of the illegal settlements in the West Bank.
"We back the compromises needed, including the halt to settlement activity and an end to Palestinian incitement too," Cameron said in his speech. Cameron also said that he fully supports the U.S. Secretary of State John Kerry's efforts to draft a framework agreement between Israel and the Palestinians toward a two-state solution.
"Think of all the capitals in the Arab world that Israelis could travel to and do business in," he said, adding that "imagine a peace deal that would leave Israel more secure, not less secure. "
Focusing on economic relations and the Britain's commitment to Israel's security, Cameron vowed to the Knesset to "always stand up for the rights of Israel to defend its citizens." "Looking right at the Jordan River, I deeply realized for the first time just how vulnerable this land is, vulnerability that is already seen in missiles from Gaza, and which we saw again this week in a seized ship. These engaged me in a new understanding of what it must mean to be Israeli," he said.
Source: Xinhua