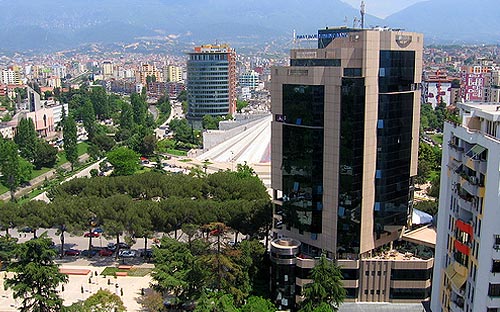 By Peter Tase
On April 18-19, 2014, Mr. Ditmir Bushati, Albanian Foreign Minister, conducted his first official visit to the Republic of Turkey. Mr. Bushati's arrival to Ankara is the continuation of an extensive dialogue and bilateral cooperation between both nations which has gained a new momentum with the official visit to Albania by Turkish Foreign Minister, Prof. Ahmet Davutoğlu, on October 4-5, 2013, as well as the first official visit to Ankara of the Hon. Mimi Kodheli, Albanian Defense Minister, on April 18th, 2014. Immediately after the leader of Albanian Socialist Party, Edi Rama became a Prime Minister, in September 2013, after the general elections of June 23rd, 2013; Albania's strategic relations with Turkey were given a special priority and became highly important.
According to Prime Minister Rama, Turkey is considered a strategic partner in Albania's Foreign Policy Strategy and his government aims to further strengthen the bilateral cooperation with Ankara, especially in the economic and commercial partnership. Under this framework, in February 2014, was held in Tirana the Albania-Turkey Economic and Trade Forum. In his statement Mr. Rama emphasized that Turkish investors will very soon experience a tremendous reduction of bureaucracy and friendly policies towards the opening of their businesses in Albania. He added: "We consider you as ambassadors and promoters of our country in the world."[1] Turkey is the second largest trading partner of Albania and its daily consumption products, merchandises and commodities are always present in Albania's markers. Some of the largest Turkish companies, with a focus in areas such as construction, telecommunications, transportation and education are: ENKA, Gintaş, Armada, Metal Yapı, Aldemir, Servomatik, Çalık Holding/Türk Telekom, Makro-Tel/Hes Kablo, Albanian Airlines (Evsen Group), Gülistan Foundation, Istanbul Foundation, Epoka University.
In his visit to Ankara, Mr. Bushati had a lengthy conversation with his counterpart, Prof. Dr. Davutoğlu, and particularly addressed the strong bilateral economic relations, international and regional security issues, and most importantly, Tirana's aspirations to establish a bilateral "High Level Partnership and Cooperation Council"between Tirana and Ankara.
In their joint press conference, Foreign Minister Davutoğlu said that the two countries have agreed to establish the "High Level Partnership and Cooperation Council" and this bilateral body will be meeting in the weeks ahead, to discuss pending items of the mutually beneficial agenda. Turkish investments in Albania have increased by US$ 2 billion and the bilateral trade volume has reached more than US$1 billion, from US$400 million, only five years ago.
Another item in the discussions were the potential venues of strengthening the cooperation between the two ministries, while placing a special importance to Albania's EU integration and membership status.
According to Minister Davutoğlu, the Turkish Diplomatic Chief: "We together endeavor for our common goals, will continue to work together, at the highest level in international organizations as well. We agreed to establish the Turkey-Albania High Level Cooperation Council" [2]
In this occasion, the two counterparts signed an agreement and Memorandum of Understanding focused in the bilateral Cooperation of Information Technologies.
Foreign Minister Davutoğlu, visited Albania on October, 2013; he met with Prime Minister Edi Rama, and Foreign Minister Bushati.During his visit, Turkish Foreign Minister initiated the dialogue to establish the High Level Strategic Cooperation Mechanisms, that would be highly beneficial to both countries' economies, trade and bilateral political dialogue.
Albania and Turkey, have maintained a close partnership within the North Atlantic Treaty Organization, the Southeast European Cooperation Process (SEECP) as well as have been working closely in Peace Keeping operations in Afghanistan, Bosnia Hercegovina and other hot spots in the world. This year, Tirana will assume the chairmanship of SEECP and under its leadership the strategic role of Turkey and its contributions will further be solidified in the Balkans.
In Tirana, Foreign Minister Davutoğlu met with President of Albania, Mr. Bujar Nishani, Mr. Edi Rama, and Mr. Ilir Meta, the Speaker of Albanian Parliament.
Bilateral relations between Albania and Turkey, are characterized by a strong sense of cooperation, friendship, mutually beneficial regional stability and stronger commercial and economic ties.
Over the last three years there have been multiple official visits undertaken by top Albanian government officials to Ankara as well as the government of Prime Minister Erdogan has kept a keen interest towards Albania. In October, 2011, Mr. Bamir Topi, Albania's president, led an official visit to Ankara, which was a very productive and set the tone for a closer cooperation between both countries.
Mr. Topi's visit was followed by Dr. Sali Berisha, Albanian Prime Minister's visit to Turkey in April 2012 and Mr. Cemil Çiçek, Turkish Assembly Speaker to Tirana in June 2012. Additionally, in October 2012, Albanian Foreign Minister, H.E. Edmond Panariti visited Ankara, and gave a keynote address in the International Conference entitled "From Balkan Wars to Balkan Peace" co-organized by the Center for Strategic Research of Ministry of Foreign Affairs. Mr. Panariti held fruitful talks with H.E. Foreign Minister Davutoğlu and other high level officials of the Turkish government.
Another important variable in Albania-Turkey strong bilateral cooperation is the high number of Turkish citizens of Albanian origin living in Turkey and the attendance of Albanian students and professionals who have decided to reside and work in Turkey. There has historically been a significant bondage between Albania and Turkey, even the Albanian language has been influenced over many centuries by the Turkish language. Currently, there are more than three thousand common words in Albanian and Turkish languages, that are used daily in both nations. [3]
Another important aspect is the cooperation in the areas of national defense training, and technological equipment. Albania depends heavily on Turkish forces' assistance in training and supply of cutting edge defense technology as well as the reconstruction of Albania's military bases and their maintenance.
Over the last twenty years, Turkish military personnel, from various branches: infantry, land, naval and Air Force bases have trained Albanian Armed Forces, provided technological equipments and helped rebuild its military infrastructure. Albanian soldiers assigned to Afghanistan under the NATO mandate, are serving within the Turkish command deployed in Kabul.
References:
[1] 
http://gazeta-shqip.com/lajme/2014/02/27/rama-ne-forumin-ekonomik-cdo-detyrim-per-biznesin-ne-60-dite/
[2] 
http://www.mfa.gov.tr/foreign-minister-davutoglu-_we-agreed-to-establish-the-turkey_albania-high-level-cooperation-council.en.mfa
[3] 
http://www.mfa.gov.tr/relations-between-turkey-and-albania.en.mfa