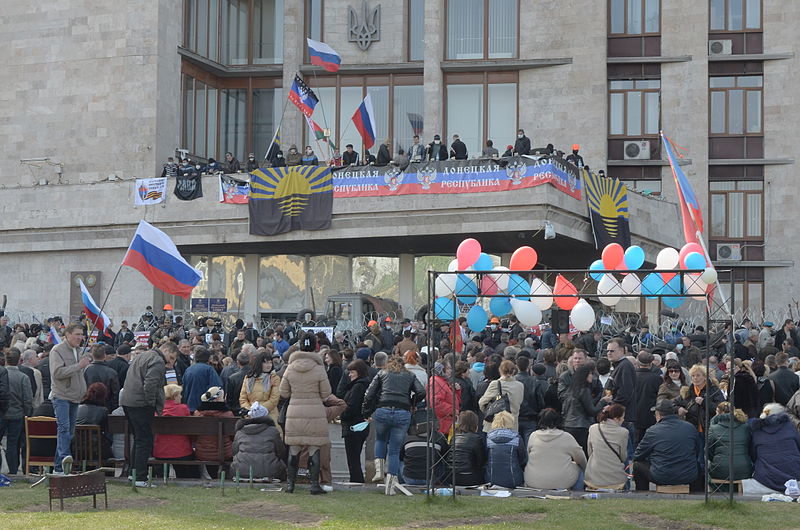 By Jason Patrick
The Fight for Donetsk
Interim Ukrainian president Oleksandr Turchynov resumed military operation to retake key cities in the Donetsk Province on 2 May. The operations have sputtered along since mid-April, halting abruptly at signs of Russian conventional military activity along the border and starting again following provocative actions by local pro-Russian separatists.
Donetsk is a key province for both sides. For Ukraine, the loss of any territory means the compromise of the country's sovereignty. The secession of Donetsk carries the additional economic loss of considerable natural resources and national infrastructure. For local residents, Donetsk's one-time industrial strength was attributable to its Russian neighbor and the Soviet Union. Many blame the region's economic decline on the Ukrainian government, as much of the decline occurred during the post-Soviet decades. Others view Donetsk as part of a larger unofficial entity, known as "Donbass", which ties them to a region not found on political maps that stretches from Dnepropetrovsk to Rostov, Russia. If separatists succeed in keeping Kyiv out, but fall short of de jure independence (the former being as probable as the latter is improbable), the Donbass region may well join South Ossetia, Abkhazia, Transnistria, and Nagorno-Karabakh as the world's next frozen conflict.
Donetsk Province is divided into 17 districts with 28 towns and his home to some 5 million people. Its capital is the city of Donetsk. Other major cities in the province include Horlivka, Makeyevka, Slavyansk, and the seaport city of Mariupol on the Sea of Azov. The province has significant rail, road, and aviation infrastructure connecting it to other parts of Ukraine, Russia, and the Black Sea. Donetsk also holds 12 percent of Ukraine's natural resources, the largest portion of any of the country's other provinces. These resources include coal, limestone, mercury, and a host of other rocks and heavy metals, many of which have yet to be fully extracted. Donetsk has coal deposits estimated at 14.3 billion tons, which are exploited by over 100 mines and 33 processing mills.
Donbass Militias
Since early April, pro-Russia separatists have seized control of government buildings in 16 cities throughout the provinces of Donetsk and Luhansk. Separatists have proclaimed the regions as independent republics and have scheduled referenda to vote themselves out of Kyiv's control and into Moscow's orbit. The self-proclaimed "people's mayor" in Donetsk, Vyacheslav Ponomarev has scheduled a referendum for 11 May for the creation of a "Donbass People's Republic." Multiple militias operate throughout the Donbass region falling under what the Russian press calls the "self-defense forces of Donbass". In a recent interview, the head of the Slavyansk self-defense force, Igor Strelkov and "Donetsk People's Republic" presidium member, Denis Pushyilin announced a merger between his forces and the political leadership of the so-called republic. In the same interview, Strelkov announced his intention to unite the disparate militias in the region under his command.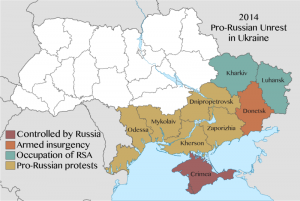 Igor Strelkov is a shadowy figure accused by the Ukrainian SBU as a Russian intelligence officer working for Russia's Main Intelligence Unit (GRU). SBU spokeswoman, Maryna Ostapenko has been quoted multiple times since late April claiming that Strelkov is actually a Russian citizen named Igor Vsevolodovich Girkin. Girkin, allegedly a Colonel in Russia's GRU, is believed to have made multiple previous trips to Ukraine. According to Ukrainian press reports, he last entered on 26 February, just one day prior to the armed takeover of the Crimean parliament. The SBU accuses Strelkov of executing direct orders from Moscow to direct sabotage operations in Donetsk and Luhansk provinces. The SBU further claims to have phone recordings implicating him in the death of deputy Vladimir Rybak in late April. Although his direct ties to the GRU are unconfirmed, Strelkov has played a key role in a number of high-profile events since the resumption of Kyiv's anti-terror operations.
On 2 May, Strelkov's forces shot down two Mi-24 helicopters and fired on a third conducting a rescue/recovery operation during an attempt to wrest Slavyansk from separatist units. In his 28 April interview, Strelkov acknowledged his forces' participation in the 25 April attack on two other Ukrainian helicopters at the Kramatorsk airfield.
On 24 April, Horlivka City Council member Vladimir Rybak was abducted while attempting to remove a Donetsk Republic flag from a local administration building. His body was later found outside of Slavyansk with signs of torture. The SBU released a recorded phone call allegedly between Strelkov and Horlivka "People's Militia" commander, Igor Bezler in which the two discussed the kidnapping. In a separate transcript of Strelkov and Ponomarev discuss what to do with Rybak's body.
Strelkov's forces are believed to be holding members of the OSCE's monitoring team, detained on 26 April.Strelkov announced he would hold negotiations for their release only with the participation of the Russian Federation.
The SBU accuses Strelkov of abducting and holding three of its Alpha Group counterterrorism officers. The three officers have appeared in videos released by Strelkov's group bound and blindfolded in what appears to be the same office in which he conducted the 26 April interview with Denis Pushyilin.
In addition to Strelkov, another possible Russian intelligence officer has emerged in Ukrainian media. The head of the Horlivka People's Militia, Lieutenant Colonel Igor Bezler is believed to be an officer of the GRU. Conflicting reports, however, suggest that he may have left GRU service in 2012 before relocating to Horlivka, Ukraine. The detained SBU officers were allegedly on assignment to monitor and possibly detain Bezler, as he had taken control of the Horlivka police station.
Donbass: The Next Frozen Conflict
In some aspects, the prospect of a quasi-political entity under the name of Donbass bears resemblance to North and South Ossetia (in Russia and Georgia, respectively). Although "Donbass" is a region and not an ethnicity, it points to a strong connection that transcends national borders. With simultaneous calls for federalization, full independence, and annexation by Russia, it is unclear precisely what Ukrainian separatists truly want. If Kyiv's anti-terror operations fail to regain control of Donetsk and Luhansk, the world may soon see unofficial cross-border ties with Russia's Rostov region that would suggest a de facto existence of something along the lines of a Donbass. Unable to stand up to reclaim control of the area, Ukraine's "Donbass" east may turn into the world's next frozen conflict.