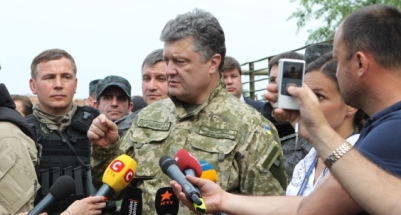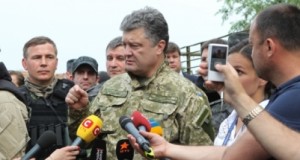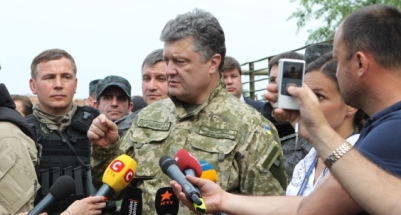 The president of Ukraine Petro Poroshenko cancelled his trip to Turkey due to the escalation of the situation in Eastern Ukraine. The head of the eastern European state also called for an emergency session of the UN Security Council seeking international condemnation of Russia's military intervention.
Now often appearing in an all-military uniform, President Poroshenko is determined to withstand Russian military occupation after Minsk talks failed this week. "I decided to cancel my working visit to Republic of Turkey due to the sudden escalation of situation in Donetsk district, namely in Amvrosievk and Starobeshevo, because Russia's military intervention virtually did take place", he was quoted saying. He also said that the "world must assess the sudden deterioration of the situation in Ukraine."
Russia's representative to the OSCE Andrey Kelin refuted the statements of the Ukrainian head of state, saying that there are neither Russian servicemen nor military equipment in Ukraine. "We have already firmly stated that there was no participation of Russian military personnel, equipment on the territory of Ukraine; we don't supply any military equipment there."
On August 26, at a press conference Ukraine also put on a public display ten Russian paratroopers captured near the village of Dzerkalne of the Donetsk district, 30 kilometers into the Ukrainian territory. Ukraine and NATO confirm that more than 1,000 regular Russian troops have entered Ukraine within the last three days.
During a press briefing on August 28, Andrey Lysenko, representative of Center of Analysis of National Security and Defense Council of Ukraine stated that within the last week, servicemen of the Russian army replaced the detachments of local pro-Russian rebels, apparently, unable to withstand the offensive of the Ukrainian armed forces.
Russian military invasion of Ukraine – which Kremlin still denies – is expected to be subject to thorough discussions during the NATO summit taking place in Wales on September 4-5.
Photo Courtesy: President of Ukraine