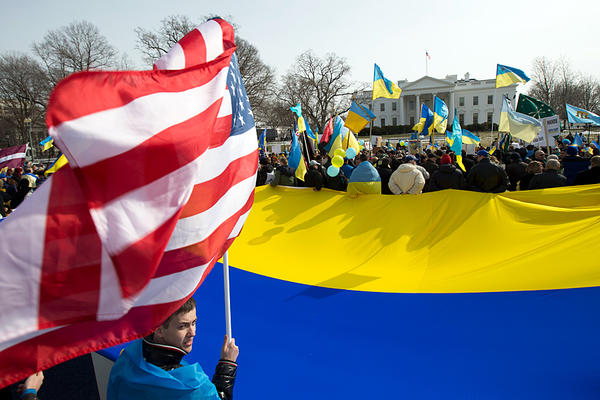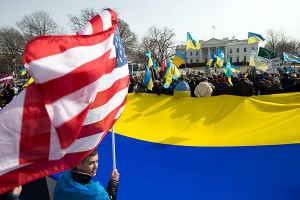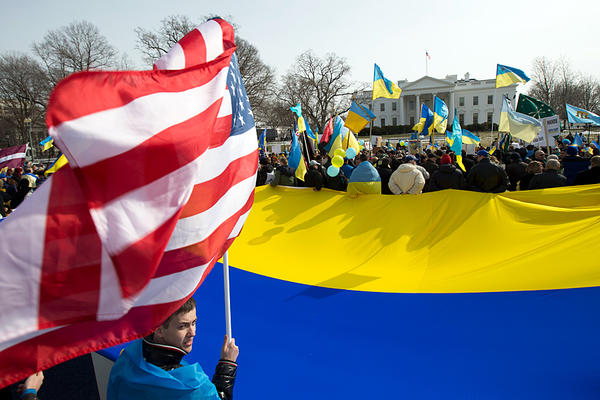 The following is the fact sheet on U.S. support to Ukraine:
The United States is firmly committed to supporting Ukraine as it works to establish security and stability, respond to humanitarian and reconstruction needs, conduct democratic elections and carry out constitutional reforms, restore its economy, and combat corruption.  Along with our international partners, including the IMF, the United States is committed to supporting Ukraine's reform agenda while also ensuring that Ukrainians are able to determine their future without intimidation or outside coercion.
In pursuit of these objectives, the U.S. government has provided approximately $291 million inassistance to Ukraine this year as well as a $1 billion loan guarantee.   This includes thePresident's announcement today of a new package of assistance totaling $53 million, of which:
More than $7 million will be directed to international relief organizations to provide humanitarian aid to those affected by the conflict in Ukraine's east.
$46 million in security assistance will support Ukraine's military and border guards. This is in addition to the $70 million in security assistance we have previously announced.
The President has also asked U.S. Commerce Secretary Penny Pritzker to lead a U.S. Government delegation to Ukraine September 26-27 to meet with senior Ukrainian government and business leaders and discuss Ukrainian economic reform efforts and the steps that the government needs to take in the short- and medium-term to strengthen its business climate and build an economy that attracts private capital.
The U.S. government will continue to work with Congress to identify additional opportunities for U.S. assistance to Ukraine.  For example, the Administration has requested from Congress an additional $45 million in FY 2015 as part of the President's European Reassurance Initiative that would help build Ukraine's capacity to provide for its own defense and increase interoperability with U.S. and Western forces.
Examples of U.S. assistance to Ukraine in response to the crisis include the following: 
Humanitarian Assistance and Reconstruction
The U.S. government is contributing to the work in Ukraine of the UN High Commissioner for Refugees (UNHCR), the International Organization for Migration (IOM), the International Committee of the Red Cross (ICRC), the United Nations Population Fund (UNFPA), and the UN Office of the Coordination of Humanitarian Affairs (UNOCHA).
These contributions are supporting Ukrainian efforts to ensure adequate reception of internally displaced persons (IDP) as well as to facilitate IDP returns when security conditions allow, including through the provision of food, cash, hygiene kits, medicines, and domestic and winter items.  We are also supporting efforts to address the humanitarian needs of vulnerable populations in Luhansk and Donetsk through support for emergency activities including the procurement and distribution of safe drinking water and relief commodities.
The U.S. government is also providing immediate support for economic recovery, small infrastructure repair, and restoration of public services in conflict-affected areas in the east.  
Security Sector Capacity Building and Reform
With today's announcement, the U.S. government has committed to providing $116 million in equipment and training to Ukraine's security forces to help Ukraine better monitor and secure its border, operate more safely and effectively, and preserve and enforce its territorial integrity.  Ukraine's security forces include their Armed Forces, National Guard, and State Border Guard Service.
This assistance includes the provision of body armor, helmets, vehicles, night and thermal vision devices, heavy engineering equipment, advanced radios, patrol boats, rations, tents, counter-mortar radars, uniforms, and other related items.
The United States has also begun a process led by U.S. European Command and Department of Defense civilian and military experts to work with Ukraine to improve its capacity to provide for its own defense and set the stage for longer-term defense cooperation.  This includes medical advisory and security assistance advisory teams. 
National Unity, Democracy, Human Rights, and Media
The United States has contributed funding and personnel to the Organization for Security and Cooperation in Europe's (OSCE) Special Monitoring Mission (SMM) that is monitoring and providing daily reporting, particularly in the conflict regions in the east.
During Ukraine's May presidential election, U.S. assistance supported the work of international and domestic election observers as well as efforts to strengthen election administration, voter education, election security, and independent media.  The United States is providing similar assistance for pre-term parliamentary elections scheduled for

October 26

.
U.S. assistance is also supporting Ukrainian efforts to promote an inclusive process of constitutional reform that will help Ukraine meet European standards and drive the process of decentralization.
The U.S. government is supporting civil society organizations to engage in public outreach, participate in the government reform process, and monitor and defend human rights.
We are also providing assistance to boost the capacity of independent media outlets to provide unbiased information and to increase access to information in all parts of Ukraine.  In mid-October, the Broadcasting Board of Governors (BBG) will launch a daily, 30-minute Russian language television news program that will be a joint production of Radio Free Europe/Radio Liberty and the Voice of America. The program will be shown on television affiliates in Ukraine, as well as in Lithuania, Latvia, Estonia, Moldova, Georgia, and possibly other countries. BBG will seek to make the program available to Russian-speaking news-seekers worldwide via digital platforms.
Economic Stabilization, Reform, and Growth
In May, Ukraine closed on its offering of a $1 billion sovereign bond, guaranteed by the United States.  With the support of the proceeds raised by the loan guarantee, Ukraine is implementing a new social protection program to compensate vulnerable households for increases in gas and heating tariffs, which will reach 30 percent of the population. The U.S. loan guarantee was part of a coordinated international effort to ensure Ukraine has the resources it needs, which will provide $27 billion to Ukraine as it implements its IMF program.
Immediately following Ukraine's change in government in March, the U.S. government deployed advisors to help stabilize the financial sector and implement key reforms in partnership with the Ukrainian Finance Ministry and National Bank.  These advisors are supporting a range of reforms related to issues such as banking supervision, public sector debt management, infrastructure finance, and taxation.
U.S. assistance also is supporting policy changes that will lay the groundwork for growth in important sectors of the Ukrainian economy.  For example, we are helping Ukrainian authorities to carry out reforms that will boost private sector investment in agriculture, improve access to credit and capital investment for farmers, and streamline agricultural sector regulation.
The United States is also contributing to international programs, including through the European Bank for Reconstruction and Development (EBRD) and the Organization for Economic Cooperation and Development (OECD), to support increased access to finance for small- and medium-sized enterprises (SMEs) and to help Ukraine implement the reforms it needs to attract international investment.
 Energy Security
We are sending a team of experts to help the Ukrainian government to meet its energy needs this winter.
The U.S. government also is working with other international donors to help Ukraine develop strategies to ensure that energy subsidy programs are targeting the most vulnerable Ukrainians and to increase end-use energy efficiency, including among households and in the industrial sector.
We also are supporting Ukrainian efforts to enhance its own energy production, including through technical assistance to help restructure Ukraine's national oil and gas company, Naftogaz, and through the introduction of new technologies to boost yields at existing and new conventional and unconventional oil and gas fields in Ukraine.  
Trade Diversification and Promotion
The U.S. government is providing training and technical assistance to build Ukraine's expertise on World Trade Organization (WTO) obligations and rights and how to meet WTO food safety standards.
The Office of the U.S. Trade Representative is convening the U.S.-Ukraine Trade and Investment Council to support Ukraine's efforts to boost bilateral trade and investment and combat intellectual property theft.
U.S. assistance is supporting efforts to help SMEs access new international markets.  This includes plans for a U.S.-Ukraine agribusiness trade mission to promote two-way trade between our countries. 
Anti-Corruption
The United States is working closely with Ukrainian authorities and others in the international community to help recover stolen assets, including through joint investigative activities as well as support for evidence collection and processing activities.
We are also helping Ukrainian officials develop laws and regulations that will establish anti-corruption institutions within the government and enable authorities to combat corruption more effectively.  Through support for expanded e-governance and procurement reform we are also working with Ukrainian authorities to limit opportunities for corruption.
We are also contributing to international efforts, including through the OECD and the EBRD, to deter foreign bribery and improve Ukraine's business climate.
Source: White House