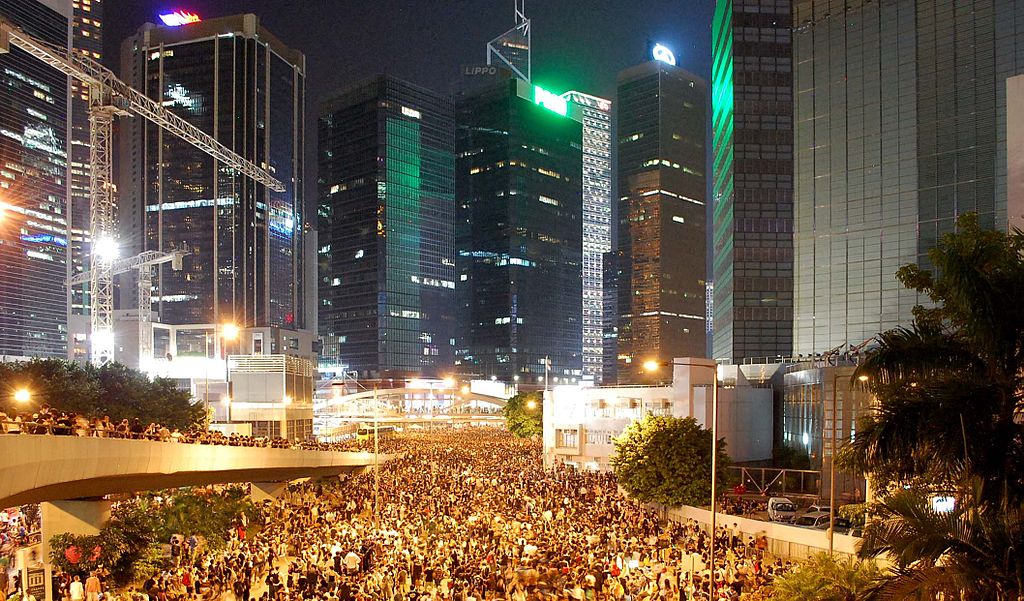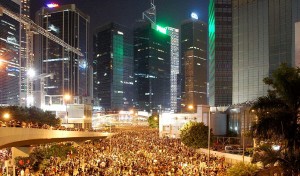 Hong Kong's prosperity and stability are hard-won and should be treasured, while Hong Kongers' free will shall not be held hostage to those organizers of the Occupy Central movement who have ulterior motives, critics appealed.
Yin Haoliu, a Chinese American freelancer, wrote in an open letter to three initiators of the illegal movement: "Democracy is a step-by-step process that can not be approached in haste, otherwise it will bring about troubles."
"What's wrong with the Communist Party of China which hopes to see a person who loves China and loves Hong Kong elected as Hong Kong's chief executive? Are you willing to choose a chief executive that sells Hong Kong and the whole country?" Yin asked in the letter.
"You should know that on your opposite side are the silent majority… if Hong Kong falls into chaos, you could flee to foreign countries, but how about the ordinary Hong Kongers that are left behind?" he said.
"Christopher Francis Patten said the decision by the Standing Committee of the National People's Congress on Aug. 31 that granted universal suffrage in Hong Kong was false…then was he himself as the governor of Hong Kong elected by the Hong Kong people?" the retired doctor said.
Yin said Hong Kong had tided through numerous difficulties with full support of the Chinese mainland since the Basic Law was put into practice, so the initiators of Occupy Central should treasure the city's current prosperity and stability.
On Friday, the Russian Foreign Ministry said Moscow hopes that stability will resume as soon as possible in Hong Kong.
"Events in Hong Kong belong to China's internal affairs. Russia hopes the stability of the Hong Kong Special Administrative Region (HKSAR) would be resumed as soon as possible," the ministry's information and press department told Xinhua.
Singapore's Foreign Minister Kasiviswanathan Shanmugam said in an interview with Lianhe Zaobao that many reports on Hong Kong made by the Western media were untrue and biased to China.
They intentionally ignored a fact that Hong Kong had never implemented a democratic system under the British rule for some 150 years, he said, adding that Beijing's plan has granted Hong Kong much more democratic space than what Hong Kongers got in the times of British-ruled Hong Kong.
"Everyone shall be clear about one point, that is, what the central government did conforms with Hong Kong's Basic Law," the foreign minister said.
He said Hong Kong is deeply dependent on the Mainland, including employment and livelihood.
Even though a little anti-Mainland sentiment appeared in Hong Kong, the central government is still generous to Hong Kong, he added.
Jeff Bader, who ran Obama's first term White House East Asia policy, told the Washington Post that for Beijing, there is no room for compromise on issues such as Chinese stability and the leadership of the Communist Party of China.
He also mentioned that millions of Hong Kongers will not support or tolerate the protest that grinds the city to halt for days.
The negative impact of Occupy Central includes a bit of a brain drain, Bader predicted.
Hong Kong has been partially paralysed by the large-scale protests that started on Sept. 28.
A large number of Occupy protesters have taken over major streets in Mong Kok, one of the city's most bustling areas, for at least four days, which has seriously affected businesses of local shops, restaurants and vendors, and forced schools and banks to be closed.
Friday afternoon, some anti-Occupy people clashed with Occupy protesters in Mong Kok and Causeway Bay, Hong Kong's two major commercial areas. Several people were injured during the clashes.
Hong Kong Chief Executive Leung Chun-ying gave an urgent TV broadcast Friday evening, calling on all citizens, no matter what attitude they may have toward the Occupy movement, to keep calm and not to use violence or disrupt public order under any circumstances.
Source: Xinhua