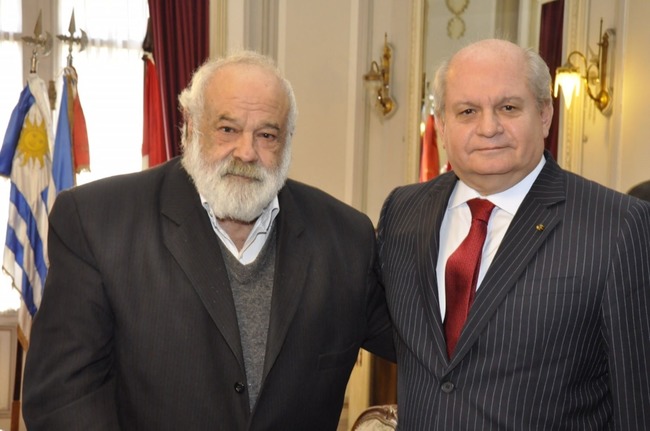 By Paola Pinedo García
In an effort to strengthen cooperation in the fight against transnational crime, Perúvian Defense Minister Pedro Cateriano recently conducted official visits with his counterparts in Uruguay and Argentina.
Cateriano met with Uruguayan Defense Minister Eleuterio Fernández and Argentine Defense Minister Agustín Rossi on September 25 and 26, respectively. During his visits, he emphasized the importance of their participation in the XI Conference of Defense Ministers of the Americas, which Perú hosted from October 12-14 .
The three countries have close bonds and share many of the same security concerns, such as the need to combat international drug trafficking groups.
Collaboration on issues of security between the three countries is framed within official agreements, such as the Cooperation Agreement in the Area of Defense, which was signed by Perú and Uruguay in 2011, and ratified in May of 2013. Thanks to this document, Peruvian-Uruguayan bilateral cooperation in military areas includes the exchange of information in dealing with natural disasters. The two countries also agreed to share resources in the removal of antipersonnel mines, and to engage in student exchanges in military academies.
Similarly, Perú and Argentina have agreed to the Draft Framework Agreement for Scientific and Technological Cooperation in Defense. This agreement allows for the exchange of students and instructors for training purposes, joint instruction in the best and safest ways to remove land mines, and cooperative exercises in how to respond to natural disasters. Their military forces also collaborate in the areas of scientific research and Antarctic navigation.
Military officials from the three countries view these cooperative efforts as successes and seek additional opportunities to collaborate on security issues.
"With Uruguay and Argentina there is a very rich agenda to develop. These are sister countries that have extensive experience in defense matters that we would like to benefit from through exchanges of cooperation," said Librado Orozco, Director General of International Relations of the Peruvian Ministry of Defense.
Currently, Peruvian Armed Forces personnel are taking part in eight peacekeeping operations throughout the world.
Industrial and military cooperation
Cooperation between the three countries extends beyond peacekeeping missions: Perú, Uruguay, and Argentina are also working together on matters involving each country's military industry. And the defense ministers discussed potential avenues of further collaboration during their meetings.
Cateriano briefed Fernández on the Peruvian naval industry's development of multipurpose vessels, river platforms for civilian assistance, tugboats, ocean patrol vessels and tuna fishing vessels in SIMA's naval shipyards. In addition, he highlighted Perú's construction, in partnership with South Korea, of the KT-1 training aircraft, used for enforcing no-fly zones.
In turn, Fernández stated that Uruguay has been developing simulation software for flights, naval operations, and artillery. The Uruguayan defense minister also stressed the importance of coordinating joint operations in the case of radiation and bacteriological disasters, by implementing an emergency system with shared reserves to combat such accidents.
In his meeting with Cateriano, Rossi offered Argentina's cooperation with Peruvian authorities in the area of technological upgrades to radar installations, naval units and submarines. In turn, Cateriano invited Rossi to visit SIMA's facilities and to witness the launch of Perú's Navy new sail training vessel "La Unión" on December 22.
Perú's cooperative efforts with Argentina and Uruguay has a bright future.
"There is nothing today that keeps us at a distance from these two countries, on the contrary, there is a lot of closeness at all levels, relations have been harmonious and the respective governments have done much to bring this about. That's why the high level of cooperation in defense comes naturally and is not surprising," security analyst Ernesto Velit said.