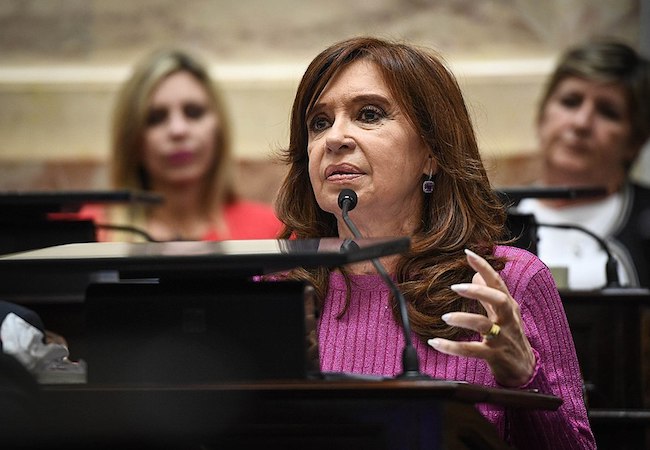 Argentine tango performances have short intermissions, with little lagtime between the first and second acts. Likewise, former president Cristina Fernández de Kirchner hopes her time away from center-stage will prove equally shortlived as she plots a pirouette back to the presidential Casa Rosada. Since she left office in 2015, she has not shied away from political drama. Kirchner immediately campaigned in the 2017 midterms, winning a senate seat in a contentious race. A series of legal troubles and corruption charges swirl overhead, while moderates within the leftist Peronist movement have challenged her leadership. The only politician seemingly less popular than Kirchner is conservative President Mauricio Macri, who has received blame for ballooning inflation rates. With Macri vulnerable, Kirchner appears poised to challenge him in this October's presidential election. Despite Macri's flaws a second Kirchner presidency would prove dangerous, damaging Argentina's economy and fueling populism's spread.

A new Kirchner administration would exacerbate Argentina's economic weaknesses. Under Macri, the fragile peso has weakened even by its poor standards, losing half of its value against the US Dollar. Uncontrolled inflation has created a "food emergency" for average Argentines. Although he has avoided full-on austerity, Macri's attempted "gradualism" has failed to provide relief, and his close connections to foreign investors have not helped increase exports or FDI. Meanwhile the latest round of IMF loans has proven unpopular, and a recent batch of limited price controls betrays his desperation. Nevertheless, Kirchner's return would continue this downward spiral. As president, she tweaked official statistics to mask the inflation problem, while rapidly depleting the central bank's already limited reserves. By the end of her term almost a third of the population lingered near the poverty line, and creditors had begun whispers about default. Although Kirchner promises to increase social spending, it remains unclear how new profligacy would manage to decrease inflation. She wuld likely clash with the IMF, and bond prices project to plummet upon her inauguration. On the whole, Kirchner's economic agenda seems just as unviable as it did during her first term.

Equally troubling, a Kirchner victory would nourish the growing international populist movement. Economic challenges have brought hard-edged populists to power in other Latin American heavyweights, like Mexico and Brazil. Macri provides the perfect foil- a wealthy "globalist," his riches-to-riches tale of inherited wealth fails to resonate among dock-workers in the gritty Boca barrio. Kirchner's path to victory would likely rely on base populist rhetoric, benefitting from unsustainable economic promises. Although Argentina lacks the immigration surge and racial undertones of European populism, recent high-profile hate crimes demonstrate the dangers of divisive rhetoric.

A Macri-Kirchner bout would provide voters with two unpleasant options. However, beyond these front-runners, a few alternative scenarios do exist. Potentially, moderates within the Peronist Party could impede Kirchner's rise, substituting a less radical candidate that may have broader appeal in the general-election runoff. Some contenders for this role, like former Finance Minister Roberto Lavagna, have fared well in recent polling. Yet a Peronist party torn between moderates and the Kirchner wing seems unlikely to defeat a unified Macri campaign. However, in another alternative, Macri's Cambiemos party could oust its own incumbent. Party members have begun floating names, perhaps 45 year old Buenos Aires governor María Eugenia Vidal, as a more electrifying candidate than the muddling Macri. Still, barring unforeseen machinations from these Malbec-filled rooms, the race appears likely to feature Kirchner against Macri. While Macri has certainly struggled in his first term, a return to Kirchner would accelerate Argentina's economic decline.