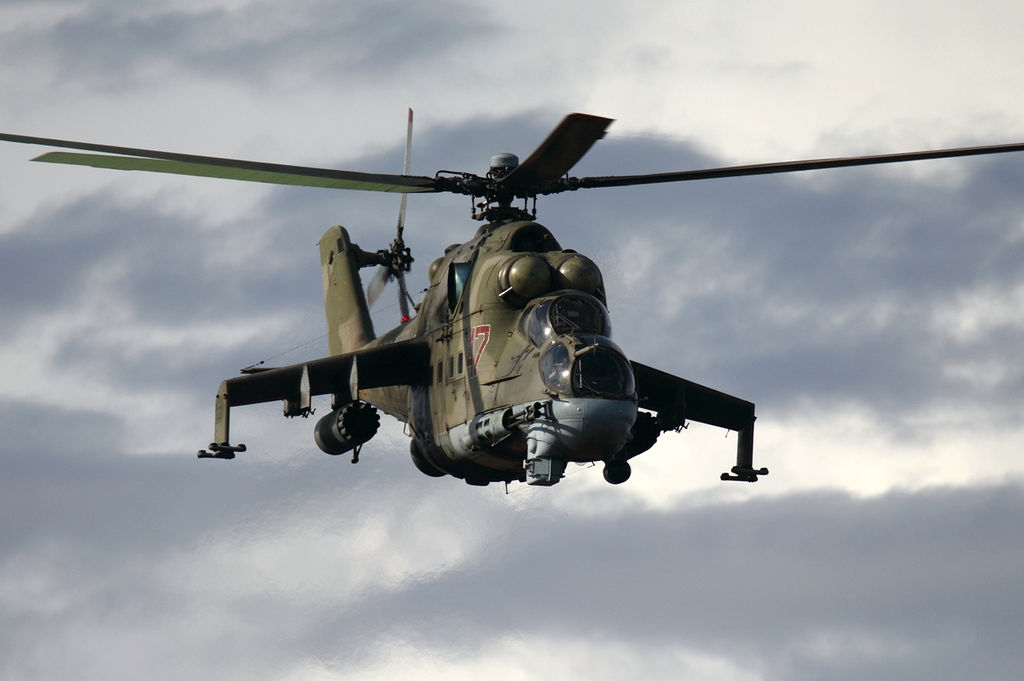 On Wednesday, around 13:45 pm local time, an Armenian military helicopter circling over the Agdam district of Azerbaijan was shot down by Azerbaijan's air defense unit.
The district which is outside of the former Nagorno Karabakh Autonomous Oblast was partially occupied by Armenian armed forces in July 1993. The regional capital of the district, Agdam, had been entirely burned and turned into a ghost town. Dozens of villages of the district have been controlled by the Armenian military since the ceasefire was signed in May 1994.
The press service of Azerbaijan's Ministry of Defense stated that it was "a Mi-24 helicopter belonging to the Republic of Armenia's armed forces," and that it "made an attempt to attack Azerbaijani positions." According to a statement issued by the ministry, the helicopter was shot down in the vicinity of the village of Kengerli in the Agdam district of Azerbaijan, and crashed on the territory controlled by Azerbaijani forces. Azerbaijani forces were deployed to secure the crash site.
Lt. Colonel Senor Asratyan, press secretary of the separatist authorities in Nagorno-Karabakh told RIA Novosti that it was an their military helicopter that was conducting a training flight. "At about 13.45 local time Wednesday, in an act that violated a standing ceasefire, a NKR Air Forces Mi-24 that was conducting a training flight was shot down by the Azerbaijani side in the airspace over the eastern direction of the Karabakh-Azerbaijani contact line," Asratyan said.
According to Asratyan, the crash site is located close to the line of contact of Armenian and Azerbaijani forces, and Azerbaijani troops are continuing to subject the area to "intensive small arms fire." Azerbaijani authorities maintain that any aircraft flying over Nagorno Karabakh without permission of Azerbaijan is in violation of the country's airspace, and Azerbaijan reserves the right to eliminate any potential threat.
The Karabakh conflict started in late 1987, when Armenians in Nagorno-Karabakh Autonomous Oblast, populated mostly by ethnic Armenians, petitioned to join Armenian SSR but were refused by Azerbaijan and the Soviet leadership. In September 1991, after much of the Azerbaijani population of Nagorno Karabakh was expelled, Armenian secessionists unilaterally declared independence from Azerbaijan. The government of Azerbaijan declared this move illegal and abolished the autonomous status of Nagorno-Karabakh in November 1991.
The armed conflict that followed took as much as 30 thousand lives. Armenian army backed by Russian armed forces stationed in Armenia, managed to seize nearly 17% of Azerbaijan's territory. The hostilities were stopped by a Russian-brokered ceasefire agreement on May 12, 1994. Despite periodic shootouts, the status quo remains unchanged. Peace talks mediated by OSCE Minsk Group have not produced any results. Azerbaijan vows to retake the region either by peace or force to restore its territorial integrity; Armenia pledges it would retaliate.