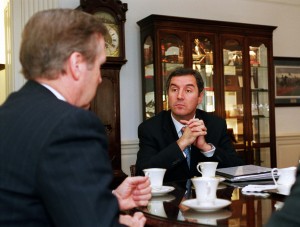 By Dusica Tomovic
Montenegrin Prime Minister Milo Djukanovic said that Brussels cannot expect Balkan candidates for membership to match up to EU standards immediately.
Djukanovic said on Monday that Brussels still hasn't got a complete and consistent policy on the Western Balkans and needs to create an investment framework for the full integration of the region into the EU.
He praised the EU for encouraging the establishment of the rule of law, public administration reform and better economic management in the Balkans, but said that progress would take time.
"It is not realistic from the EU to expect that the countries of the Western Balkans at the beginning of the negotiation process behave like a member state of the Union," he said in an address to the Central European Initiative Forum in Vienna.
This is not the first time that Djukanovic has criticised the EU's enlargement policy in the Balkans.
In October, after Brussels' latest Progress Report on Montenegro, which sharply criticised Podgorica's performance in the fight against organised crime and corruption, Djukanovic invoked the example of Iceland, which last year suspended negotiations to join the EU.
For the first time in an EU Progress Report on Montenegro, a formal mechanism called an 'overall balance clause' was mentioned "that can be activated to stop negotiations with the candidate country if it does not show enough progress in key areas".
The suggestion caused Djukanovic to point out that Podgorica could also break off talks.
"The balance clause is something that has not been brought into the negotiating framework so far… But the candidate country has the right, as Iceland did, to say: 'Sorry, I do not like this company anymore,'" Djukanovic said.
Source: Balkan Insight