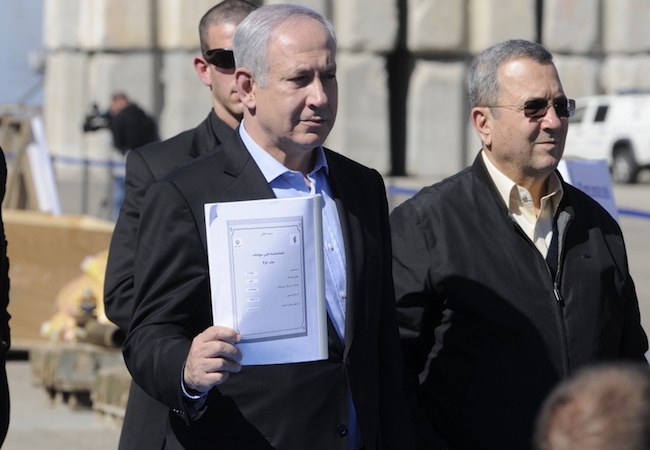 Israeli Prime Minister Benjamin Netanyahu on Saturday condemned the spree of terrorist attacks in the past days in France, which has resulted in the death of 20 people.
"On behalf of the citizens of Israel, I would like to send our condolences to the French Jewish community and the French people who have suffered murderous terrorist assaults in the last few days," Netanyahu said in a statement issued by his office on Saturday night.
Netanyahu said that the attacks, on the offices of the Charlie Hebdo satirical magazine, the killing of a French policewoman and the hostage situation in a Jewish supermarket in Paris, are the "continuation of extremist Islam's war against the west," and against "moderate Arab states."
"This is a wave of terrorism that is spreading a global net of hatred, fanaticism and murder. If the world does not take action quickly, we will find this terrorism gaining momentum and increasingly striking others centers of the free world," he said.
The Israeli leader called on the international community to act "united" against Islamic terrorism, which, he said, "seeks to exterminate Western civilization as a whole."
Netanyahu suggested as a first step to strike the sources of financing of what he dubbed the "centers of incitement" which cultivate militants through affiliates of terrorist organizations.
He also called on Jews in France, as well as Jews in other European countries, to view Israel as their home.
According to official figures, France is the leading source of immigration to Israel as of 2014, with more than 4,500 French Jews moving to Israel in 2014, a 25-year high.
Officials from the integration office and the Jewish Agency said it was attributed to both the weak economy and an increasing sense of anti-Semitism.
Prime Minister Netanyahu will travel to France on Sunday and attend a planned solidarity rally, according to his office. Several international leaders said they will attend the rally, including British Prime Minister David Cameron and German Chancellor Angela Merkel.
On Wednesday, brothers Cherif and Said Kouachi stormed into the Paris-based Charlie Hebdo satirical magazine, and shot dead 12 people, including 10 journalists and two policemen. They charged they have avenged the honor of the prophet Muhammad, which featured in caricatures the magazine published.
On Thursday, an apparent associate of the Kouachi brothers, Amedi Calibouli, who had apparently coordinated his actions with them, killed a French policewoman and on Friday took over a kosher market and held hostages, demanding that the brothers would be released as they were in a standoff with French authorities northeast of Paris.
The three militants and four hostages in the supermarket died, while several others were seriously injured.