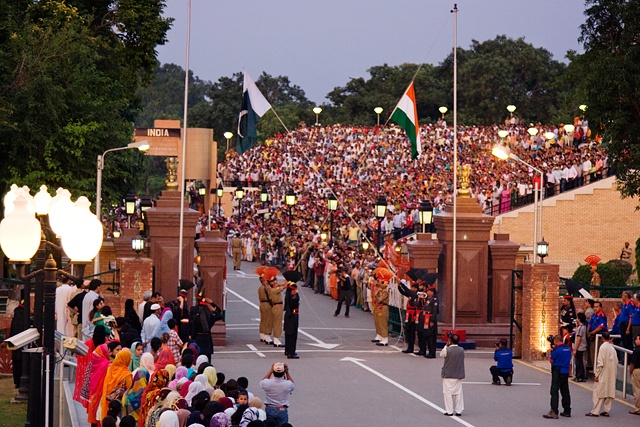 By Usman Ali Khan
Two recent events formed a subtle connection in my mind. On 25 January, India and the United States announced a "breakthrough" in negotiations to operationalize the long-stalled nuclear deal. A second achievement in the field of diplomacy: the nuclear agreement signed between India and Sri Lanka in New Delhi on Monday 16 Feb as visiting Sri Lankan President Maithripala Sirisena and Prime Minister Modi watched.
In wake of all this a brief flicker of optimism, bilateral relations have soured once again between India and Pakistan which unfortunately has all been downhill since independence. Regional peace, and to an extent, the peace of the world has been held hostage by India-Pakistan hostility for the past 66 years. You can call it the Narendra Modi government's first big ticket. Clearly, it won't be a walk in the park. To put it more bluntly, where the India-US relationship is seemingly about smiles and opportunities, the Pak-India relationship is about smirks and perceptions of threat. 
The biggest enemies of the two nations are common and time has come to fight these menaces together. We as a nation have spent far too much to weaken each other's role nationally and internationally. This all in result have caused India not been able to realise its true potential and the Pakistani state has gone soft.
If once understood the cost of this churlish behavior, a saner mind, of course tries to fix the anomaly through talks. To mitigate the tensions, Lahore Declaration in 1999 was the best attempt came we must follow again. Because since then, whenever an opportunity has arisen, the state and non-state apparatus to some extent on both sides have thwarted such initiatives.
The security and prosperity of both countries is indivisible and must commit to unlock the full potential of their economic cooperation. India needs good relations with its neighbors in South Asia augurs well for the region and its growing importance in global politics. When engagement is nothing other but people driven, has a better chance of improving relations between the country and its neighbors India should use its soft power more effectively through enhancing contact with states in the region—commercially, culturally, and politically. 
What is required is a free flow of goods, people, and ideas. India needs to focus on the apt and timely usage of "soft power" led by non-state actors to improve its relations with its neighboring countries. 
A number of issues need to be thrashed out. These included the issue of nuclear risk reduction, trade, cross-border terrorism, including Jammu and Kashmir and a proposed natural gas pipeline from Iran to India via Pakistan. 
Now the political elite of both the countries must resolve their longstanding conflicts to make a new chapter in history. There is a need from Indian side to stop her dualistic behaviour while Pakistan, realising the geostrategic importance, must make this visit form Indian foreign secretary's an opportunity to improve mutual and bilateral relations.
Meanwhile, to enclose the hard core element the political leadership in both countries must devise comprehensive and pragmatic strategies.  Stakeholders understand that only peaceful co-existence is in the interests of this region, which is home to one-fifth of humanity. As an added benefit, it will afford us more time to fight and get rid of non-state actors.
The question is as absurd as asking someone to identify the chief benefit from Pakistan-India relations — there is not only benefits, but the gains are manifold.  This is the way forward to achieve stability in the region. Many thought that with two governments both interested in normalization, it is finally time for the nuclear-armed rivals to move forward.
Above all, Leaders on both sides need big achievements in the immediate future to build their legacy and if thorny issues like Kashmir are resolved, they may even end up winning the Nobel Peace Prize.