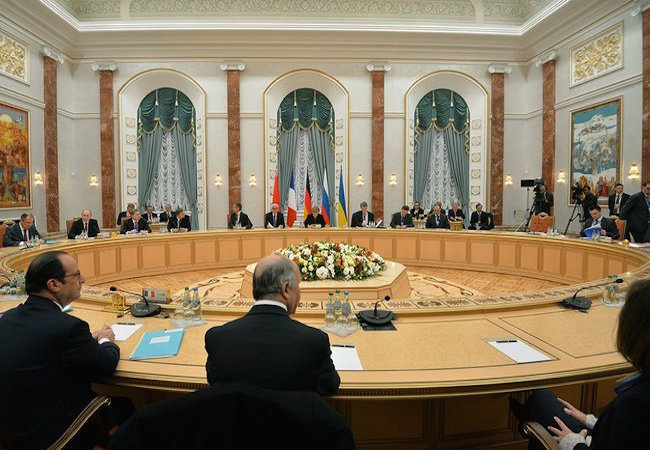 Moscow and Kyiv came to terms after negotiations on gas deliveries to Europe. According to the deal, Russia will keep supplying gas to Europe through the end of March.
Putin and Western leaders agreed that there was progress to be made in implementing the fragile ceasefire. European leaders were in tense negotiations with President Putin on gas supplies to the European Union after the deliveries were put under risk due to the ongoing conflict in Eastern Ukraine.
The OSCE was tasked with bigger role in ensuring that the ceasefire is implemented. Two weeks ago, Ukraine and Russia agreed on a ceasefire amid the separatist offensive in and around Debaltseve, an Ukrainian town with a strategic railway junction. The Ukrainian forces who had been sieged for quite a while had to withdraw allowing the victorious pro-Russian rebels take over the semi-destroyed city.
The Ukrainian army had been fighting fierce battles since summer in what Kyiv calls an anti-terrorist operation. Ukrainian forces managed to liberate Mariupol and came close to regaining control over Donetsk. The troops took control of the Donetsk International Airport but faced strong resistance from rebels once what Moscow called a Russian humanitarian convoy crossed into the rebel territory. Kyiv maintains that Moscow transported vital weaponry in the convoys and supplied the rebel forces with military equipment and troops. Ukrainian servicemen eventually retreated from the destroyed airport.
According to the UN, more than 6,000 people have died since the start of the conflict in Ukraine. Leaders are hopeful Geneva talks produced positive outcome for the fragile ceasefire.
Moscow has used gas deliveries both to Europe and Ukraine itself as a leverage in exerting pressure to the former Warsaw Pact countries. President Putin sees NATO's expansion in proximity of Russia's borders as an existential threat to Russian national security. Several gas disputes over prices in 2005-2006, 2007-2008, 2008-2009 and 2013-2014 have led to deaths among civilians as the freezing temperatures hit lows in European winters.
Europe has been seeking alternative sources for gas imports in the last decade. The United States is looking to supply the European market with LNG once the LNG terminals are completely operational and ready to receive American gas, and Azerbaijan will be supplying Europe with 10 bcm of gas in 2019.
Although there is a ceasefire in place, Moscow has made its threats to Ukraine public. If Kyiv keeps acting contrary to Russia's national interests, pro-Russian rebels will continue their territorial conquests as far as Odessa eventually creating 'Novorossiya' that provides land access to Crimean peninsula, annexed by President Putin in March 2014.