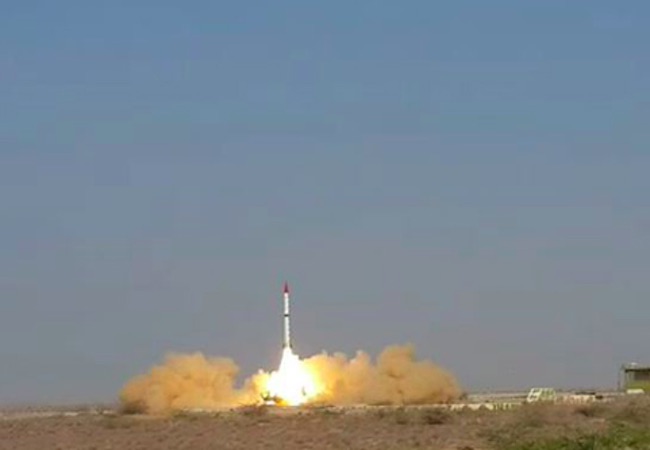 By Saima Afzal
The Shaheen-III, with its enhanced capabilities, was successfully test fired on 9th March, 2015. Shaheen-III Surface to Surface Ballistic Missile, capable of carrying nuclear and conventional warheads to a range of 2750 Kms. The test launch was aimed at validating various design and technical parameters of the weapon system at maximum range. The ballistic missile is capable of carrying a nuclear warhead to every part of India, which is another endeavor to maintain deterrence equation with its neighboring competitor. It is response to Indian surface to surface ballistic Missile advancement.  According to strategic and nuclear analysts the Shaheen-III missile has a range of up to 1,700 miles, which could easily reach deep into the Middle East including Israel. The medium-range Shaheen-III is an up graded edition of Shaheen-I and Shaheen-II, which are shorter in range.
In the advancement of Indian Ballistic Missile system, it was essential to Pakistan to respond for maintaining the credibility of nuclear deterrence. The Prime Minister and President of Pakistan along with Director General Strategic Plans Division, Lieutenant General Zubair Mahmood Hayat, warmly appreciated and congratulated the scientists and engineers on the achieving another milestone of historic significance, termed it a major step towards strengthening Pakistan's deterrence capability. Evidently, the main purpose of this is to ensure that Pakistan has the counter-strike capability that limits the threat of India's conventional limited war.
Pakistan has tested various ranges of missiles in the last year which includes nuclear-capable missiles, ranging from the Hatf IX and Hatf-IV. In February 2015, Pakistan conducted a flight test of indigenously developed Air Launched Cruise Missile "Ra'ad" with the range of 350km, enables Pakistan to achieve  'strategic standoff capability' on land and at sea. "Cruise Technology" is extremely complex and has been developed by only a few countries in the world. The state of the art Ra'ad Cruise Missile with stealth capabilities is a low altitude, terrain hugging missile with high maneuverability; can deliver nuclear and conventional warheads with pin point accuracy. The objective was to strengthen its nuclear capability in order to counter Indian conventional supremacy.  The Prime Minister of Pakistan released a statement after meeting of National Command Authority that "Pakistan would not remain oblivious to evolving security dynamic in South Asia and would maintain a full-spectrum deterrence capability to deter all forms of aggression".
Above all, in the continuation of race between the both nuclear South Asian states India and Pakistan are nothing more than to show each other their capabilities, but in this race Pakistan is just responding. However, the race between the both states not only the point of regional concern but also international concern. Pakistan does not want any arm race in the region but it want to improve its existing capabilities and delivery system for maintaining deterrence equation with India. India should realize that her military superiority will bring instability in the region instead of peace and tranquility .