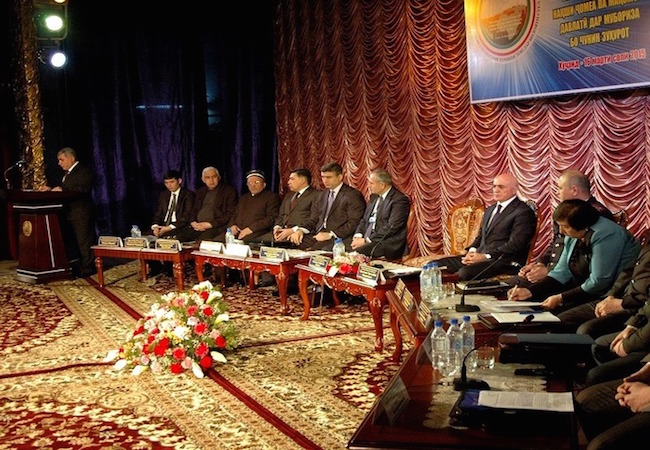 By Negmatullo Mirsaidov
Tajik and Kyrgyz law enforcement agencies are aware of the threat posed by extremists' recruitment of their citizens and are considering ways to fight it together.
That was the upshot from a March 16 conference in Khujand devoted to the topic of fighting extremist threats linked to labour migration, which have arisen as disaffected migrant workers fall prey to extremist recruiters.
More than 700 Tajiks attended the conference, as did representatives from some Kyrgyz law enforcement agencies.
"We didn't randomly choose Khujand as the conference site," said Gen. Sharif Nazarzoda, the Sughd Province police chief. "The majority of the radicals … whom we have arrested lately come from our region."
Between 2010 and February 2015, Tajik law enforcement detained 467 suspected extremists, 311 of them from Sughd Province, Nazarzoda said. Within Sughd, they were most active in the Isfara, Istaravshan, Panjakent and B. Gafurov districts. Carrying out those operations, police killed 10 terrorists and placed 109 suspected members of extremist groups on the wanted list.
"The biggest revelation for us was that extremists were trying to organise networks in southern Tajikistan," Nazarzoda told Central Asia Online. "Twelve of their members who were in close contact with cells in northern Tajikistan were arrested in Shakhrinaw."
The participation of Tajiks in the Syrian and Iraqi wars is especially alarming, he said. More than 200 Tajiks are fighting abroad, according to the government.
Migrant workers vulnerable
Migrant labourers battling a sense of economic and legal disenfranchisement are the likeliest group to join extremist movements, according to Sughd Province police. Poor education also makes Tajik youth vulnerable to extremist recruiters' messages, analysts say.
"They easily fall prey to networks run by so-called sources of ideological inspiration, who give them help and support," Nazarzoda said.
The majority of arrested extremist suspects — affiliated with the Islamic Movement of Turkestan (also called the Islamic Movement of Uzbekistan [IMU]), Jundullah and Jamaat Ansarullah — joined those movements abroad, according to the Interior Ministry (MVD).
One example is Janobiddin Kodirov, a resident of Isfara District, who joined the IMU during his time abroad, the MVD said, adding that he recruited more than 100 migrant workers. Authorities say two of Kodirov's recruits in turn recruited 10 others, whom authorities recently detained in Spitamen District.
Kodirov is presently on trial.
Regulating labour migration
Authorities and analysts are concerned about how labour migration can go wrong.
In the past 20 years, the Tajik population has grown by 27%, but the number of jobs has not, the Labour Ministry says.
"When job creation doesn't keep up with population growth, unemployment and labour migration increase, which creates certain national security threats," said Dilorom Rakhmatova, deputy director of the Tajik Centre for Strategic Studies' Department for Analysing Social Problems. "We need to create more decent jobs without forgetting that we need to regulate migration at the same time."
Some analysts prescribe legal reform.
"The present Tajik migration law regulates only internal processes," Interior Ministry (MVD) Academy senior instructor Subkhon Sufiyev told Central Asia Online. "Tajik citizens abroad remain virtually outside our oversight … The country needs a completely new migration law to define citizens' rights and responsibilities … outside Tajikistan."
Co-operation is essential
Central Asian countries need to join forces to combat terrorism and extremism, Kyrgyz law enforcement officials say.
Kyrgyzstan officials attended the conference because they are wrestling with extremist recruitment of their own citizens.
At present, 212 Kyrgyz are fighting in Syria and Iraq, according to Rafik Mambetaliyev, chief of domestic security for the Kyrgyz MVD, told the conferees. Of those Kyrgyz, 11% are women and 22 have been killed in combat, he said.
"We don't deny that some are fighting for ideological reasons, but the absolute majority are recruits who ended up in Syria and Iraq primarily because of labour migration abroad," he said.
Mambetaliyev said officials identified four primary recruitment channels used to ensnare Kyrgyz: labour migration, social networking sites, extremist organisations and monetary incentives.
The ones who fight out of ideological conviction present the greatest threat to the region, he said.
To prevent trained militants from penetrating Kyrgyzstan, "strengthening co-operation among law enforcement agencies … is essential," he said.