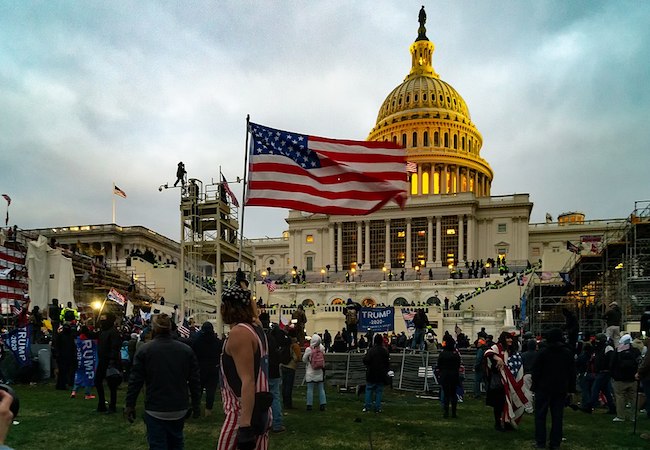 By Ty Smith and Ravi Chaudhary
"We will not tolerate actions that go against the fundamental principles of the oath we share, including actions associated with extremist ideologies."
General Mark Milley, 20th Chairman of the Joint Chiefs of Staff
The January 6 assault on the U.S. Capitol sounded a critical alarm on violent domestic extremism, and its potential for threatening the foundations of American democracy. The January 6 insurrection also alerted us to the fact that these threats also reside, of all places, within the ranks of the U.S. Military.
Following the attack, it was estimated that approximately one in five of the Capitol insurrectionists were either members of the military or veterans with prior military service.  The events led Secretary of Defense Lloyd Austin to conclude that "Extremism can have an outsized impact on the Department, and will not be tolerated [RC1] ..this fight is about our values, the Constitution, and the obligations in the Oath of Office we swear to uphold."
A Corrosive Impact on Readiness
Unfortunately, the January 6th insurrection wasn't the only indicator of the rise in extremist violence in the U.S. military. In May of 2019, two active shooter events in a single week, one at Pensacola Naval Air Station and the other at the Pearl Harbor Naval Shipyard, left seven people dead, including the assailants. One of the shooters was characterized as an insider threat with ties to terrorist organizations, while the other an individual with significant mental health challenges.
Added to this, the tragic series of murders at Fort Hood, which included the disappearance and murder of Army Specialist Vanessa Guillen, has led to yet another Department of Defense wide review on sexual violence in the military ranks.  The Fort Hood event served as a tragic example of deadly violence that can result from toxic command climate. Finally, the tragic suicides of Army soldiers Danny Chen and Harry Lew resulting from racially motivated hazing indicate the corrosive impact of bullying and harassment in the military ranks.
Today, the U.S. military is faced with a full range of threats that challenge its readiness. Yet, more and more data is emerging that indicates these threats are internal and occur within the ranks. The scourge of sexual assault, the rise of white supremacy and other forms of racism, as well as insider threats from foreign extremists are making workplace violence in the military more common. All of these activities disrupt the military's ability to field a cohesive and effective fighting force. On June 16, 2021, The Chairman of the Joint Chiefs of Staff, Mark Milley, testified before the Senate Armed Services Committee and said, "Extremism destroys readiness because it destroys cohesion…we must meet this head-on, and place the highest importance on treating all personnel with dignity and respect, an environment free from discrimination, harassment, and maltreatment[RC2] ."  The challenge is that, when it comes to extremism in the ranks, the military is more reactive than anything else.
A Common Thread, Yet Difficult to Detect
 A common thread in all of these threats is that they find their origins in rudimentary human behaviors. Subtle in nature, these behaviors often go unnoticed by frontline managers and supervisors, who miss signals of toxicity that gradually worsen until they lead to more pronounced behaviors. In each of the tragic events noted above, independent reviews uncovered a chain of events, small behaviors, or other indicators that resulted in escalation over time. In the case of Fort Hood, an independent review uncovered toxic behaviors that permeated the entire organization, resulting in a command climate causal to the tragic violence that ensued for multiple victims.
To date, the DOD has made addressing these challenges a top priority, but conservative estimates place the cost of dealing with the violence at over $5 Billion. Worse yet, the loss of life has enacted an immeasurable toll on the victims and their families, who are forever impacted by these senseless crimes. Multiple task forces have been formed to determine root causes and propose solutions. In 2021, Secretary Austin initiated a 90-day Independent Review on Sexual Assault in the Military. In April of 2021, he established a Countering Extremism Working Group. In addition to the DOD, President Biden released a National Strategy for Combating Domestic Extremism[RC3] . The strategy calls for assembling a full stakeholder community to address domestic terrorism that includes government, academia, and industry, including the technology sector.
While there are common threads to each type of threat, the toxic behaviors themselves continue to be difficult to detect and discern. Lost in ambiguity, even highly skilled managers find it hard to determine whether the subtle behaviors might lead to a potential act of violent extremism, sexual assault, or racially motivated hate crime. As a result, coworkers are less likely to report these initial behaviors, and managers less likely to act upon them. The issue becomes even more difficult to detect at the strategic level, where senior generals are tasked with assessing command climate of whole installations, as well as force readiness levels. These realities have left us with strategies that forever keep authorities in a reactive mode.
Getting in the Fight: Using Artificial Intelligence to Disrupt Violent Extremism
The Secretary of Defense has made investments in AI a chief priority in driving innovation across the department[RC4] . As such, the time has come to shift the fulcrum in the battle against violent extremism from reactive to proactive, and take the fight to the extremists by doing what we always do—match superior strategies with advanced technology.
As with any military strategy, finding the adversary's "Center of Gravity," or critical vulnerabilities is a key priority. Once lines of operation and key nodes are understood, the ability to find, fix, track and engage extremists follows quickly. The key to disrupting them is uncovering and understanding their initial behaviors, elements that are contained in their electronic footprints.
Enter the capabilities of Artificial Intelligence.
In nearly all of the tragic incidents of violence noted above, the assailants left significant electronic footprints of toxic behaviors that often lead to violence. A March 2021 assessment by the Office of the Director of National Intelligence, found extremists are using a variety of electronic means, including social media and encrypted messaging applications to plot their activities.
In some cases, the electronic communications are more conspicuous. Behaviors characteristic of white supremacists and sexual predators are often the foundation for more violent activities, but elude most managers. Surprisingly, they often reside on government email accounts. One government executive reported to us, "I observed toxic behaviors of a particular employee, but as a newly hired senior executive I was not privy to his track record of misogyny on e-mail. Later, I found out that the employee was using sexist and demeaning epithets on his government e-mail account to instill fear among his employees. Had I known this earlier, I could have acted more swiftly."  AI is designed to provide this type of insight to leaders in real time.
Unlocking the "DNA" of Toxic Behavior Using AI
AI can open up an all new front in understanding both the nature and frequency of toxic behaviors within organizations. Identifying toxic communications coupled with machine learning and the use of advanced algorithms would ensure a more proactive approach by immediately identifying toxic behaviors as they occur. More importantly, the technology would offer a more precise approach towards discerning the type of problematic behaviors experienced, and informing leaders on the right investigative approach based upon the situation (extremism, sexual harassment, bullying, or mental health).
With a data-informed approach, leaders can make better decisions, maintain safeguards and provide precise threat assessments. With aggregated data senior leaders would be able to assess command climate and assess force readiness on a real time basis, and at a more strategic level. This would augment command climate surveys, which take months to complete, and shift to an environment where more immediate decisions could be made to improve climate.
As Secretary Austin so clearly stated, the vast majority of those who serve in uniform and their civilian colleagues do so with great honor and integrity. At the same time, the scourge of extremist and sexual violence can have a devastating effect on military, uproot our core values, and corrode our democracy. As such we should be leveraging every aspect of our strategy and technology towards winning this fight, for it is a fight we dare not come in second place.
References:
[RC1]https://www.armed-services.senate.gov/hearings/department-of-defense-budget-posture-in-review-of-the-defense-authorization-request-for-fiscal-year-2022 [RC2]https://www.armed-services.senate.gov/hearings/department-of-defense-budget-posture-in-review-of-the-defense-authorization-request-for-fiscal-year-2022 [RC3]https://www.whitehouse.gov/briefing-room/statements-releases/2021/06/15/statement-by-president-joseph-r-biden-jr-on-the-national-strategy-for-countering-domestic-terrorism/ [RC4]https://www.armed-services.senate.gov/hearings/department-of-defense-budget-posture-in-review-of-the-defense-authorization-request-for-fiscal-year-2022
Ty Smith is a former Navy Seal and CEO of CommSafe AI, a firm dedicated to providing Artificial Intelligence Solutions in National Security. Dr. Ravi Chaudhary is a former Air Force Pilot, Pentagon Strategist, and Senior Executive in Government.  He is currently President and CEO of Falcon Innovations, a firm focused on aerospace, training, and strategy.  Both Ravi and Ty are veterans, and served combat tours in Iraq, disrupting terrorist networks through both direct action and deployment of leading-edge technologies.