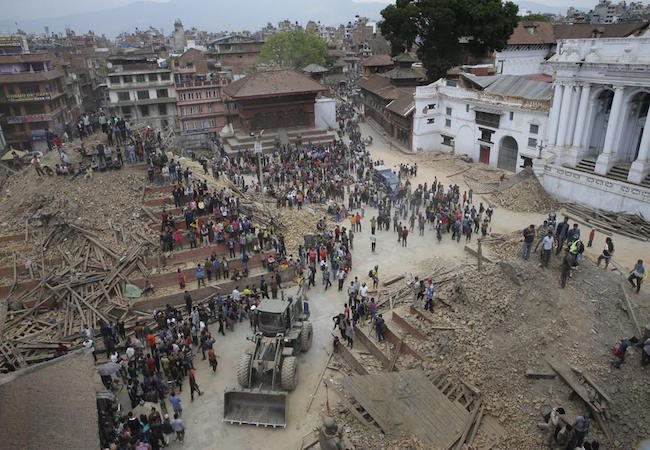 Death toll in southwest China's Tibet Autonomous Region from the earthquake that struck neighboring Nepal on Saturday has climbed to 18. A total of 55 people there were injured, according to the regional disaster relief headquarters.
A 8.1-magnitude quake shook Nepal at 2:11 p.m. (Beijing Time), killing at least 1,805 people and injuring over 4,700, according to Nepal's Home Ministry. The quake also affected the southwestern part of China's Tibet. Some 7,000 people have been relocated in Nyalam County and about 5,000 in Gyirong county, some 800 km west to Lhasa.
The two border ports to Nepal were seriously affected. The highway linking Xigaze and the Zham Pass, the border port to Nepal, has been cut by landslides.
As of 7 a.m. Sunday, four people, including a Nepalese national, were missing in Nyalam. About 80 tourists, including a dozen foreigners, were visiting the county when the earthquake happened.
The quake toppled 1,191 houses, damaged roads and cut telecommunications in Xigaze, where 54 temples were damaged.
A 5.9-magnitude aftershock shook Xigaze at 5:17 p.m. Saturday and a 5.3-magnitude quake jolted Nyalam County at 1:42 a.m. Sunday, China Earthquake Networks Center recorded. Weather forecasts predict continuous rain and snow for the next few days.
Over 400 mountaineers from more than 20 countries on the Tibetan side of Mount Qomolangma have descended or are descending to the north base camp at 5,200 meters (16,900 ft) with no casualties reported.
RESCUE UNDERWAY
The central government has sent 5,000 tents, 30,000 coats, 30,000 comforters, 15,000 folding beds and 15,000 sleeping bags to the affected area. The regional government has sent tents, coats, food, medicine and drinking water.
Tibet military command is helping with relief work. The Xigaze military subarea has assembled 1,050 soldiers and members of the militia, 60 medical staff and 87 vehicles. More rescuers from the regional military area are on the way. About 600 border guards are involved in rescue operations in Nyalam and Gyirong. Rescuers are braving heavy snow and rain to reach the affected area, but are hampered by landslides on the road to Nyalam.
"Aftershocks are our biggest worry at the moment, because there is nowhere to hide," said Gyanga Tseten, detachment head of Xigaze fire brigade, who is leading a 30-strong task force to Zham Pass about 37 km from Nyalam.
Two groups of health workers have reached Gyirong county and begun disinfection operations. Another group had reached Nyalam by noon, where epidemic prevention and control is underway. Protection of drinking water sources is the priority, said Sogdoi, head of the Xigaze City health bureau.
Telecommunication technicians are repairing the 66 base stations in Xigaze that stopped working during the earthquakes. China Mobile's branch in Lhasa and sub-branch in Xigaze have sent 57 technicians and 10 emergency vehicles along the road from Xigaze to Nyalam and Zham. China Unicom and China Telecom have also sent technicians and recovery vehicles to the worst areas.