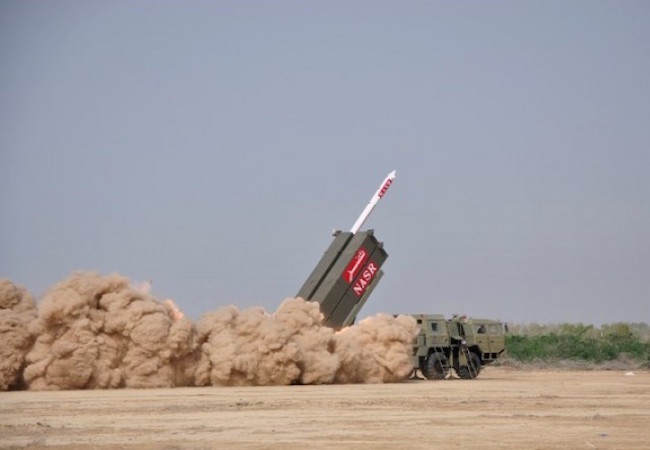 By Sidra Kayani
In the changing global scenario, a plausible perception of threats and readiness to counter those threats, is the dire need of the day. How peaceful country is the one, she has an effective threat perception mechanism so that the upcoming challenges which might be dangerous to the sovereignty of the state is being addressed timely. A country without progress in the entire related fields is at the sake of the enemy. Pakistan has always maintained a steady foreign policy to deal with the enemy as well as friendly nations, however, Pakistani think tanks never stopped working to cope up any unwanted situation where any enemy power is able to suppress the sovereignty of this piece of land. To ensure its border security and to give confidence to its nationals Pakistan acquired nuclear weapons as 'strategic assets'. Since its nuclearization, Pakistan has maintained the policy of minimum credible deterrence vis-à-vis India. Presently, the adoption of a full spectrum deterrence policy raised a few questions with respect to the Pakistan's initial position.
In the Carnegie International Nuclear Policy Conference 2015 held on March 23-24, Lt Gen. (Retd) Khalid Kidwai, an advisor to Pakistan's National Command Authority (NCA) and former Director General of Pakistan's Strategic Plans Division (SPD), clearly and with conviction defined what Pakistan have being calling the full-spectrum deterrence, why Pakistan moved from 'minimum credible deterrence' posture to 'full spectrum deterrence'.
In order to answer these questions, Lt. Gen. Kidwai highlighted what the thinking was prevailing on the other side of the border. According to Kidwai, India was finding attractive the space for conventional war, below the nuclear threshold. As they were looking Pakistan's strategic capability, its operational level capability, but there was some kind of a gap in their realization at the tactical level which probably encouraged the Cold Start Doctrine. The absence of a complete spectrum of deterrence drove the offensive doctrine. To fill the gap Pakistan has developed a Short Range Surface to Surface Multi Tube Ballistic Missile Hatf IX (NASR) successfully tested on April 19, 2011. NASR, has "a range of 60 km, carries nuclear warheads of appropriate yield with high accuracy, shoot and scoot attribute."
A very repeatedly raised question is that whether the full spectrum deterrence is in-line with the initial minimum creditable deterrence posture or it negates the prior posture. In my opinion, both the concepts can gel together. As the credibility of deterrence, demands preparedness on all the spectrums. So it cannot say that Pakistan has backed off from its initial minimum credible deterrence posture. Pakistan has only reacted to the emerging threats to its security. The current posture also indicates that Islamabad would continue its efforts to deter India in the entire spectrum in view of the changes in the south Asian strategic environment.
It was Indian moderations in all spheres of nuclear weaponry that compelled Pakistan to ensure deterrence at full spectrum, which is crucial for the peace of this region and to exclude the possibility of war in South Asia. As Kidwai said that the nuclearization of South Asia "has made war as an instrument of policy almost unthinkable." Pakistani officials expressed no interest in acquiring "tactical," or battlefield nuclear weapons delivered by means of short-range missiles after the 1998 tests of nuclear devices. However, India's adoption of Cold Start Doctrine made imperative for Pakistan to fill those loopholes which attract Indians to wage war under nuclear threshold. Pakistan's tactical nukes are meant to deter Indian aggression.
On one side where these tactical nuclear weapons, increase Pakistan's confidence in its deterrence, on the other side these weapons has also seriously endangers the strategic stability. However, the Indian Cold Start strategy has triggered the arms race at first hand. I would tend to place the onus of South Asian arms race on India, as India is spending more in terms of percentage of GDP and in absolute terms.