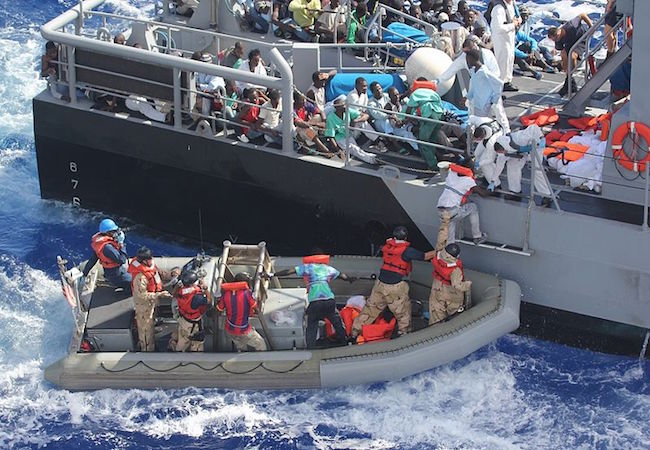 By Teja Palko
No visible victims on the first sight, no direct opposing parties and enemies, but yet more than 1.800 casualties in less than five months. This time crisis report won't be focused only on one country. More than just one country today faces numerous refugees' problems.
The events in North Africa and the Middle East continue to raise issues in migration trends in Europe. Europe is one of the most important regions in terms of migratory flows based onInternational organization for migration (IOM). Amnesty International (AI) has reported on more than 2.500 drowning or missing in the Mediterranean in 2014 alone. The real number is probably a lot higher than official records, since not all of the boats were spotted and detected. By the end of April this year, more than 1.800 people drowned in shipwrecks in the Mediterranean and Aegean Seas and the number are expected to grow. The number is twenty times higher than it was last year at the same time. Based on United Nations (UN) reports this year about 60.000 people from Africa and Middle East went on a dangerous road towards a better life.
Italy, Malta, Greece and Spain are on the front lines of humanitarian crisis and are confronted with a growing number of refugees and asylum seekers. In the European Union (EU) that should work as one, policies that country which accepts refugees is considered responsible for their care, this unity is not seen. An improvement could be made in the foreseeable future with EU policy that has been unfortunately negative excepted by some of the member states. Suggestion of solidarity and even burden for EU countries was made by the European Commission with the help of the European Parliament in which all countries should accept a proportional number of refugees on their territories. The quota scheme for distribution of asylum seekers, published in European Migration Agenda has already been dismissed by a number of EU countries. Against suggestion are Great Britain, Spain, Hungary, Estonia and Slovakia. Italy, Malta, Germany and Austria agree with the suggestion. The volunteer or obligatory taking in refuges and people who need international protection is still in question. Countries have different views on what such system would bring. On one hand are Great Britain and its followers with opinion that that would further encourage people to come to Europe and on the other hand are ones that believe such actions will lead to decrease in number of immigrants. For years the EU has been struggling to harmonies asylum policy. That is difficult with 28 member states, each with their own police force and judiciary. The relocation scheme still needs some improvement regarding ties to member states, such as family members residing, language abilities and the strength of the existing ethnic community among many others.
From 16 million refugees in the world, there are approximately 1.5 million recognized refugees living in EU member states plus in Norway and Switzerland based on European Council on Refugees and Exiles. The difference between refugees and asylum seekers exists. A refugee is defined by the Geneva Convention from the year 1951 that has been ratified by all EU member states. A refugee is a person who, owing to a well-founded fear of being persecuted for reasons of race, religion, nationality, political opinion or membership of a particular social group, is outside his or her country of nationality and is unable or, owing to such fear, unwilling to avail himself or herself of the protection of that country; or a stateless person, who, being outside of the country of former habitual residence for the same reasons as mentioned above, is unable or, owing to such fear, unwilling to return to. Asylum is a form of protection given by a state on its territory.Under EU rules, an asylum seeker has the right to food, first aid and shelter in a reception centre.They can apply for asylum after giving fingerprints and being interviewed by a trained case worker. The EU also has the Eurodac system – a common database of asylum seekers' fingerprints, which can be accessed under strict controls. Police use it to intercept false or multiple claims. They may be granted asylum by the authorities at "first instance". If unsuccessful, they can appeal against the decision in court, and may win. Asylum seekers are supposed to be granted the right to a job within nine months of arrival.
EUROSTAT statistics for 2014 show that the number of asylum applicants registered in the EU has increased to 44% from the previous year. The peak number in 2014 was 626.000 applications and in 2014 there were 1.2 asylum applicants per thousand inhabitants in the EU. One of three asylum seekers applied in Germany and further highest numbers of applicants were registered in Sweden, Italy, Hungary, France, Hungary, Austria, Malta and Denmark. The main citizenship of asylum seekers was from Syria (20% of all applicants), Afghanistan (7%), and Kosovo (6%). Last year, 45% of first instance decisions made on asylum applications were positive. In absolute numbers a total of almost 104 thousand persons was granted refugee status in the EU-28 in 2014, nearly 60 thousand subsidiary protection statuses, and just over 20 thousand authorizations stay for humanitarian reasons. Based on the UNCHR report number of asylum applicants from January till May this year was 40.500, where most of the applicants were from Kosovo, Syria, Iraq and Afghanistan.
European Council on 18th of May established EU naval operation – EUNAVFOR MED to disrupt human smugglers in the Mediterranean. It will consist of many phases. In initial one there will be surveillance and assessment of human smuggling and trafficking networks in the Southern Central Mediterranean. The second and third phases will be search, seize and disrupt the assets of smugglers, based on international law and partnership with Libyan authorities. NGOs and many international organizations are being sceptic about the EU military operation which goal is mainly to destroy smugglers' boats inside the broader European Migration Agenda, due to the even greater risk to which operation may expose refugees and migrants and into forcing them to take even more dangerous routes to reach Europe. Maybe should Europe focus on saving lives of people instead on military operations?
Thousands of euros are put into the insecure road to "better" feature and more that millions into the rescue operations. Only EU operation Triton took 2.9 million euros pro month, another one Poseidon 600.000 pro month and another 570.000 euros were spent for operation Mare Nostrum Lampedusa. Could this amount of money be spent in other directions? Maybe West is not having the right focus, maybe West is not facing the core problems, the problems that have led to migration in the first place. War is waging in Iraq, Somalia, Libya, and other Sub-Saharan countries on the African continent, lack of job opportunities, insecurity, prosecutions, poverty and overall no perspective for the future, force many to seek a better life in the old continent. We are letting immigrants to drown, waiting for papers on the streets without shelter, without food, income and without dignity.
It looks like the European Union is not as open to foreigners as some have emancipated. Negative responses to quotes about taking in the refugees in a lot of EU member countries have come to me as a surprise. The great problem represents the fact that right national orientated parties are using immigrants in gaining greater support.A tragedy of epic proportions as named by The United Nations has reached such levels also because of an act of government policy. For some it looks like Europe does not want to save refugees because that leads to further consequences. It looks like a policy that was chosen by some countries is let's let them down (drown) so that people will stop trying to make that perilous sea journey. I am not illusionist I know all cannot be saved and found in a vast sea, but intentionally making policies towards deterrence of new refugees and asylum seekers to come to Europe should not be made by countries that called themselves democracies. People flee their countries with not without a reason. It is unimaginable that every single one of immigrants has risked their lives for a present that is in some cases even worse than the situation they were running away from. Beside political solutions in the EU, solution for stabilization of countries from which refugee come from being the most important thing in solving the problems and not just focusing on human trafficking.
Teja Palko is a Slovenian writer. She finished studies on Master's Degree programme in Defense Science at the Faculty of Social Science at University in Ljubljana.