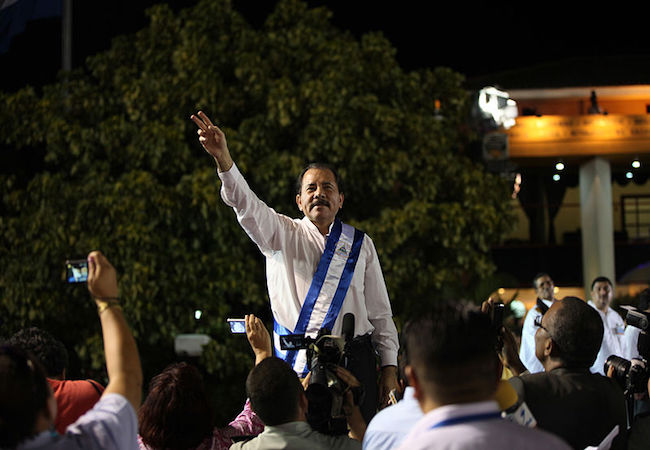 By Peter Tase
On July 19th, 2015, at the 36th anniversary celebrations of Nicaragua's Sandinista Revolution, President Daniel Ortega in his historic speech reaffirmed his government's commitment to continue the fight for peace, security and prosperity for all his countrymen. The head of state affirmed that the partnership between the government, employers and labor force is contributing to the financial stability and fostering economic growth in Nicaragua. He added: "all Nicaraguans want peace and stability and we are working together to achieve this objective". In fact Managua has made tremendous progress towards strengthening various sectors of the economy such as:  small and medium size businesses; renewable energy policy, promoting live stock production, implementation of large infrastructure projects with foreign partners and increase revenues from the tourism sector.
A few days ago, the Grand Duchy of Luxembourg approved US$ 4.1 million to promote development of small and medium size tourism businesses in Nicaragua. According to Leonardo Torres, President of the Nicaraguan Chamber of Small and Medium Size Tourism Businesses (CANTUR), "the funds will be used to strengthen the potential of this sector through the preparation of the first Census for Small Tourism Businesses in Nicaragua.
Tourism in Nicaragua has been heavily promoted by the government and by international media.  El Universal, a Mexican daily newspaper has published in July (2015) a lengthy report about the country's most attractive places.  Under the headline "The new international tourism sensation"; the publication notes that "Nicaragua is a paradise of volcanoes, canyons, islands and lakes. The best destinations for adventure on the planet are the Miskito Cays, Corn Island, Masaya Volcano, Somoto Canyon and Ometepe Island."
Meanwhile the city of Leon was at the center of attention in the English daily newspaper Globe and Mail, which has published an in-depth report about this colonial city. Leon is surrounded by "a constellation of historic churches, warm climate, beaches and majestic volcanoes [which] are part of the extraordinary landscape of the city. Leon is a magical place where locals and foreigners can easily meet and interact in a peaceful and safe environment," concludes The Globe and Mail in its exclusive report.
Another exciting initiative is the empowerment of woman in entrepreneurship, the Export and Investment Center (CEI) is organizing training courses to empower women entrepreneurs and promote exports of non-traditional products of Nicaragua. According to Maribel Espinoza, leader of the Chinantlan Agribusiness Cooperative, "dozens of women are learning to draft investment plans and business strategies to export their products to the United States and other countries in the region.  Chinantlan Cooperative is currently focused on the following sectors: agriculture, agro-industrial sector, financial, education, health and social affairs.
Managua is hosting more than 350 farmers, agricultural producers and entrepreneurs who are participating in the Livestock Expo Fair of Central America (EXPICA 2015). According to Mr. Benjamin Baca Valiente, EXPICA Manager, this event is having very positive results due to growth in the livestock sector in recent years. In 2014 Nicaragua had a record high of US $456.3 million in beef exports.  The 22nd edition of Expo Fair is taking place from July 16 until July 26, 2015, with new attractions and an improved brand image as well as a brand new national promotion strategy.  Baca Valiente stated in a press conference that: "the Fair installations are even more amiable to visitors this year, with a long term strategic plan that will hopefully be beneficial to all age groups and the nation."
During the administration of President Ortega, Nicaragua is making a tremendous development and emerging as a regional leader in the production of renewable energy and its levels are expected to increase in the future.
In mid July 2015, a Nicaraguan citizen, Nicole Landau, was honored with the Best Social Innovation Project Award, presented by the Humanist Institute for Development Cooperation (HIVOS) and the International Union for the Conservation of Nature (IUCN). The award recognizes the BICIMAQUINAS recycling project, which transforms old bicycles into clean energy generating machines. The BICIAMAQUINAS can be used to generate energy for water pumps, mills, manufacture machines and other uses.
During his recent meeting with the European Solidarity Committee in Managua, President Daniel Ortega urged the international community to allocate more resources to alleviate the negative effects of climate change: "The planet is experiencing a serious crisis and more resources are needed to mitigate the effects of climate change".  Nicaragua proposed to the Conference of the Parties on Climate Change (COP-21) that developed countries should contribute 0.5% of their GDP towards reducing the devastating effects of climate change in poor countries.
In November 2015, with the support from the World Bank, Nicaragua, will organize the Geothermal Congress for Latin America and the Caribbean (GEOLAC 2015). The purpose of this event is to make possible greater access to financial resources, learn about the latest technological advancements, share experiences and best practices in the development of geothermal energy projects.  In Nicaragua there have been identified over 10 sites that have a high potential for the development of geothermal energy projects, they could have a power generating capacity of up to 2000 megawatts.
The Head of the European Union Cooperation Office in Nicaragua, Costa Rica and Panama, Laurent Sillano, stated that Nicaragua is among the first Central American countries that have met the Millennium Development Goal to reduce hunger in respective populations by half. "Nicaragua is one of a few countries in the region that has successfully achieved the first Millennium Development Goal and this is very positive", stated in a press release the representative of the European Union.
In 1990 more than 50% of the population in Nicaragua was undernourished. This rate was reduced down to 16.3% by 2014.
On July 15, 2015, President Daniel Ortega met with his colleague of Republic of China-Taiwan, President Ma Ying-jeou, who was on a two day official visit to Nicaragua. According to www.el19digital.com President Ortega announced that both parties agreed for the construction of a deep water port at Monkey Point, Southern Caribbean Autonomous region.  Additional projects include, development of a national irrigation program in Nicaragua in order to avoid consistent drought.  The effects of climate change were also discussed in the meeting between the two Heads of State.
In his speech, upon arrival at the International Airport of Managua, President Ying-jeou
emphasized: "Nicaragua and the Republic of China-Taiwan share an historic alliance of a brotherly friendship. The government of President Ortega has accomplished important results in its objectives and the government of China has been fortunate to participate in some of them, which makes us feel proud. During this visit bilateral relation among both counties reached new levels of partnership.
In addition to attracting Taiwanese investments, Managua has made progress towards opening branches of US companies in its province, very soon Walmart will be one of these companies.  The Corporate Affairs Director of Walmart – Mexico and Central America, Aquileo Sánchez, stated that the company is investing US$ 266 million this year in the construction and renovation of their facilities in Central America. He also announced a US$46.7 million investment in Nicaragua to build the first Walmart megastore and three large outlet stores.  On the other hand, small businesses in Nicaragua have created 1.6 million jobs and their production account 40 percent of Managua's exports.  Ortega's government is at the right course and the positive impact of economic and social reforms is felt by most of the citizens in the country.  Time has arrived for Nicaragua to make headlines with its ambitious programs of development and established partnerships with the major global players such as the United States, Republic of China and People's Republic of China among other nations.