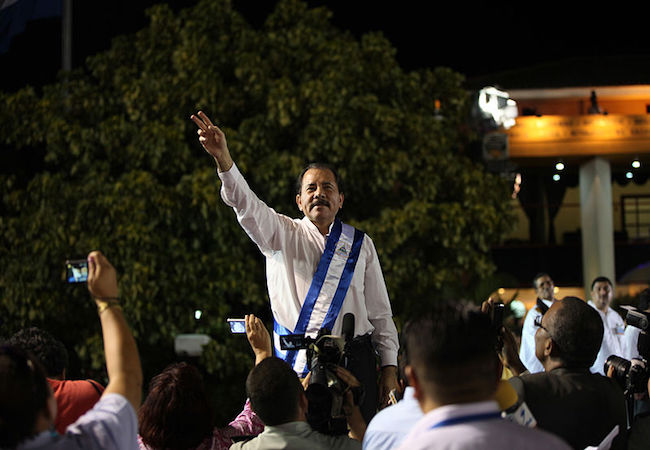 By Peter Tase
Since his early days in office (2007), President Daniel Ortega and his government began elaborating a National Plan of Human Development with a clear goal to reduce inequality by increasing the fight against poverty, cutting irrelevant expenditures and increase investment in social sectors and rural infrastructure. [1]
In the mean time international organizations such as the World Bank and FAO have provided expertise and assistance through their technical cooperation programs including the International Association of Development (AIF) in order to help alleviate the most vulnerable rural – farming families and improve the state of public works and infrastructure throughout Nicaragua.
Despite of an overwhelming global economic turmoil, the government of President Daniel Ortega has been highly praised by competent international actors for maintaining an economic growth that is beyond average in Latin America and the Caribbean.  Managua, regardless of its leftist government, has implemented admirable macroeconomic policies, combined with a growing international presence of Nicaragua's exported products and an ever growing attraction of Foreign Direct Investment.  These long term actions have helped the Central American nation to appropriately handle the economic turbulences of 2008-2009 and make the most out of the spiking food and oil prices.
In 2011, national economic growth reached a record high of 6.2 percent; meanwhile in 2015 the country had a 3.9 percent national growth, the lowest growth level in the last five years.  In 2016, Nicaragua is expected to reach a 4.5 percent economic growth, making it the country with the highest prosperous level in Central America, and is expected to exceed Panama's and Costa Rica's economic growth this year due to: the contracted flow of commodities and movement of cargo in Panamanian ports [2]; Costa Rica's president has been voted the least popular leader of the Americas and as a result his country is expected to perform poorly this year. [3]
According to a National Central Bank study, during the first semester of 2016, Nicaragua's economy grew up to 4.6 percent, while experiencing a significant growth level if compared with the same period in 2015.  Managua has ripe conditions to maintain a stable level of growth, as this year is coming to a close the level of growth could slightly exceed the level of 4.6 percent.
In the same vein, in May 2016 there was an average of 5.4 percent growth higher than May 2015.  This year the economic activities that registered a hoicked level of growth were: financial intermediation and related services (9.6 percent), agriculture (7.9 percent), domestic and international commerce (6.3 percent), public administration and national defence (5.2 percent) and transportation and communications infrastructure (3.2 percent).  In 2015, Nicaragua's Gross Domestic Product grew by 4.9 percent with an inflation of only 3 percent.
The macroeconomic stability of Nicaragua has allowed the government to embrace pioneering strategies that combat poverty in the long run, especially in the rural areas, instead of succumbing into short run decisions that could further protract the glaucous levels of poverty.  Visionary leadership and determination of President Daniel Ortega has been quintessential towards reducing the rampant levels of poverty, where in just a five years period (2009-2014) the national poverty level in Nicaragua saw a significant reduction by 13 points (from 42.5 percent down to 29.6 percent); meanwhile extreme poverty was reduced by 6 points (from 14.6 percent down to 8.3 percent).
Another important matter that will have a direct impact in Nicaragua's economy is the construction of the "Great Bi-oceanic Canal of Nicaragua," which pretends to unite the Pacific with the Caribbean Sea through: a spacious canal that will allow the circulation of large cargo shipments; connect the two shores with a major highway; the construction of a double track railway; installation of an oil pipeline; two deep water ports; two airports and two free trade zones.
This is an initiative that President Ortega's government is trying to develop so that it can compete with Panama and offer an alternative service to maritime transport and to the shipment of commodities; such an investment could exceed the amount of USD40 billion.
While the legal aspects of this concession are already finalized, in Managua there are high hopes on this mega project; it is expected to bring optimistic structural changes to the matrix of national economy.  Nicaragua would emerge from an economy based on raw materials into a nation that has an economy centred on a highly integrated chain of services, logistics management and the storage of consumption goods. [4]
The study of feasibility and environmental impact for the Great Canal of Nicaragua started this year and the government has already awarded a fifty year long concession (with the possibility for renewal) to HKND Group, a Chinese construction company that will start the project in December 2016 and cut the ribbon of inauguration by mid 2019. [5]
Nicaragua's Great Canal is perceived as a project that will pave the strategic road of the future economic development of Nicaragua as well as raise the bar of growth in the whole region.  Let's not forget that amid persisting economic stagnation and recession in the global north, Daniel Ortega's Nicaragua continues to sail on calm water that ensure a constant state of economic growth equilibrium.
References: