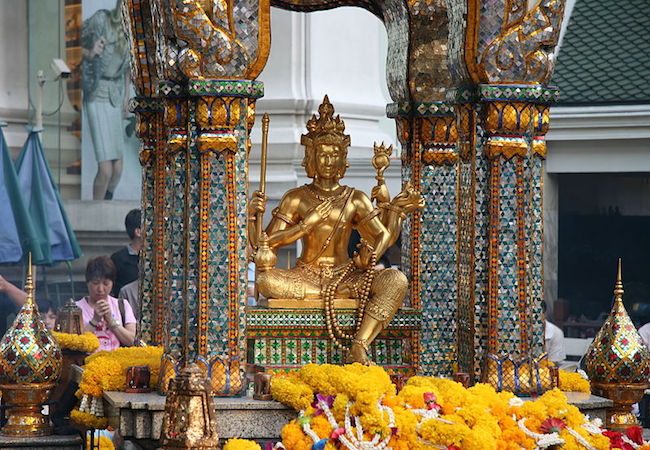 Nineteen people were killed and at least 117 others injured in an explosion in downtown Bangkok on Monday night, the Chinese embassy in Thailand cited Thai health authorities as saying.
Three Chinese nationals were killed, and around 15 others hurt, some of whom sustain moderate and severe injuries, in the blast that happened at about 7 p.m. local time near Erawan Shrine at Ratchaprasong intersection, a popular destination for domestic and foreign tourists, the embassy said.
Among the killed were also 10 Thais, one Filipino, and five others whose identities are yet to be confirmed, it added.
The explosive was planted by attackers and aimed at taking lives, national police chief Somyot Pumpunmuang said.
The injured, including Thais, Chinese nationals and Filipinos, have been rushed to nearby hospitals, according to Thai police.
Officials from the Chinese embassy in Thailand have rushed to the site of the blast, and to hospitals to visit the injured. Volunteers are being organized to provide interpretation services at the hospitals, according to the embassy.
The government has had the situation under control, deputy government spokesperson Sansern Kaewkamnerd said, urging the public not to panic.
Deputy government spokesman Maj-General Werachon Sukondhapatipak said it was too early to determine the motive behind the explosion.
The Nation newspaper quoted the Internal Security Operation Command (ISOC) as saying that there were three possible reasons for the blast, including political conflict, reshuffle of the government officials, and international terrorism. The ISOC ruled out insurgents from the Deep South.
Deputy Premier Prawit Wongsuwan said the incident might scare away foreign tourists to Bangkok and adversely affect tourist industry and economy as a whole.
He declined to comment if the bombing might have involved political conflict or separatist movement in the country's southernmost region.
Premier Prayut Chan-o-cha called an emergency meeting with high- level government officials and military officers in charge of national security affairs at the headquarters of the National Police near the intersection.
There have been no instructions on closing educational or financial institutions, Werachon said.
But the Bangkok Metropolitan Administration (BMA) has announced that all schools under the BMA will close on Tuesday due to concerns over the safety of teachers and students.
The junta, or the National Council for Peace and Order (NCPO), has denied rumors that it had declared state of emergency in Bangkok, saying there is no need for such a move.